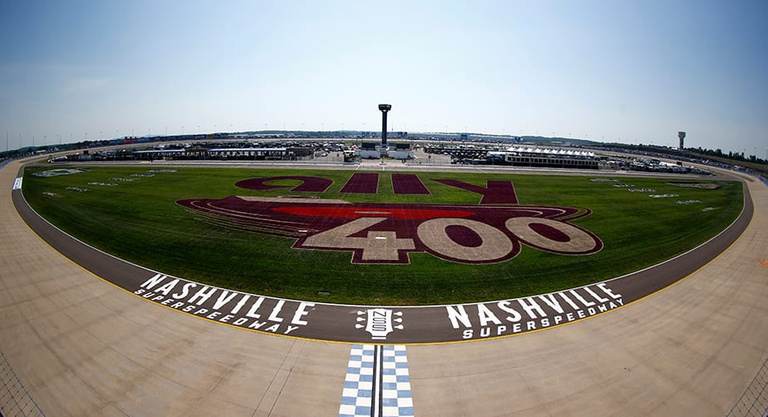 Fuente | Source

Después de una semana de descanso de la NASCAR Cup Series, este domingo 26 de Junio de 2022 a las 5:00pm tiempo del este de los Estados Unidos, se llevará cabo la fecha 17 de la temporada regular de la categoría. Esta carrera esta denominada como la Ally 400 y se correrá en el óvalo de Nashville Superspeedway. La última carrera de la Copa fue en el óvalo de Sonoma donde se impuso el mexicano Daniel Suárez, que además esta semana llega con toda la motivación del mundo ya que está asegurado para los playoffs y tiene opciones para pelear el campeonato de la reciente temporada. Este campeonato ha sido realmente bueno, con carreras muy emocionantes, como finales muy cerrados e incluso con muchas polémicas que en NASCAR nunca puede faltar. Esta carrera tiene muy poco de ser agregado al calendario, más sin embargo antes corrían las series menores y allí han participado pilotos activos que han logrado victorias, por lo cual tienen una ventaja con respecto a los demás pilotos, ¿Pero esto será cierto? pues desde mi punto de visto no lo es, creo que varias pilotos pueden ganar en esta pista y más cuando hemos visto como novatos y pilotos de menos trayectoria, han logrado victoria en la reciente temporada.
After a week off from the NASCAR Cup Series, this Sunday, June 26, 2022 at 5:00pm Eastern Time in the United States, the 17th date of the regular season of the category will take place. This race is called the Ally 400 and will be run at the Nashville Superspeedway oval. The last race of the Cup was at the Sonoma oval where the Mexican Daniel Suarez won, who also this week arrives with all the motivation in the world since he is assured for the playoffs and has options to fight for the championship of the recent season. This championship has been really good, with very exciting races, such as very close finishes and even with many controversies that in NASCAR can never be missing. This race has very little to be added to the calendar, but however before they ran the minor series and there have participated active drivers who have achieved victories, so they have an advantage over other drivers, but this will be true? from my point of view it is not, I think several drivers can win at this track and more when we have seen how rookies and drivers with less experience, have achieved victory in the recent season.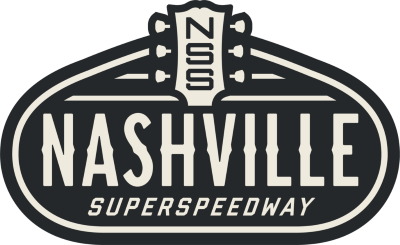 Fuente | Source
---
Nashville Superspeedway es un óvalo de superficie de concreto de 1.333 millas (2.145 km), que tiene 4 curvas donde cada una de ellas tiene 14° de peralte (inclinación). Este pista volvió a la NASCAR Cup Series el año pasado, por lo cual esta es apenas la segunda carrera en esta pista, luego de años que no estaba en NASCAR. Su apertura fue en el año 2001 hasta el año 2011 donde salió de todo el calendario, pero en el 2021 volvió algo es que realmente bueno para los fanáticos que esta es un óvalo que nos trae muy buenas carreras. Es esta pista se llevan a cabo carreras de la NASCAR Cup Series, NASCAR Xfinity Series, NASCAR Camping World Truck Series y ARCA Menards Series. La vuelta más rápida en Nashville en cuanto a la clasificación es de Aric Almirola, realizado el año pasado 2021 con un tiempo de 29.557 segundo (161.992 mph), mientras que en la carrera está en manos de Kyle Larson, con un tiempo menor al mencionado anteriormente, todo esto en la Cup Series que es donde les estoy trayendo el análisis previo. En cuanto a la dificultad de la pista, les puedo decir que es medianamente complicada, más que todo por el poco peralte que tiene, donde las llantas suele sufrir más, por lo que es muy importante ver que compuesto nos traen en esta oportunidad.
Nashville Superspeedway is a 1.333-mile (2.145 km) concrete surface oval, which has 4 turns, each with a 14° camber (incline). This track returned to the NASCAR Cup Series last year, so this is only the second race at this track, after years that it was not in NASCAR. Its opening was in 2001 until 2011 where it went out of the entire calendar, but in 2021 it came back something is that really good for the fans that this is an oval that brings us very good races. This track hosts NASCAR Cup Series, NASCAR Xfinity Series, NASCAR Camping World Truck Series and ARCA Menards Series races. The fastest lap at Nashville in terms of qualifying is by Aric Almirola, made last year 2021 with a time of 29.557 second (161.992 mph), while in the race is in the hands of Kyle Larson, with a time less than the above mentioned, all this in the Cup Series which is where I am bringing you the previous analysis. As for the difficulty of the track, I can tell you that it is moderately complicated, mostly because of the little camber it has, where the tires usually suffer more, so it is very important to see what compound they bring us this time.
En cuanto a la actividad en pista, les debo decir que comienza el día viernes 24 de Junio de presente año a las 6:30pm de USA, donde dicho entrenamiento tiene un tiempo de duración de 50 minutos, transcurso en la cual los pilotos y equipos pueden salir a la pista cuando lo desean, entrar a los boxes y volver salir para probar los cambios que realizaron en el garaje para mejorar el rendimiento del auto y ajustar la puesta a punto del coche, de acuerdo a la pista y sus característica. El día sábado se disputa lo que es la clasificación de la carrera y como es común se hacen en dos grupos de la mitad de los inscrito y los mejores 5 avanzan a la ronda final, para determinar las posiciones de salida para esta carrera. El evento principal es el día domingo a las 3:30pm, donde la carrera es a 300 vueltas, divida en tres segmentos. La primera etapa o segmento es a 0 vueltas, mientras que el segundo es a 95 giros (hasta la vuelta 185 de las 300) y finalmente la última etapa a las 115 vueltas para completar el recorrido pautado, que son las 300 (399 millas).
As for the activity on track, I must tell you that begins on Friday June 24 this year at 6:30pm USA, where this training has a duration of 50 minutes, during which time drivers and teams can go out on track when they want, enter the pits and come back out to test the changes they made in the garage to improve the performance of the car and adjust the tuning of the car, according to the track and its characteristics. On Saturday the qualifying for the race will be held and as is common they are made in two groups of half of those registered and the best 5 advance to the final round, to determine the starting positions for this race. The main event is on Sunday at 3:30pm, where the race is 300 laps, divided into three segments. The first stage or segment is 0 laps, while the second is 95 laps (until lap 185 of the 300) and finally the last stage is 115 laps to complete the 300 (399 miles).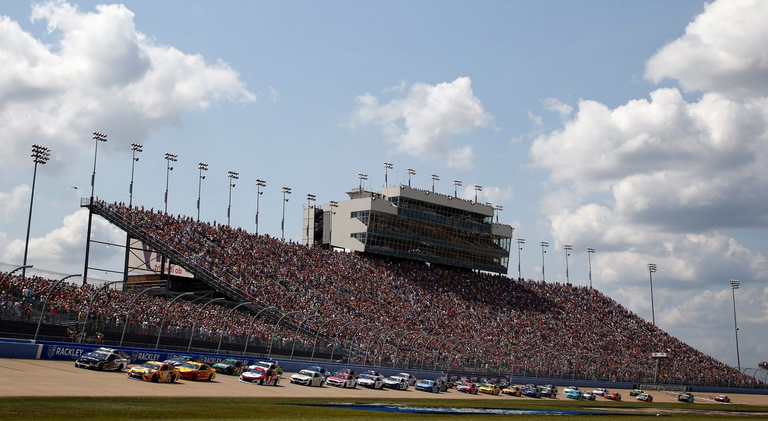 Fuente | Source
La estrategia para esta carrera va a depender de muchos factores, como es el rendimiento de combustible que va desde 65 a 70 vueltas más o menos, desde el último registro que se, pero el desgaste de los neumáticos va a ser otro factor importante que debemos tomar en cuenta para saber más o menos cuanto serán las paradas en pits, que siendo todo en bandera verde debe ser de 3 a 4 paradas, pero sabemos que siempre son más ya que las banderas de precaución influye mucho en la estrategia. Otro de los aspectos en la cual los pilotos deben estar atentos es a la velocidad máxima de carril de los pits que es de 45 mph, mientras que en las neutralizaciones detrás del coche de seguridad en las banderas amarillas es de 55 mph. Las predicciones meteorológica dicen que hay un 30% de posibilidad de lluvia, además de tormenta eléctricas que se suelen dar en la región, por lo cual se debe suspender la actividad en pista, por la seguridad de todos los que se encuentren en las instalaciones, fanáticos, equipos, pilotos y demás personas que estén acompañando o sean invitados especiales. El cielo se va a encontrar parcialmente nublado, donde a ratos puede aparecer el sol, lo que cambia el comportamiento del auto, allí la importancia de tener en cuenta estos datos. Datos obtenida de la página oficial de NASCAR.
The strategy for this race will depend on many factors, such as the fuel efficiency that goes from 65 to 70 laps more or less, from the last record, but the tire wear will be another important factor that we must take into account to know more or less how much will be the pit stops, which being all in green flag should be 3 to 4 stops, but we know that they are always more as the caution flags greatly influences the strategy. Another aspect in which the drivers must be attentive is the maximum pit lane speed which is 45 mph, while in the neutralizations behind the safety car on yellow flags it is 55 mph. Weather forecasts say that there is a 30% chance of rain, in addition to thunderstorms that usually occur in the region, so track activity must be suspended for the safety of all those who are in the facilities, fans, teams, drivers and other people who are accompanying or are special guests. The sky will be partly cloudy, where the sun may appear at times, which changes the behavior of the car, hence the importance of taking into account these data. Data obtained from NASCAR's official web site.
El ganador de la pole de la temporada pasada fue Aric Almirola del auto número 10 de SHR, quien se retira de la categoría al finalizar esta temporada. El ganador del año anterior y carrera inaugural en esta pista, cuando a Cup Series se refiere fue Kyle Larson del auto 5 de Hendrick, quien además parte como favorita para quedarse con la carrera, aunque no está teniendo la mejor de la temporada, más allá del gane obtenido en california esta temporada. Como dije anteriormente un factor importancia es la experiencia en la pista y esto la tiene Brad Keselowski, Kyle Busch y Joey Logano, esto tres ya que este óvalo estuvo activo hasta 2011 cuando se corría en lo que hoy se conocer como la Xfinity Series y las Camionetas, pero aun así le veo oportunidad a otros pilotos como los de Hendrick y compañeros de Larson, a Daniel Suárez quien viene de ganar en Sonoma y viene con el envión.
Last season's pole winner was Aric Almirola in car number 10 of SHR, who retires from the category at the end of this season. Last year's winner and inaugural race at this track, as far as Cup Series is concerned, was Kyle Larson in car 5 of Hendrick, who is also the favorite to win the race, although he is not having the best of the season, beyond the win obtained in California this season. As I said before, an important factor is the experience on the track and this has Brad Keselowski, Kyle Busch and Joey Logano, this three since this oval was active until 2011 when it was run in what today is known as the Xfinity Series and the Trucks, but even so I see an opportunity for other drivers like those of Hendrick and Larson's teammates, Daniel Suarez who comes from winning in Sonoma and comes with the envy.
¿Quien es tu favorito para este fin de semana? Pues tu respuesta la puedes dejar en un comentario.
Who is your favorite for this weekend? Well, you can leave your answer in a comment.
---
Horario del fin de semana de la carrera | Race Weekend Schedule:
Viernes | Friday: Practice (6:30pm)
Sábado | Saturday: Qualifying (12pm)
Domingo | Sunday: Race (5:00pm)
---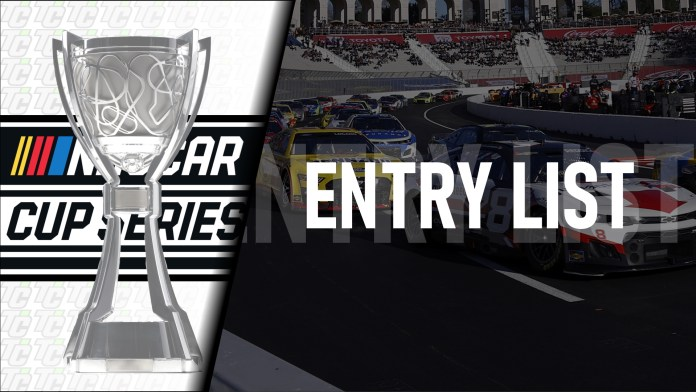 Fuente | Source
Lista de Entrada de pilotos para el evento
Driver Entry List for the event

Estado del Campeonato luego de 16 fechas de 36
Championship status after 16 dates of 36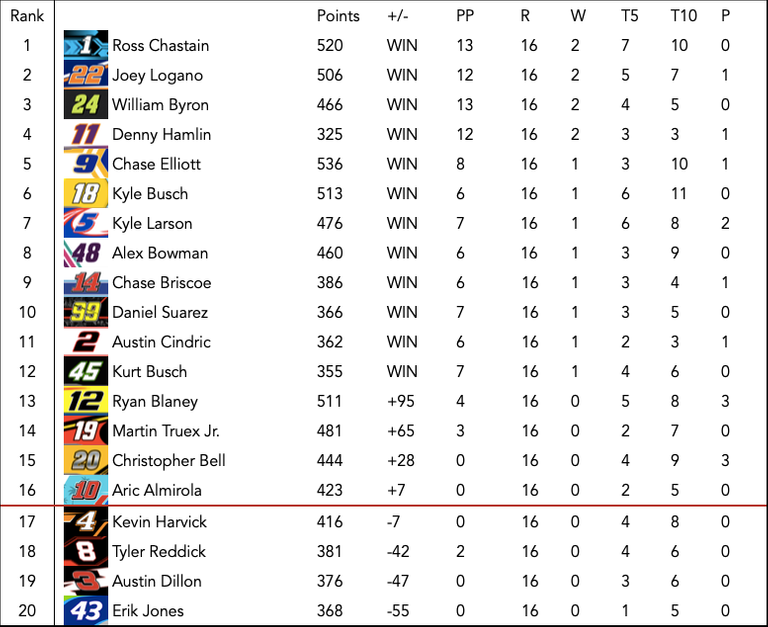 Fuente | Source

Información del Fin de semana: NASCAR Cup Series
Carrera: Ally 400
Pista: Nashville Superspeedway
Fecha: Domingo, 26 de junio de 2022
Vueltas: 300 (90-95-115)
Hora: 5:00 pm
---
Estadísticas de la pista:
Ganador de 2021: Kyle Larson
2021 Pole-sitter: Aric Almirola
Líder de victorias en activo: Kyle Larson (1)
Líder activo del Top 5: 5 Conductores (1)
Líder activo del Top 10: 10 Conductores (1)
Líder activo de la Pole: Aric Almirola (1)
Activo Mayor número de vueltas lideradas: Kyle Larson (264)
Activo Mejor Promedio de las 5 últimas: Kyle Larson (1.0)
Activo Mejor promedio de los últimos 10: Kyle Larson (1.0)
Weekend Information: NASCAR Cup Series
Race: Ally 400
Track: Nashville Superspeedway
Date: Sunday, June 26th, 2022
Laps: 300 (90-95-115)
Time: 5:00 pm

Track statistics:

2021 Winner: Kyle Larson
2021 Pole-sitter: Aric Almirola
Active Win Leader: Kyle Larson (1)
Active Top 5 Leader: 5 Drivers (1)
Active Top 10 Leader: 10 Drivers (1)
Active Pole Leader: Aric Almirola (1)
Active Most Laps Led: Kyle Larson (264)
Active Best Last 5 Avg.: Kyle Larson (1.0)
Active Best Last 10 Avg.: Kyle Larson (1.0)

Source




Fuente | Source

Separador de textos tomador del Post // Post taker text separator : Lucho en la pista (RETA A @equipodelta. | @franz54 reta a @equipodelta a Dibujar) Caricatura.
Gracias por su visita. Espero que les haya gustado. // Thank you for your visit. I hope you liked it.
Hasta una próxima oportunidad // Till a next chance
Sin más que decir, se despide de ustedes, su cordial servidor @franz54. // Without further ado, he bids farewell to you, his cordial server @franz54.
Translated with www.DeepL.com/Translator (free version)