---
I am so proud that I belong to a community that supports and lift each other up. I can't help but to smile while editing this video, it brings back the memories we had last Sunday, October 24th, 2021. All the genuine laughter and just us enjoying the hive-halloween event. Who would have thought that after almost four months blogging here on hive I'll be able to meet these amazing people who believes in me. I, along with
@purepinay
have successfully pulled it off, together with our amazing team!
@explorewithsasha
@gerel
@itsmiessyonpeakd
@jongcl
@asasiklause
@cheerupwithjl
and
@swaycanete
who constantly plan everything out from decors to program flow. We even have some challenges with the venue but we are so grateful that Harold's Hotel have been so amazing in giving us some discount and have been so accomodating from planning up to the day of the event. Also, we are very grateful for all the attendees who came and dress up for the event.
@gwenfinity
@kcwonders
@morenatravels
@eeventuree
@thejoeprocess
@krystalogue
@itskach
@simpledemple
@meyza
. We work really hard for the success of the event and all we can say is "It's totally worth it!".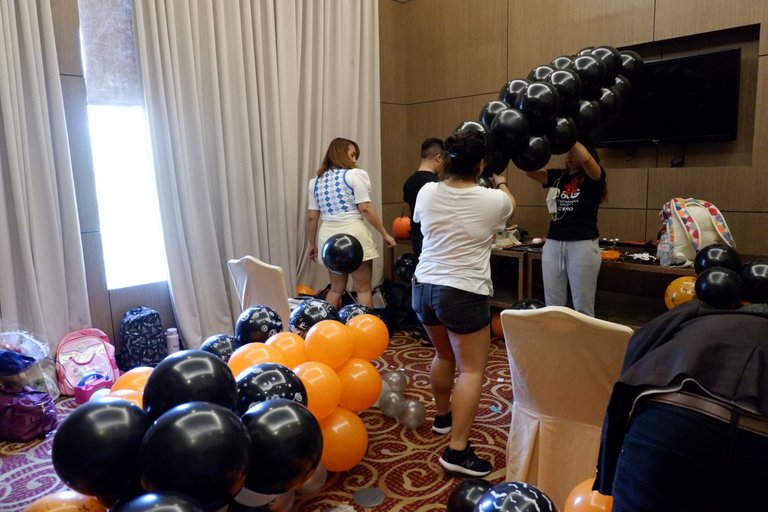 We barely had sleep because we were excited and at the same time we felt pressured as this is our very first big event. Gerel, Sasha and I went busy pumping all the balloons and were very grateful that jongcl and kcwonders came in to help together with Augustine whom we just met for the first time.

Also we had some extra hands when @itskach & @simpledemple came early to help as well. Thank you girls!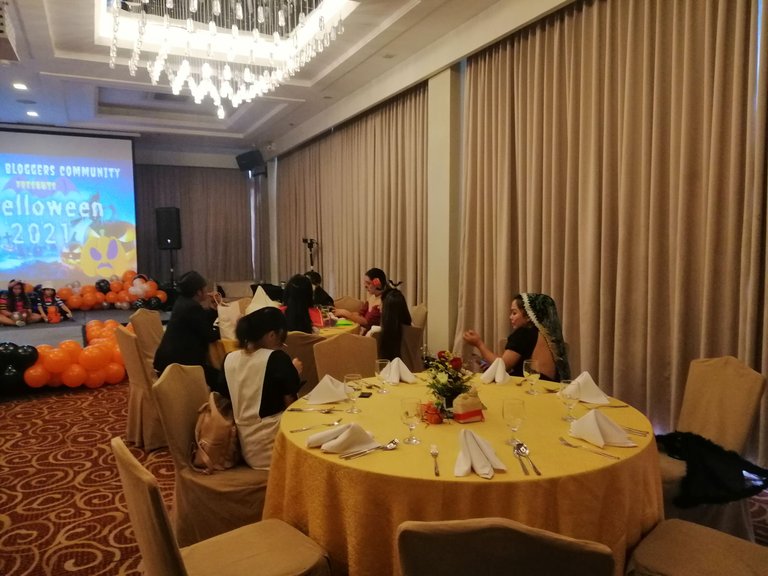 We started the program a little late since we still have to dress up and do our make-up. Since we won't be joining the contest because we wanted the event to be fair, we just had a simple make up. We also invited some guest as our judges.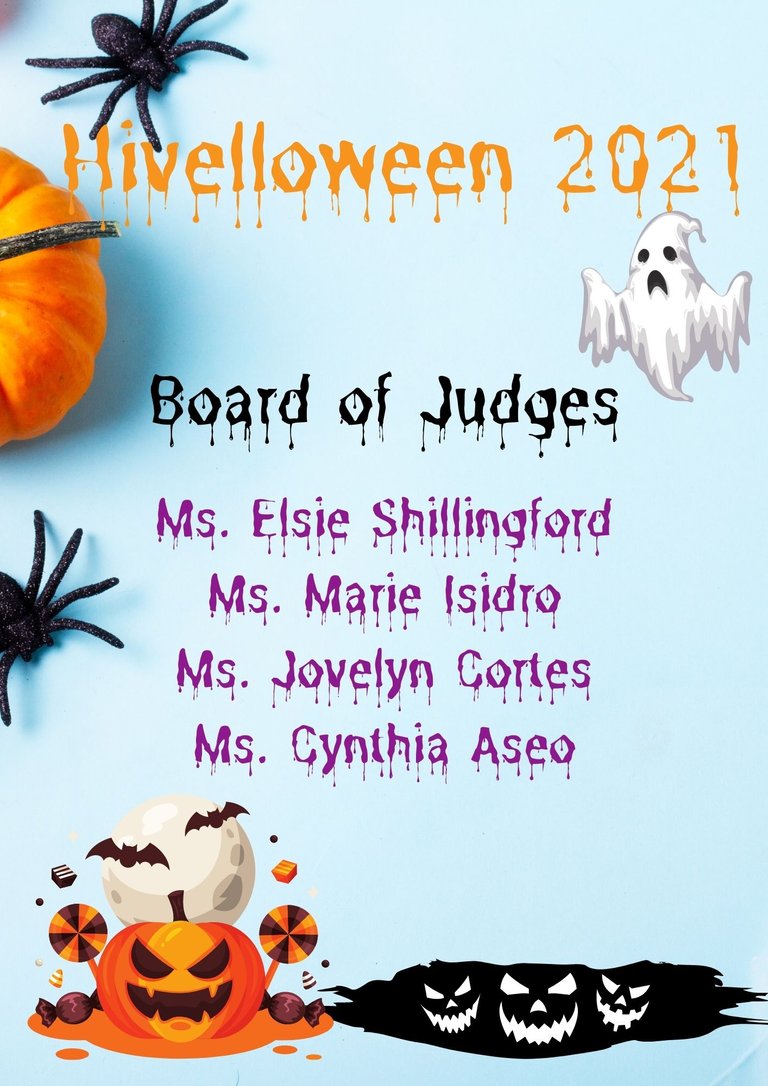 Shout out to our very own @swaycanete for making the event extra fun by using her talent as our lovely host.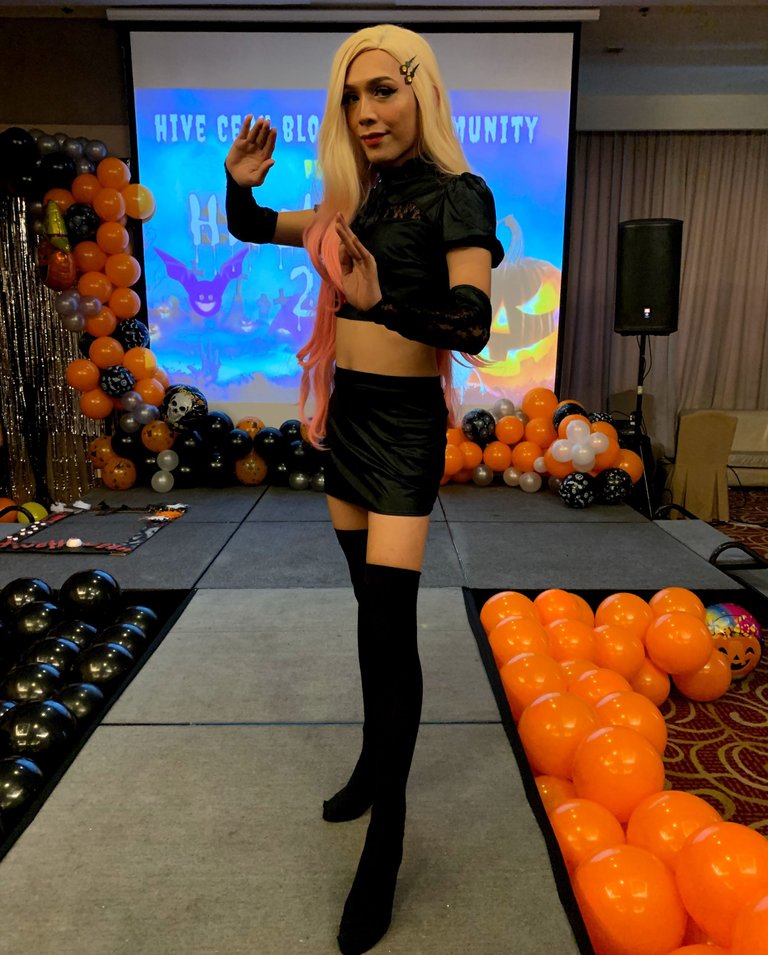 She did an amazing job by making it lively and the crowd just love her. She totally nailed it! We had so much fun and I really hope you'd watch the video since I included clips from the event, including the highlights and how the contestants walk in the runway. We have so many photos from the event that was taken by almost everyone of us. I actually have some videos too but unfortunately my sd card got corrupted. Good thing that i have an amazing community that we decided to share our photos and upload it on one drive so everyone can have an access to it, as our memorabilia.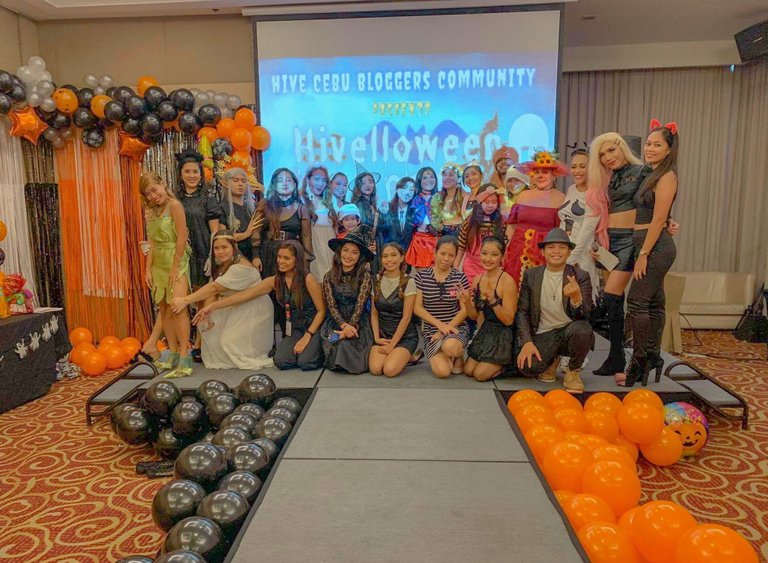 To everyone who are tagged and mentioned here on my blog THANK YOU!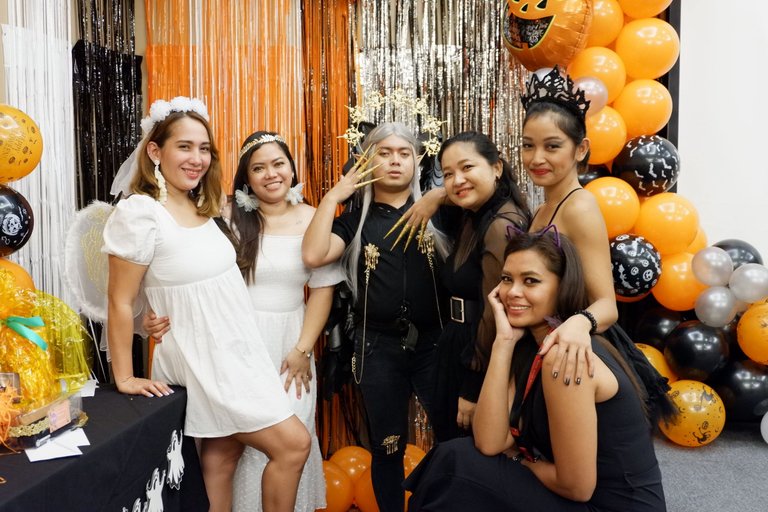 (@sassycebuana as pretty Angel, @explorewithsasha as Goddess of Beauty, @cheerupwithjl as Dark Elf, @gerel as Night Butterfly, @purepinay as Black Swan and @itsmiessyonpeakd as Catwoman)
For making HIVELLOWEEN 2021 extra fun and successful! For all the sponsors, volunteers, attendees and for all the guest that was mentioned HERE , Thank you!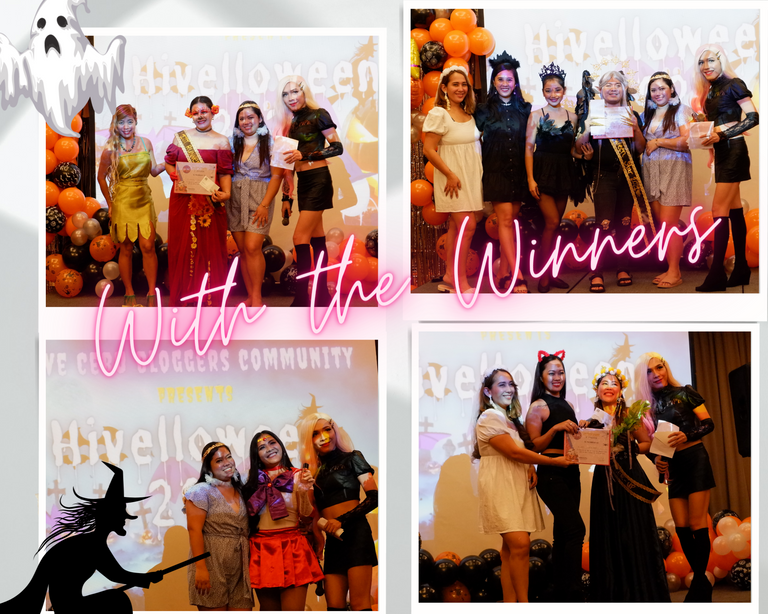 Congratulations! To the winners and to everyone who participated. You'll know what I mean if you'll watch the video above. Everybody was game enough to showcase their talents and join the games even if we just have simple prizes. We appreciate everyone's effort.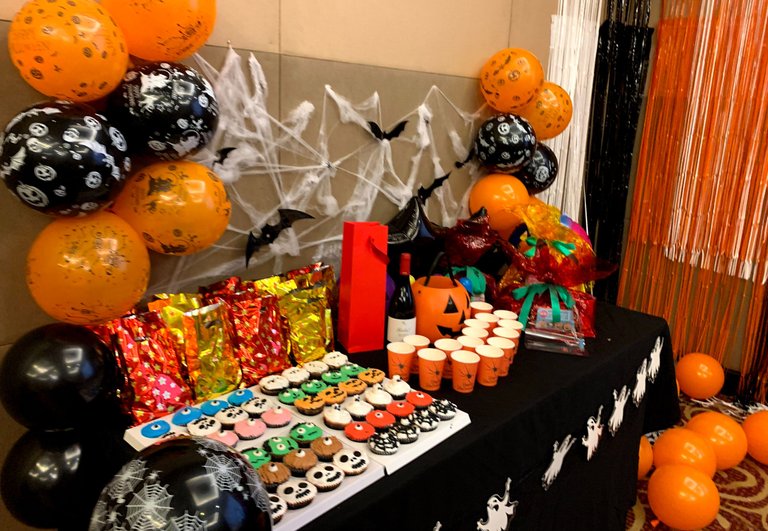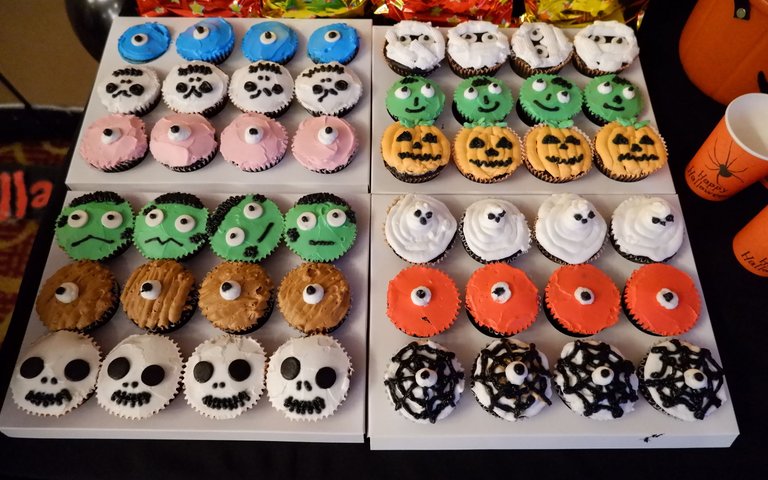 We would also want to thank @jeennicious for the yummy and cute cupcakes! Even if she wasn't able to attend the event, she sent these yummy treats for everyone to enjoy! Also, special mention to @gerel for doing an awesome job with the decors, the place wouldn't be as lively and colorful as this without you. 😘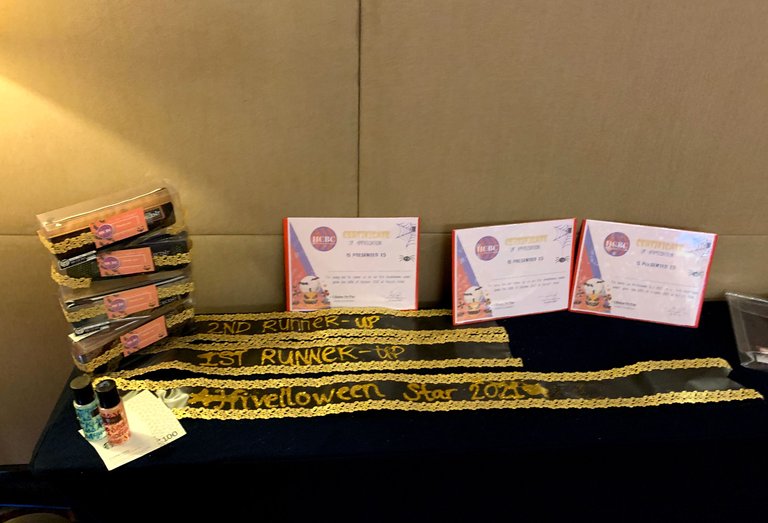 I also had fun handcrafted the sash, the certificates, edited the graphics for our backdrop, the program, the stickers and prepared a short slideshow. This wouldn't be possible without everyone's help. Thank you again from the bottom of our hearts. Gil, Sasha and I are very proud of you guys!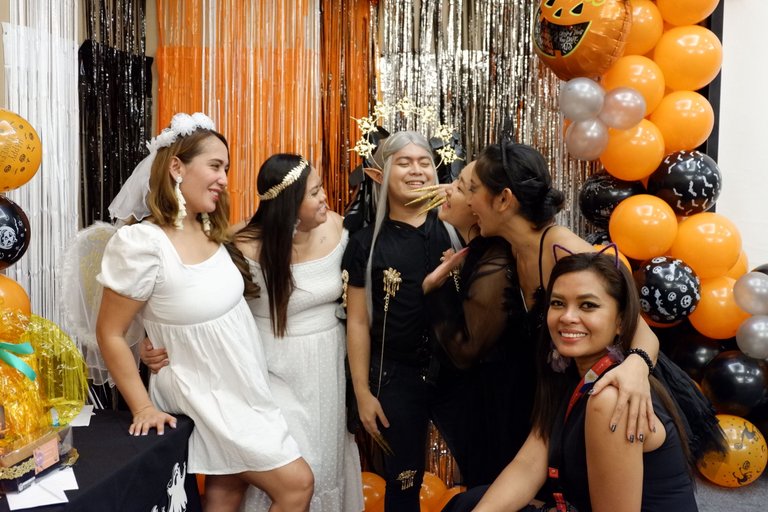 Hive Cebu Bloggers Community will see you all on our next event which is our Christmas Party! I'm already excited! I hope to see more of you guys, I can't wait already. See you!
Disclaimer: All photos, video clips and materials used in this blog post are from the people who were tagged in this post. The video was edited by yours truly.
---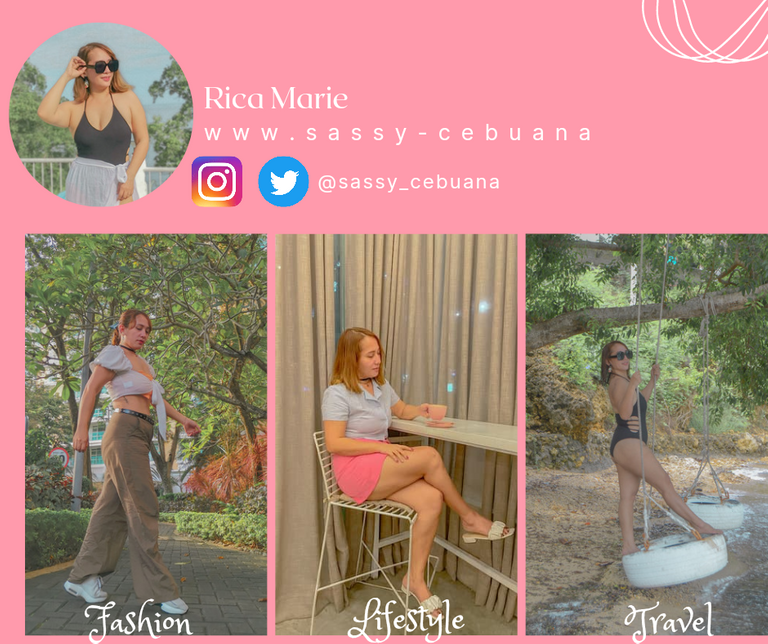 Sassy Cebuana
Sassy Cebuana blogs about her personal style, lifestyle, travels, and shares about her experience being a single mom and anything in between. She wanted to inspire others by documenting it here at this little corner in hive.
If you love her content, it will mean a lot if you upvote and leave a comment for this single momma. For blog collaboration or inquiries, feel free to contact her on her social media channels or email her @ [email protected]
---
▶️ 3Speak