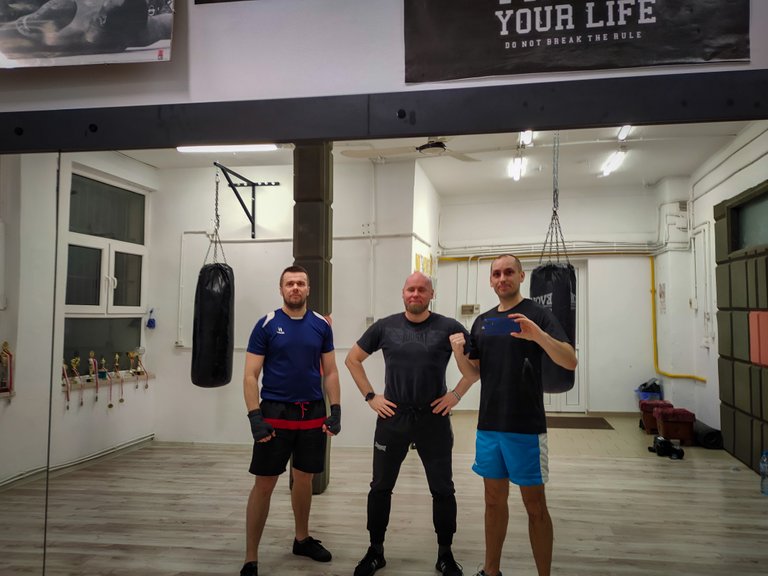 ENG
Hello everyone! Probably some of you know that I have been going to boxing training regularly for the last 3 months. I finally got back and I have great motivation to train. The condition from training to training is getting better and well-being is great.
PL
Witam wszystkich! Pewnie czesc z was wie ze od dobrych 3 miesiecy chodze regularnie na treningi boksu. Wkoncu odzylem i mam ogromna motywacje do treningow. Kondycja z treningu na trening coraz lepsza a samopoczucie jest swietne.
---
My club
👉Odyn
It is not a well-known club in the city. It was opened by a friend, a sportsman with many years of experience, achievements and knowledge. It is a small room, which is enough for us to learn combat sports. We have sufficient equipment to practice and a great desire. New people are coming slowly.
Moj klub
Nie jest to zaden znany klub w miescie. Otworzyl go kolega, sportowiec z wieloletnim doswiadczeniem, osiagnieciami i wiedza.
Jest to mala salka ktora nam wystarcza do nauki sportow walki. Mamy wystarzajacy sprzet do cwiczen i ogromne checi. Nowych ludzi przybywa powoli.
Please support.🙏
Brief and to the point. We need an anti-slip mat because our floor is slippery and sometimes it gets dangerous. You will probably ask why the coach-owner did not buy such a mat. The club was opening at a time when everything was closing. There was two months of downtime and he had to pay the bills. Hard times (for you, too, I'm sure). Under normal circumstances I would not ask for help for the owners, but here I feel at home. The cost of such a mat is about 300-500 hive to our room. Perhaps you have links recommended to stores? Maybe you have something at your place in promotion?
PL
Krotko i na temat. Potrzebujemy maty antyposlizgowej poniewaz nasza podloga jest slizga i czasami robi sie niebezpiecznie. Zapytacie napewno dlaczego trener-wlasciciel nie zakupil takiej maty. Klub otwieral sie w czasie kiedy wszystko zamykano. Byly dwa miesiace postoju a rachunki musial placic. Ciezkie czasy (napewno dla was takze). W normalnych warunkach nie prosze i pomoc dla wlascicieli ale tutaj czuje sie jak u siebie w domu.
Koszt takiej maty to okolo 300-500 hive do naszego pomieszczenia. Byc moze masz linki polecane do sklepow? Moze masz cos u siebie w promocji?
---
If you have ideas on how to raise funds, please share. For any help I will be grateful. Of course, I will document the entire mat purchase publicly if I can raise the money.
Jesli macie pomysly jak zdobyc fundusze to podzielcie sie. Za kazda pomoc bede wdzieczny. Oczywiscie caly zakup maty udokumentuje publicznie jesli sie uda uzbierac.
👇👇👇👇👇👇👇👇