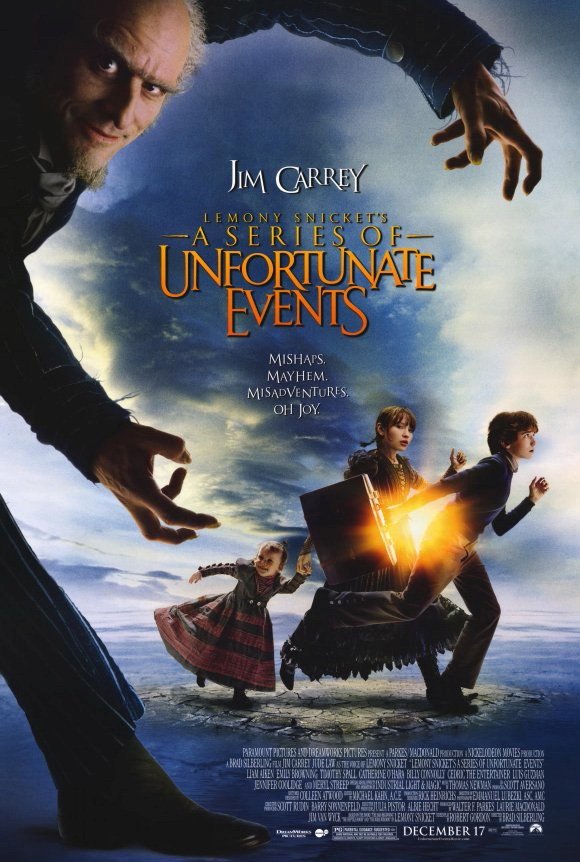 ---
You may or may not have seen the television series "A series of unfortunate events," but if you haven't, you should. Today I'm not going to discuss that series; instead, I'm going to discuss the movie "A series of unfortunate events" directed by Brad Silberling. Those who don't have enough time to watch the TV series should watch this movie instead; it's another wonderful family movie, so sit down, get some popcorn, and enjoy the film with your family and friends.
Releasing Date: 2004
Personal Rating: 8/10
IMDb Rating: 6.8/10
Director: Brad Silberling
Writer: Robert Gordon(Screenplay), Daniel Handler
Stars: Jim Carrey, Liam Aiken, Emily Browning, Kara Hoffman, Jude Law..
---
This is not just a movie; this is a movie of three unfortunate Baudelaire family children who lost their parents in a suspicious fire. Violet Baudelaire was the eldest daughter of the Baudelaire family & she loves to invent something out of nothing. She uses garbage & all other unused things for her inventory. And she tests all her inventions on her brother, Klaus Baudelaire, the middle one. Klaus loves to read books; he reads all day long in Baudelaire's private library with thousands of books on different subjects. The most important thing about him was he remembered everything he read. And the youngest one, named Sunny, a cute little girl, had some unusual habits as she loves biting whatever you throw in front of her.
"If you ever lost someone very important to you, then you already know how it feels if you haven't, you can't possibly imagine it."
Story Line:
Their parents died in a mysterious fire that was yet to be revealed, although this extremely unfortunate event was just the beginning. Unfortunately, the Baudelaire children became Baudelaire orphans. They didn't know what would happen to them. Mr. Poe was a banker, and he was handling Baudelaire family money & all other documents; he took them to there's nearest relative named Count Olaf's. Mr. Poe left them with the man (Count Olaf), and that turned those kids' lives into hell from that moment on. The worst thing happened when Count Olaf took custody and tried to kill them because all he wanted was their money. Yet, he could not do so. That's how all the bad stuff began.
Then they moved to his uncle's Monty house, who was a scientist & a pet lover. They were just hoping that their next guardian would be better than the last one. But they had no idea that something was following them, which was the greatest threat to their life. The moment they realized their uncle had already left the world, it was the same danger following them when they lost their parents. Then they started their journey for the next stoppage, where they met with their Aunt Josephine.
It's hard to believe that they had to go through all of this. After all of this, they began to realize their parent's death wasn't a mystery; there was something that they had to find out. Aunt Josephine helped them solve the mystery, but they need to know who actually killed their parents. This movie is a little different from other movies I've seen; this is probably the reason why I enjoyed it so much; I'm sure you'll like it as well.