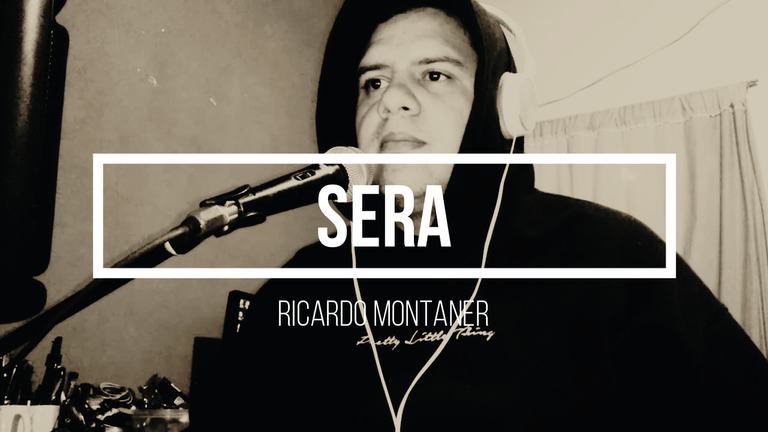 ---
increíble canción llena de magia y de un inmenso amor, ese amor que fue imposible pero que sigue allí quieto como la noche , y tan continuo como el tiempo. Pues este tema es de mis favoritos de este increíble artista como lo es Ricardo montaner.
incredible song full of magic and an immense love, that love that was impossible but that is still there as still as the night, and as continuous as time. This song is one of my favorites of this incredible artist Ricardo Montaner.
Ricardo montaner es un artista que conozco gracias a mi madre, ella casi siempre en su etapa de universidad utilizaba la radio para poder estudiar, a ella le gustaba estudiar escuchando música, y para esa época estaba muy pegado en la radio , Ricardo montaner. Desde ese momento y tan pequeño que yo estaba empece a escucharlo y cantar sus canciones, la verdad que me ha gustado mucho la historia de superación que tiene este importante cantante latinoamericano.
Ricardo Montaner is an artist that I know thanks to my mother, she almost always used the radio in her college years to study, she liked to study listening to music, and by that time he was very stuck on the radio, Ricardo Montaner. From that moment and so small that I was I started to listen to him and sing his songs, the truth is that I really liked the story of overcoming that has this important Latin American singer.
Los dejo con esta increíble canción llena de amor.
I leave you with this incredible song full of love.
LETRAS/LYRICS
Letras
Y me quede soñando
Con la ilusión a cuestas
Con la esperanza guardada
En el bolsillo roto de un pantalón
En el baul sin fondo de mis decepciones
Aletargado en el tiempo
Obsesionado con verte
Se enrojecieron mis ojos
Se marchitaba mi mente
Sera
Que aun no se llenaba la luna
Sera
Que el tiempo fue menguando nuestras ganas
Sera
Sera
Sera
Sera la luna
Sera
Sera
Sera
Serán las ganas sera
Y me quede en suspenso
Con una historia breve
En los niveles mas bajos
De mis latidos del corazón
Entre lo inverosímil de mis frustraciones
Aletargado en el tiempo
Obsesionado con verte
Se enrojecieron mis ojos
Se marchitaba mi mente
Sera
Que aun no se llenaba la luna
Sera
Que el tiempo fue menguando nuestras ganas
Sera
Sera
Sera
Sera la luna
Sera
Sera
Seran las ganas sera
And I was left dreaming
With the illusion on my back
With the hope kept
In the torn pocket of a pair of pants
In the bottomless trunk of my disappointments
Lethargic in time
Obsessed with seeing you
My eyes reddened
My mind withered
It was
That the moon wasn't full yet
Sera
That time was diminishing our desires
Sera
Sera
Sera
Sera the moon
Sera
Sera
Sera
Sera will be the desire sera
And I'm left in suspense
With a short story
In the lowest levels
Of my heartbeat
Amidst the implausibility of my frustrations
Lethargic in time
Obsessed with seeing you
My eyes reddened
My mind withered
It would be
That the moon wasn't full yet
Sera
That time was diminishing our desires
Sera
Sera
Sera
Sera the moon
Sera
Sera
Seran las ganas sera

---
▶️ 3Speak