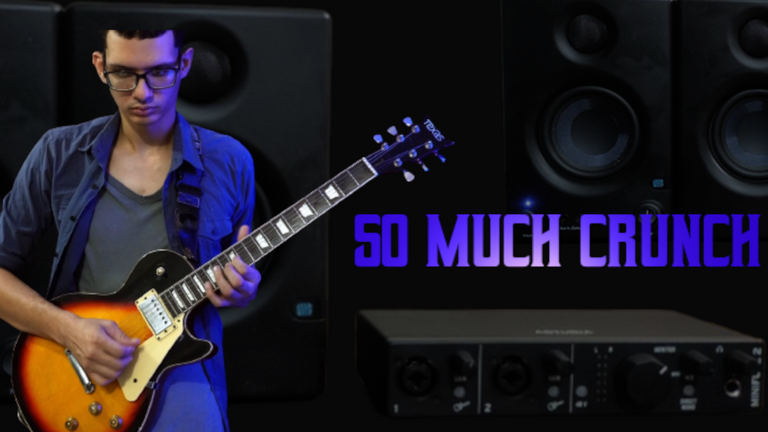 I keep creating new music.
Today, Friday, as usual, I dedicated a bit of my free time to spend quite a pleasant hours in my home-studio composing a new loop. You know I like that a lot. I found some new free VSTs that simulate the sound of a Marshall quite well and I certainly didn't hesitate to use them.
The result is to combine these new effects is amazing. The sound that is achieved with the guitar is quite similar to that of AC/DC. After a while deciding the chord progression I got a pretty interesting arrangement.
In the video I explain how to achieve this sound and I show you a bit of the resulting track, and of course, an improvisation at the end accordingly.
I hope this composition is original to your liking. Let me know in the comments what you think and don't hesitate to ask any questions. A greeting and until the next opportunity.
Seguimos creando nueva música.
Hoy viernes como ya es costumbre dediqué un poco de mi tiempo libre para pasar un rato bastante agradable en mi home-studio componiendo un nuevo loop. Ya saben que eso me gusta bastante. Encontré unos nuevos VSTs gratuitos que simulan bastante bien el sonido de un Marshall y desde luego no dudé en usarlos.
El resultado es de combinar estos nuevos efectos es alucinante. El sonido que se logra con la guitarra es bastante similar al de AC/DC. Tras un rato decidiendo la progresión de acordes conseguí un arreglo bastante interesante.
En el vídeo les explico como alcanzar ese sonido y les muestro un poco la pista resultante y por supuesto, una improvisación al final como corresponde.
Espero que sea de su agrado esta composición original. Háganme saber en los comentarios que les pareció y no duden hacer cualquier pregunta. Un saludo y hasta la próxima oportunidad.
---
Home-studio
-Monitores de sonido Eris E3.5 - PreSonus
-Placa de sonido Asturia Minifuse 2
-Guitarra eléctrica TEXAS modelos Les Paul
-Software de grabación Reaper