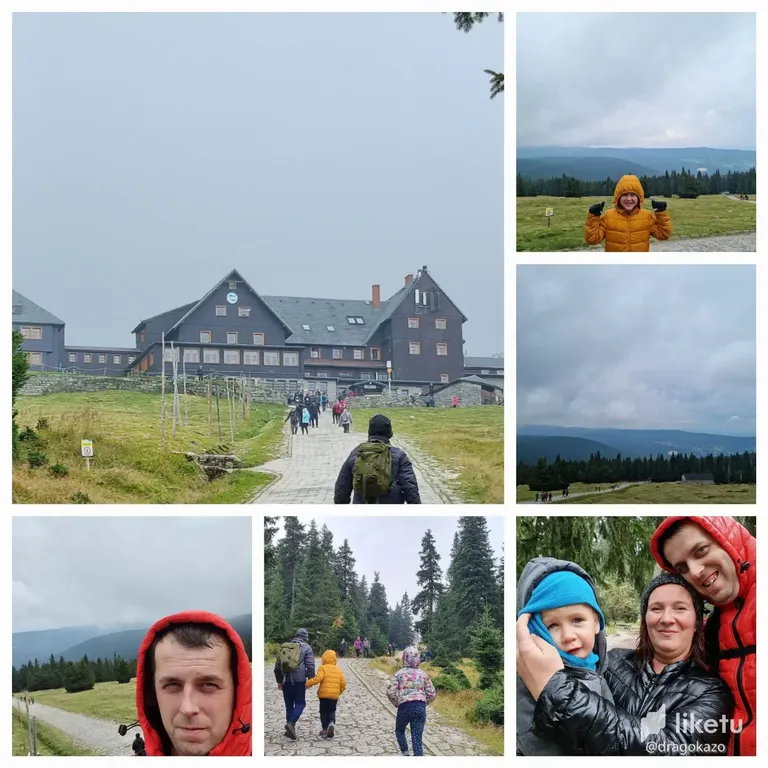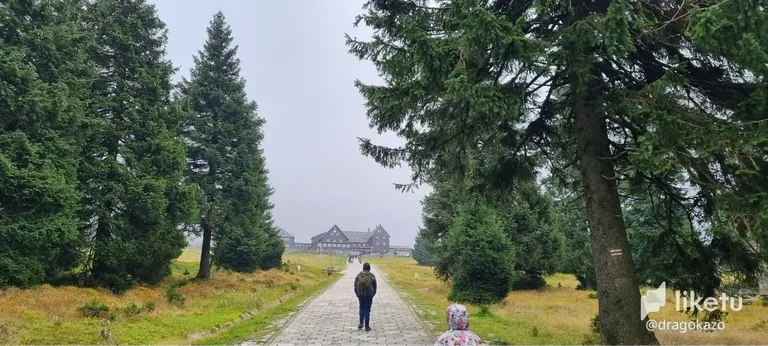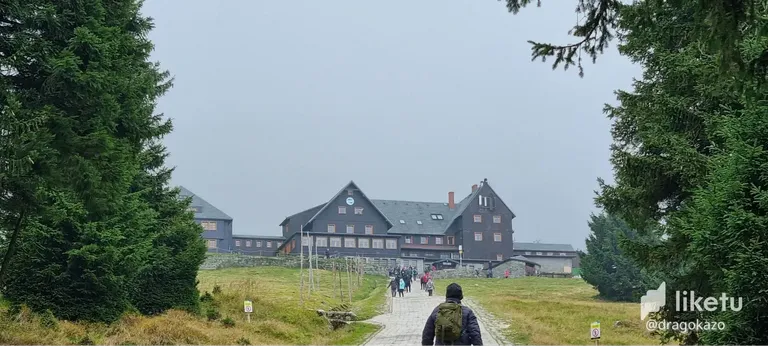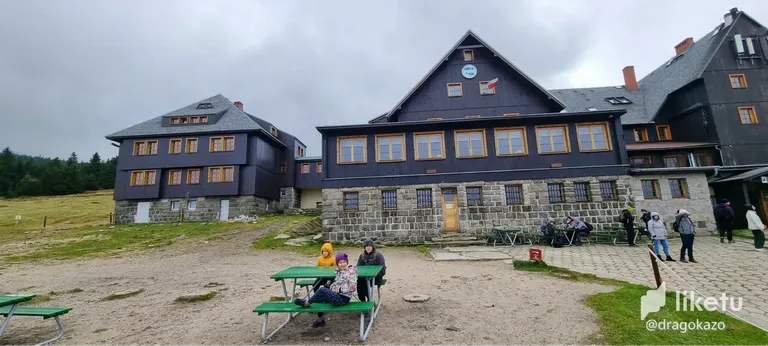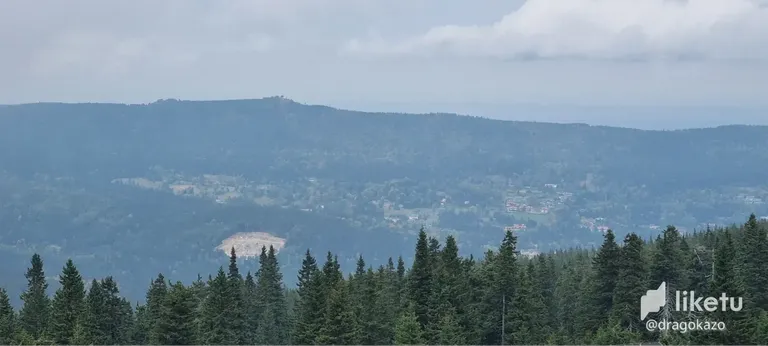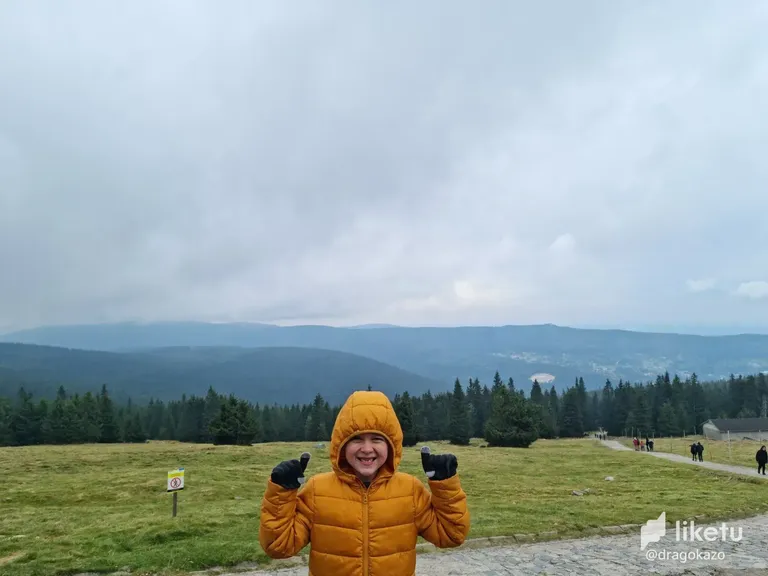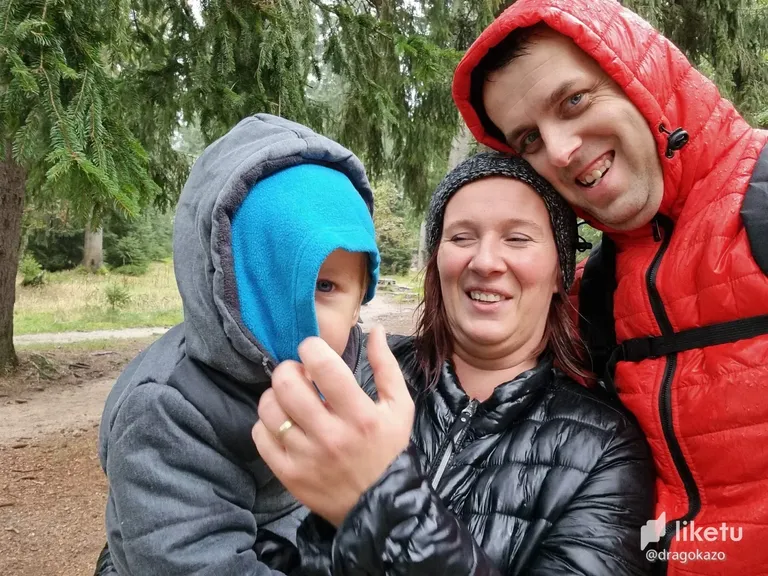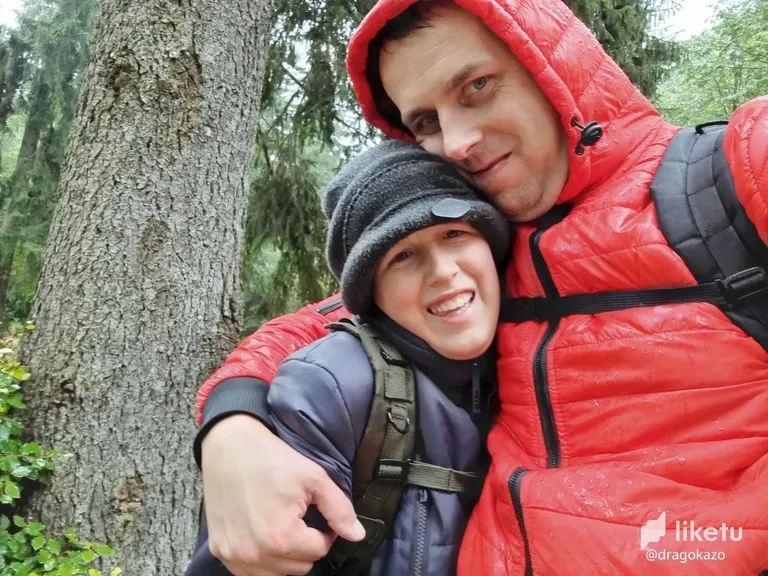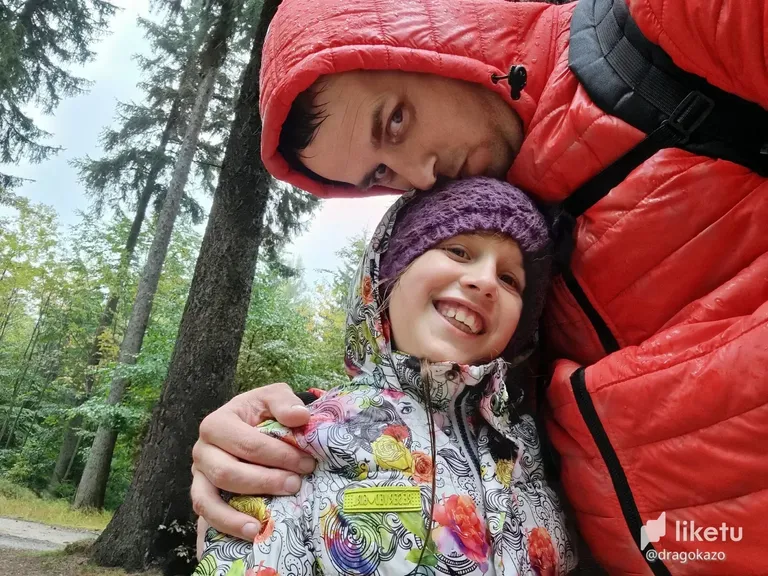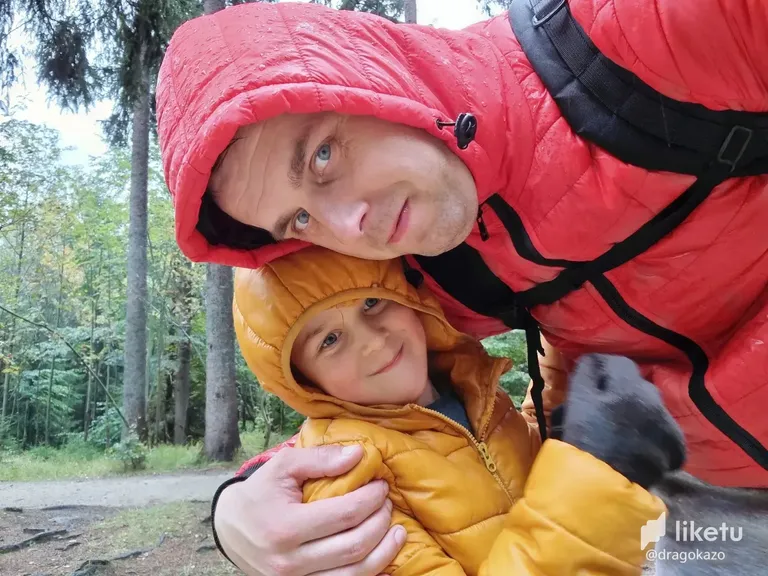 As some people know, we spent last weekend with children in Szklarska Poręba, the first fire of our trip was a trip to the Kamieńczyk waterfall, when we reached our destination and enjoyed the views, we felt a slight lack of satisfaction. We decided to throw ourselves into deep water and set off to Szrenica. From the waterfall we set off on a black trail. Szrenica is a mountain peak measuring 1361m, from its top there is a view of Szklarska Poręba and the Czech side of the Karkonosze Mountains. At the top of Szrenica there is a mountain shelter ,, Szrenica " and a climatological observatory of the University of Wrocław.
The whole route from Szklarska Poręba to the top took us about 4 hours with stops for drinking and a snack. On the way to the top, the weather became uncertain the higher we were, the stronger the wind was blowing, the sun went behind the clouds and we had less and less strength to push forward. Slowly, the children began to whine and we adults lacked strength more and more. Every now and then Wiko whined and had to be carried on his hands or on a ram. We drove to the shelter to rest in calm conditions, slowly we had the impression that we could not do it when a mountain shelter shrouded in fog appeared to our eyes. The goal was so close but getting to it was hindered by deteriorating weather conditions, the wind was blowing straight in our faces, dense fog was gathering over the top of the mountain. When we finally got to the hostel, we went to the toilet and then to get a little bit to the buffet. The shelter was full, it was bustling and cheerful. We figured out who wanted and I stayed with Wiktor in line, and the rest went outside to sit at the picnic table.
When I left the shelter I was greeted by the sun, and after the dense fog and inclement weather there was no longer a trace. When I finally sat down and drank the desired coffee, I felt the fatigue come down from me and the feeling of satisfaction overwhelms me, it is well known to me endorphins, which are secreted with high physical exertion. After a moment of rest and saturation of the eyes with the beauty of the surrounding nature, we went on the way back because, according to the weather forecast, it was about to rain. As a curiosity, I will mention that from Szrenica know the way to Śnieżne Kotły, which, however, we did not decide to go to due to bad weather conditions and lack of strength, which caught up with all of us. For the more lazy, I will say that Szrenice can be reached in a simpler way than by sliding on your own feet on the trail, namely you can get there by chairlift. From the top of Szrenica water ski trails with a total length of over 20 km, so fans of Snow Madness will find something for themselves here.
Another interesting fact about Szrenica is that the shelter located on its top was built in the 20s of the twentieth century, the cost of its construction was covered by social contributions. Returning to our descent, we slowly cautiously went down, somehow it turned out that we wanted to go down a slightly different route than we entered and at some point at the height of the Kamieńczyk waterfall we went down the asphalt road to the left, thinking that we would reach Szklarska Poręba with it. When we got to the main road it started to rain, it turned out that we did not reach Szklarska Poręba but one of the forest parking lots near Szrenica.
We wandered a bit in the woods, went back a bit finding the trail. When we got to the buildings, it turned out that there is still a long way to go to our center. The rain was getting harder and we were getting wetter, colder and tired. We walked up and down alternately, slowly getting hungry, dreaming of a warm dinner. In the end, with the remnants of our strength, we reached our hotel7, as soon as we entered the apartment everyone had to change, not even one dry thread remained on us, even the panties were to be changed. After dressing up myself and the kids, I ordered pizzas for the whole family, everyone jumped into bed under a warm duvet and caught up in anticipation of a warm dinner.
The whole trip took us from 9 am to 5 pm. In the evening, everyone quickly fell asleep and slept with a hard sleep. In the morning we were awakened by soreness, but nevertheless it was a super family time and I would not change anything on that day, not even a mistake of the route flour its pluses😉 .
We greet you warmly and thank you for giving us your time. To sum up, who has healthy legs and goes to Szklarska Poręba must sleep and climb this beautiful mountain peak because it is worthy of this effort.
---
POLSKI:
---
Jak niektórzy wiedzą ubiegły weekend spędziliśmy z dziećmi w Szklarskiej Porębie, na pierwszy ogień naszej wycieczki poszedł wypad na wodospad Kamieńczyka, gdy doszliśmy do celu i nacieszyliśmy się widokami poczuliśmy lekki niedosyt. Postanowiliśmy rzucić się na głęboką wodę i wyruszyć na Szrenicę. Od wodospadu ruszyliśmy czarnym szlakiem. Szrenica to szczyt górski mierzący 1361m, z jej szczytu rozpościera się widok na Szklarską Porębę oraz na Czeską stronę Karkonoszy. Na szczycie Szrenicy znajduje się Schronisko górskie ,, Szrenica " oraz obserwatorium klimatologiczne Uniwersytetu Wrocławskiego.
Cała trasa od Szklarskiej Poręby na szczyt zajęła nam około 4 godzin z przystankami na picie i jakąś przekąskę. Po drodze na szczyt pogoda zrobiła się nie pewna im wyżej byliśmy tym silniej wiał wiatr, słońce zaszło za chmury a my mieliśmy coraz mniej sił by przeć do przodu. Powoli dzieci zaczynały marudzić i nam dorosłym coraz bardziej brakowało sił. Co jakiś czas Wiko marudził i trzeba go było nieść na rękach lub na barana. Zawieźliśmy się by dojść do schroniska o odpocząć w spokojnych warunkach, powoli mieliśmy wrażenie , że nie damy rady, gdy naszym oczom ukazało się górskie schronisko spowite mgłą. Cel był tak blisko ale dotarcie do niego utrudniały pogarszające się warunki pogodowe, wiatr wiał nam prosto w twarz, gęsta mgła zbierała się nad szczytem góry. Gdy w końcu doszliśmy di schroniska , poszliśmy do toalety a potem po małe co nieco do bufetu. Schronisko było pełne, było w nim gwarno i wesoło. Ustaliliśmy co kto chce i zostałam z Wiktorem w kolejce, a reszta poszła na zewnątrz usiąść przy stole piknikowym.
Gdy wyszłam ze schroniska przywitało mnie słońce, a po gęstej mgle i niepogodzie nie byli już śladu. Gdy w końcu usiadłam i napiłam się upragnionej kawy poczułam jak zmęczenie ze mnie schodzi i ogarnia mnie uczucie zadowolenia, to dobrze znane mi mi endorfiny, które wydzielają się przy dużym wysiłku fizycznym. Po chwili odpoczynku i nasyceniu oczu pięknem okolicznej przyrody udaliśmy się w drogę powrotną bo zgodnie z prognozą pogody niedługi miał spaść deszcz. Jako ciekawostkę wspomnę, że ze Szrenicy wiedzieć droga na Śnieżne Kotły, na które jednak nie zdecydowaliśmy się pójść ze względu na złe warunki pogodowe i brak sił, który dopadł nas wszystkich. Dla bardziej leniwych powiem, że ma Szrenice można się dostać w prostszy sposób niż zasuwając na własnych nogach po szlaku, a mianowicie można tam wjechać wyciągiem krzesełkowym. Ze szczytu Szrenicy wodą trasy narciarskie o łącznej długości ponad 20 km więc fani Śnieżnego szaleństwa znajdą tu coś dla siebie.
Kolejną ciekawostką dotyczącą Szrenicy jest to, że Schronisko znajdujące się na jej szczycie powstało w latach 20tych XX wieku, koszt jego budowy został pokryty ze składek społecznych . Wracając do naszego zejścia, powoli o ostrożnie schodziliśmy na dół, jakoś tak wyszło, że chcieliśmy zejść nieco inną trasą niż weszliśmy i w pewnym momencie na wysokości wodospadu Kamieńczyka zeszliśmy w lewo asfaltową drogą, myśląc, że dojdziemy nią do Szklarskiej Poręby. Gdy doszliśmy do głównej drogi zaczął padać deszcz, okazało się że wcale nie dotarliśmy do Szklarskiej Poręby tylko do jednego z parkingów leśnych pod Szrenicą.
Trochę pobłądziliśmy po lesie, cofnęliśmy się nieco odnajdując szlak. Gdy dotarliśmy do zabudowań okazało się że jeszcze długa droga przed nami do naszego ośrodka. Deszcz padał coraz mocniej, a my byliśmy coraz bardziej mokrzy, zmarznięci i zmęczeni. Szliśmy na przemian w górę i w dół, powoli robiąc się coraz bardziej głodni, marząc p ciepłym obiedzie. W końcu resztkami sił dotarliśmy do naszego hotel7, gdy tylko weszliśmy do apartamentu wszyscy musieli się przebrać, nie pozostała na nas nawet jedna sucha nitka, nawet majtki były do zmiany. Po przebraniu siebie i dzieciaków zamówiłam pizze dla całej rodziny, każdy wskoczył do łóżka pod ciepłą kołderkę i dogorywał w oczekiwaniu na ciepły obiad.
Cała wycieczka zajęła nam czas od 9 rano do 17. Wieczorem wszyscy szybko usnęli i spali twardym snem. Rano obudziły nas zakwasy, ale mimo wszystko to był super rodzinny czas i nic bym nie zmieniła w tym dniu, nawet pomyłka trasy mąka swoje plusy 😉.
Pozdrawiamy was serdecznie i dziękujemy, że poświacie nam swój czas. Podsumowując kto ma zdrowe nogi I trafi do Szklarskiej Poręby musi się śpiąc i wspiąć na ten piękny górski szczyt bo jest on wary tego wysiłku .
---
For the best experience view this post on Liketu