For this blogpost, I've chosen an image taken on one of my Lofoten trips. It is a long-exposure pano, consisting of 8 images, of a very beautiful mountain range! The reason I like this photo so much, is because it is a mixture of technique, determination and pure luck.

Why a pano?
As I arrived, I knew right away I wanted to make a panoramic image. The other option was using a wide angle lens, but with a distance like this would make the mountains look relatively small (because of perspective). Using a longer focal length, and the camera in portrait orientation, I would be able to emphasize the enormous size of these mountains, and still add foreground elements to the scene. Therefore, I opted for my 70-200 mm lens. In retrospect, It would have been perfectly fine to use the 24-70 cause both images are taken at 70 and 74 mm. This would have made life much easier, but I got carried away by the moment!

The first spot
I started at a rocky shoreline, where I wanted to emphasize the stormy weather. Beautiful big clouds and snow showers moved in and out of the scene in quick succession. The wind was blowing at gale force, and the waves were pumping like crazy. To me, this is what the Arctic is all about! Raw and untamed!
There was so much movement in the water, that I had to time these shots well. If the waves got too high, they were too prominent, causing too much whitewater. As a matter of fact, once in a while I was surrounded by water, flowing around the boulder I was standing on. I even got soaking wet when a wave crashed right in front of me...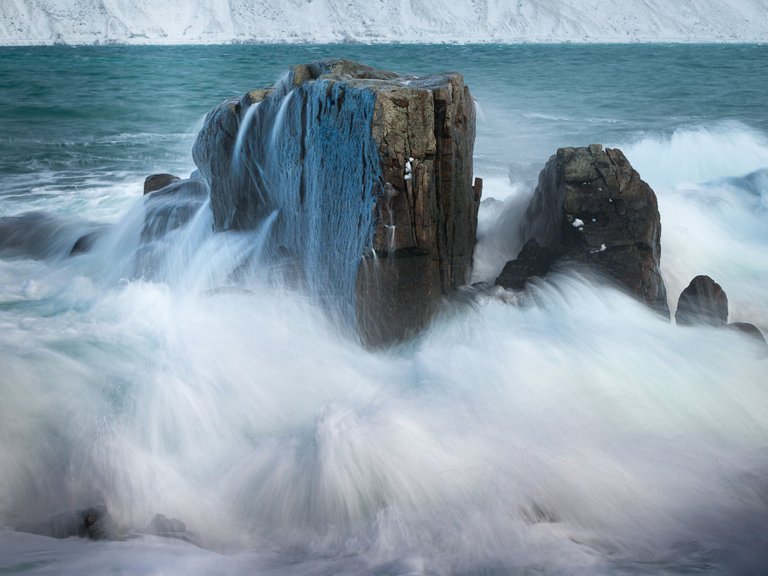 In situations like these, you need a solid and sturdy tripod. You don't want your tripod to be blown over, or start to shake in the wind. I am using a Gitzo Mountaineer, which is a dream when working under these circumstances. With this cold weather, you'll probably be wearing thick gloves, and thanks to the large ballhead, you don't need to take them off when making adjustments.
When taking panoramic images, it is really important to level your tripod! This helps you to avoid loosing pixels around the edges after stitching. It is also smart to compose a bit wider than you normally would. This way, you'll get a bit more room for error.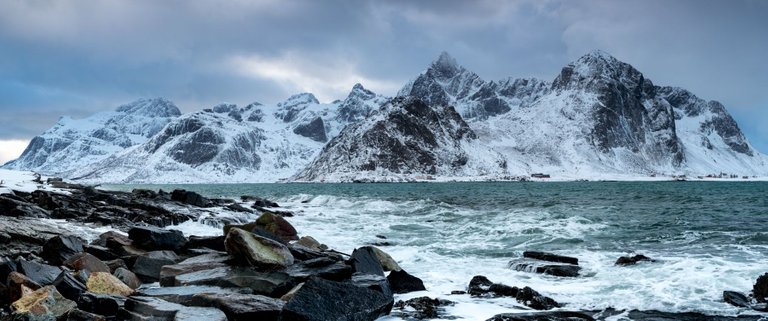 The second location
Because I wanted a more straight-on view of the mountains, I drove to a different location. In a few hours the sun would set, and because there were so many openings in the fast moving clouds, there was a big chance for an epic sunset.
With the first location, I loved the strong movement in the water, but now it became a burden. All the waves made the water look messy and distracting. Therefore, I needed to slow things down. To do so, I used a NiSi 3-stop neutral density filter. Thanks to this filter, I was able to get an exposure time of 15 seconds. There was a huge downside to this practice though. The wind was picking up even more, and this made it really hard to keep the camera from shaking. With a 10 second timer, I had enough time to get into position.
As the sky became more beautiful and beautiful, the wind became stronger and stronger. In the end, it was impossible to prevent the camera from shaking, so I stopped, but I was pretty sure I had the image I wanted!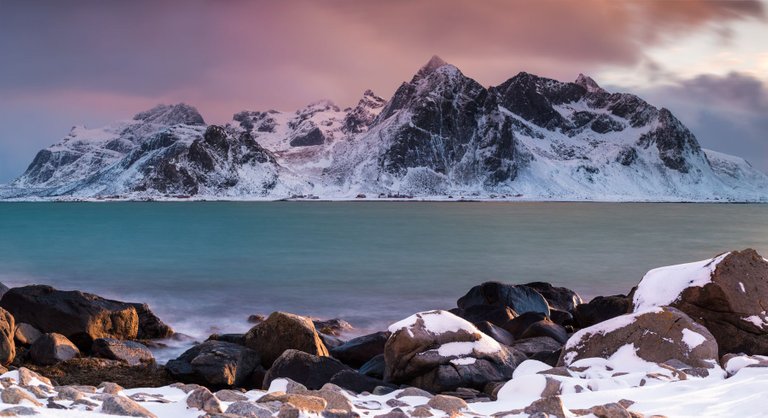 THANKS FOR READING
I really hope that you enjoyed this article! If you have any questions, feel free to contact me. If you like my photography, please follow me on Instagram @harmenpiekema and on Facebook https://www.facebook.com/harmenpiekemaphotography
If you liked this story, and want to experience how challenging the conditions actually were, you can watch the behind the scenes video here: