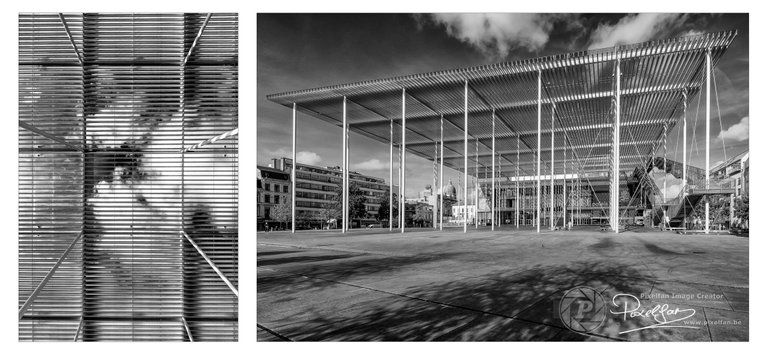 ---
I've posted a then-and-now photo montage a few times now, but this one is a now montage... for the simple reason that postcards of this building don't exist yet. (as far as I'm aware of)
It's not that old yet...
What you see here is the Antwerp city theatre, inaugurated in 1980 and...which will probably be demolished in 2026.
I say "probably" for the year, that it will be torn down is a fact.
This monstrous thing that the people from Antwerp call "the bunker" suffers from concrete rot... So that damn concrete is not only ugly, it is also not sustainable...
And that while the old houses in the center are still there since the Middle Ages... new is not always better 😉
Frankly, no one will miss this building, except for the market vendors who find shelter under the immense roof on rainy days.
So actually I'm terribly proactive with this photo montage. If this blockchain still exists within 4 years I will post a new montage with how the freed up space was filled in. Hopefully with not too much concrete this time 😜
PS: yes, the picture on the left is a view of the sky shot under that immense steel and glass roof.
---
You liked this post?
Right you are 😉
Just follow me here to make sure you don't miss any new work. As you can see below, you will be in good company... my 3 skinny friends are waiting for you 😉


BTW: I will not ask you to upvote my posts… deep down inside you know you have to 😉
Curious to see my other work?
Although I spend most of my time here, you can also find me in other places… just take your pick…