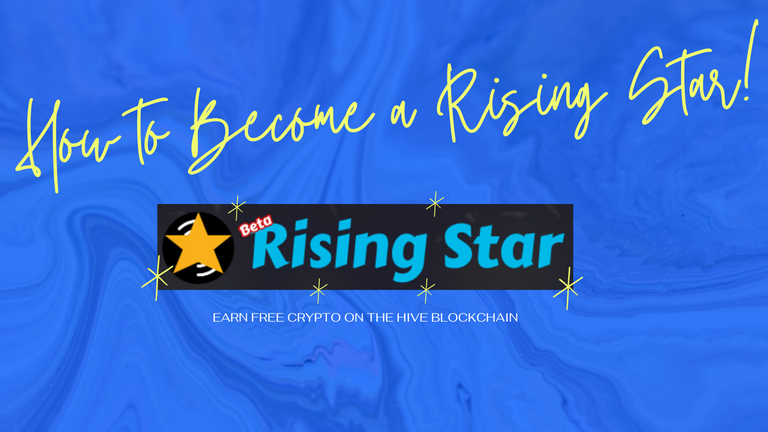 Hello! If you're on the HIVE blockchain and you haven't heard of Rising Star yet, then you better get started now!
Here's my referral link so I can send you some cards to start!
---
What is Rising Star?
Rising Star is a HIVE blockchain #freetoplay and #playtoearn game that you can do on the side, while working or while playing Splinterlands!
The premise of the game is simple. You start out as a small-time busker, earning chump change in STARBITS (the in-game currency). As you gain experience, you get more fans. Unlocking more fans leads you to better gigs with higher pay outs!
Did I mention it's absolutely FREE to start?
---
Starting Out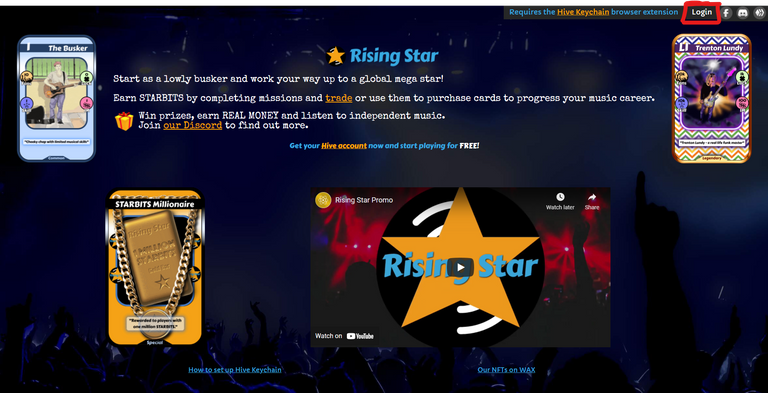 The first thing you'll need to do is Login using the Hive Keychain extension. After that, you should see the main screen. Click on "Start a Mission" and you should be good to go! It's THAT simple. At the bottom of the screen, you can also control the music that is on the Rising Star Playlist!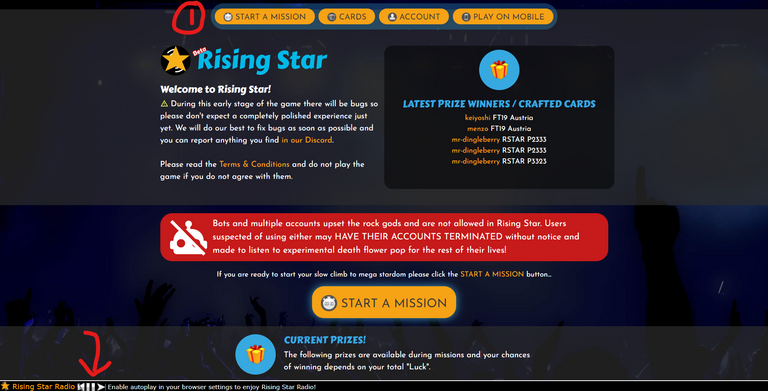 Remember, ONLY ONE ACCOUNT PER HOUSEHOLD. Since it is a free-to-play game, @juxtamusic wants to prevent exploitation of bots to farm STARBITS.
---
LET'S GET READY TO ROCK!
Below, you'll see a screen of the main game interface.

Rising Star Toolbar

This is where you'll find shortcuts to getting to the mission screen, card collection, achievements, FAQs and links to their social media. If you're lazy, I've linked their Discord here.

Level Progress Toolbar.

It tells you the XP you have gained from your missions and how much XP you need to get to the next level. Higher levels = higher paying missions! Next to the toolbar, you'll also see your earned STARBITS and STARPRO. More on the game economy later.

There's a lof of stuff here in this area, let's break it down:
a. Energy Bar



Currently I'm at 4% since (at the time of writing) I just finished a mission. The lowest energy cost for a mission is 15%, and the energy recharges at a rate of ~1% for every 5 minutes. In this Beta version, the energy bar doesn't update immediately, so you'll have to refresh by clicking the Missions in the Toolbar or just refreshing the page.

b. Ego Bar



Ego becomes a balancing factor when you get to either 1000 fans or Level 15 (whichever comes first). The more Ego you have, the greater the "tax" on your STARBITS reward per mission! You can't go around playing big gigs when you don't have the Skills to back it up! Try to maintain it at 0% for maximum STARBITS rewards!

c. Card Showcase



As you collect cards, you'll be able to showcase which cards you want to show off on your profile when you log in. Right now I have R106 Lewis - I will explain later why I think this card is amazing and you should buy up as much as possible.

d. Collective Card Stats



All the cards that you collect through the game from buying booster packs stack up all their stats and their totals are seen here. I will explain each one later on. On my screen, it says I have 90 cards total.

Zones and Mission List

At Level 1, you'll only have access to Home Town, and Illegal Busking Mission. As you increase your levels and your fans, higher missions become more available to you, which also increases your STARBITS rewards per mission.

Mision Details



The first mission you'll have access to is Illegal Busking. In this area, it tells you the mission requirements. The icons stand for Fans (10), Level (1), Time (5 minutes), Energy (15%).



If anything is highlighted in red, that means you don't meet the requirements. In the example above, I can't run the mission because I don't have enough energy.

Account Details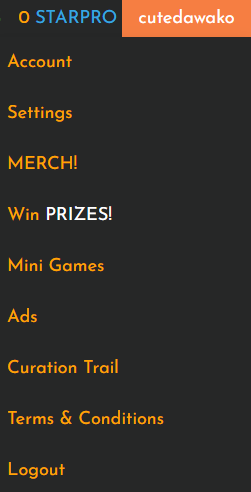 Here you'll get a quick access to a bunch of things related to your account. Clicking on "Account" will allow you to see all your tx on-chain with card purchases, and you can also find your referral link. People who use your referral link will earn you 1 STARBIT for every mission they do, so spread the word about Rising Star to your friends, parents, grandparents, and your neighbor's cousin's babysitter!
---
Okay, So What Do I Do Now?
Long story short, as an Illegal Busker, click on START and you're on your way to earning your first STARBITS! You'll see a timer count down, and you'll see the results in your diary when you're done!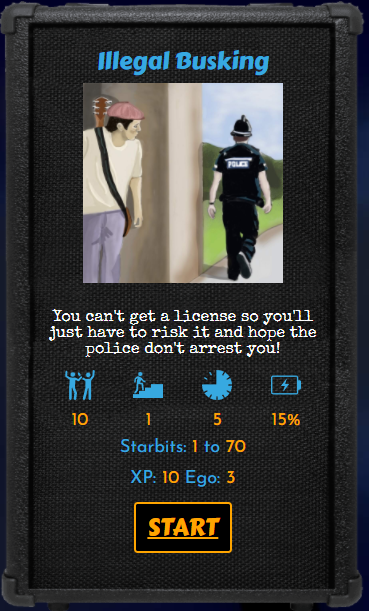 Mission in Progress:


At the moment, the "Finish Now" can only be done with a RU1 Paula, but nothing's for sale on the market... YET.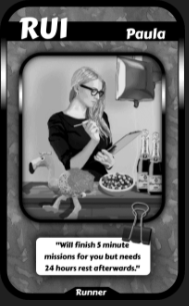 After the mission ends, you'll get an entry in your diary that looks something like this (less the Ego information)

If you're lucky, you'll get a discarded Pizza, which instantly refills your energy!

At this point, you just keep doing missions, rinse and repeat to keep leveling up and getting more STARBITS!
---
I Want Moar STARBITS Now!
The easiest way to progress faster in the game is to buy packs. Each pack costs 10000 STARBITS and gives you access to 3 cards, one of which is at least a Rare. Packs give you access to better people, instruments, or vehicles that have better stats than The Busker that everyone starts off with.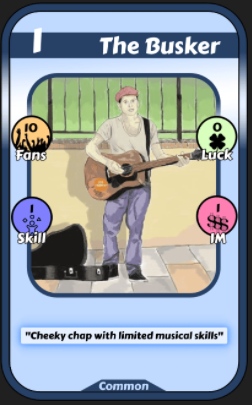 Which STATS should I focus on?
In Rising Star, there are four main stats to consider: Fans, Skill, Luck and IM.
Fans - the more fans you have, the higher missions you'll have access to and it modifies the maximum STARBITS rewards. Take note that the STARBITS rewards at the end of a mission are still randomized. Having Vehicles gives a lot of Fans.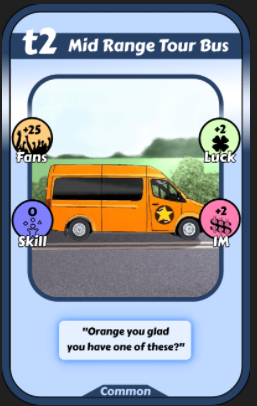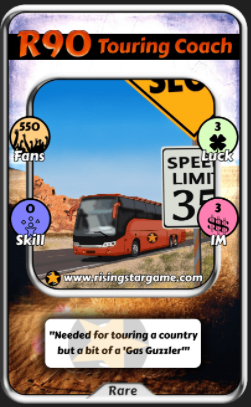 Skill - not too important at the earlier stages, but it'll be a good thing to consider as you approach Level 15 or 1000 fans. Since Ego is measured by comparing Fans and Skills, it is important to keep your Skill level as high as possible to keep the Ego meter down. Remember, Temporary Drunks also count toward your fans, and once Ego is unlocked, each mission will permanently add ego. Here are some of the cards that have a higher Skill stat compared to the Fans stat they provide.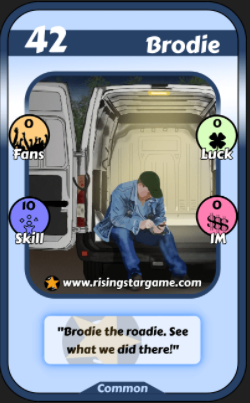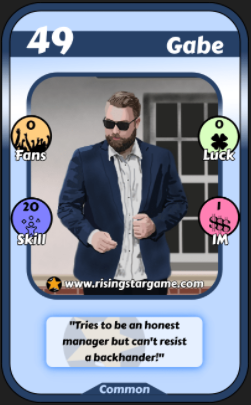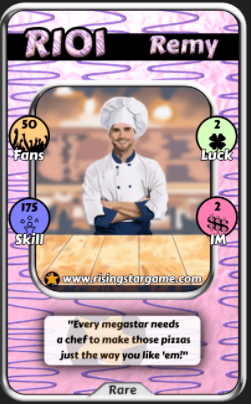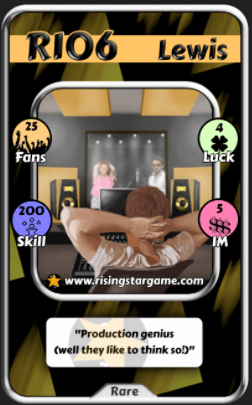 (See why I LOVE the Lewis card? - It's also quite expensive...)
Luck - Most of the cards that have a lot of Focus on Luck are your instruments. They're also used for Music Lessons, which I'll probably discuss in another RS post.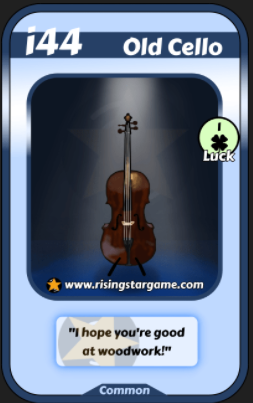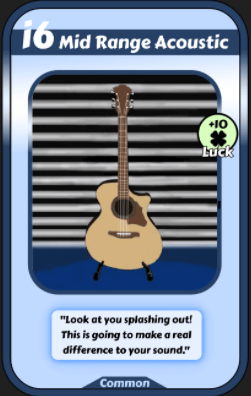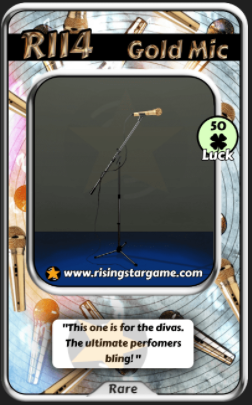 IM - Income Modifier. As of writing, IM is not yet featured in the current version.
---
TL;DR
Rising Star is a free-to-play blockchain game that you should really be getting into, as it earns you passive income. It's quite slow at first, but once you get into the depth that this game offers, you'll find yourself wanting to buy packs, flip cards to earn those much needed STARBITS. The game is easy to pick up, and you did I mention FREE TO START PLAYING???
If I haven't convinced you to play at this point, I may have actually written a terrible post. Let me know in the comments section what you think, and hopefully I can help you in your Rising Star journey!
---
Special shout out to the #nosleepgang who streams Rising Star content on Twitch! They do a lot of Rising Star and other giveaways! Follow them here!
Until next time,
@cutedawako