My 39th day in Rising Star is over now.
---
I was thinking again today about the Custom Shop with the Fairs and I asked myself:
Is there any plausible reason for me as a player to bother with this part of Rising Star?
I always ask myself this question when I have about 15% remaining Energy after a few completed mission combinations.
---
The Illegal Busking from the Home Town zone or the Radio Interview from the Local Gig Circuit are, in my opinion, missions that don't really get me anywhere along my way.
I can play them a maximum of four times in one day before my Fans get bored and for that reason the Starbit income for these missions is cut significantly and the XP rewards with 10 XP (Illegal Busking) and 11 XP (Radio Interview) are also a rather meager yield.
I might as well sweep 1000 Starbits out of my wallet, play a Custom Shop Fairs mission and build up a decent collection of parts for Crafted Instruments cards, right?
---
Honestly, after 55 played Fairs missions and thus 55000 invested Starbits I still can't answer this question to my satisfaction. The statistical data about the probabilities for finding the different Crafted Instrument parts in Custom Shop Fairs so far is sobering, to put it kindly.
I base my evaluation of the situation exclusively on the cost price per part, i.e. what a single component costs me if I need four different components to build any Crafted Instrument card.
This price is only 4000 Starbits in the best case, because I don't automatically get the right parts in the right order at every Fair to build a Crafted Instrument card for 4000 Starbits.
There is also the question of exactly which Crafted Instrument card I will get. Because if I build one that has the same Luck Points as a common card, then in principle I'm probably much better off with a common card than with a Crafted Instrument card (except I would need the Crafted Instrument card for my Unique Cards collection).
---
I think I will extend my statistics to 100 Custom Shop Fairs missions and then stop for the time being. For the then invested 100000 Starbits I could have just bought 12 card packs and I'm sure that the cards contained in them would have brought me much further in my current situation than the Custom Shop Fairs.
But that's just my 2 cents.
You may have different ideas or experiences about it (what would interest me by the way).
---
Let's change the topic: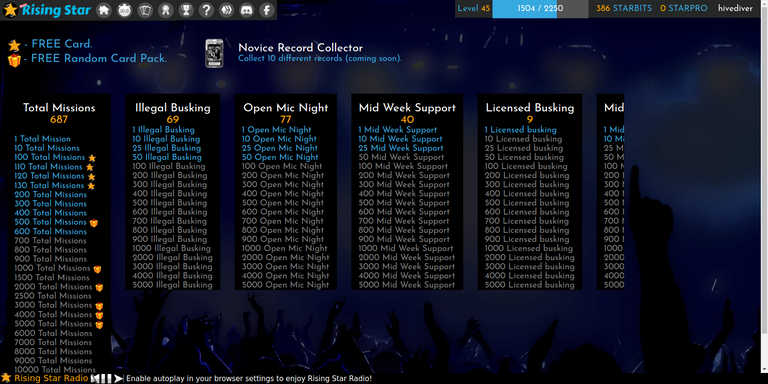 ---
As you can see in the screenshot I now have finished 687 Total Missions.
And yes, I have also played some Summer Solstice Festival missions, because I had some luck with my spared card packs that I have opened as the Summer Solstice Festival has been announced: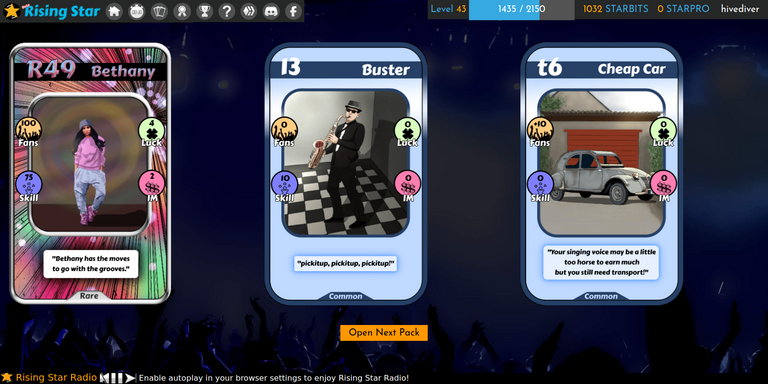 ---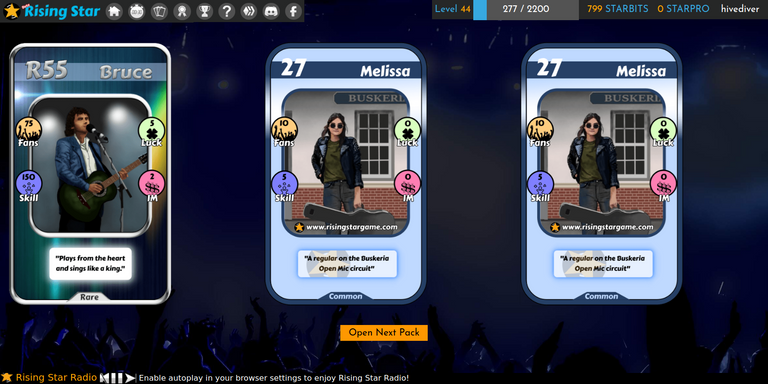 ---
---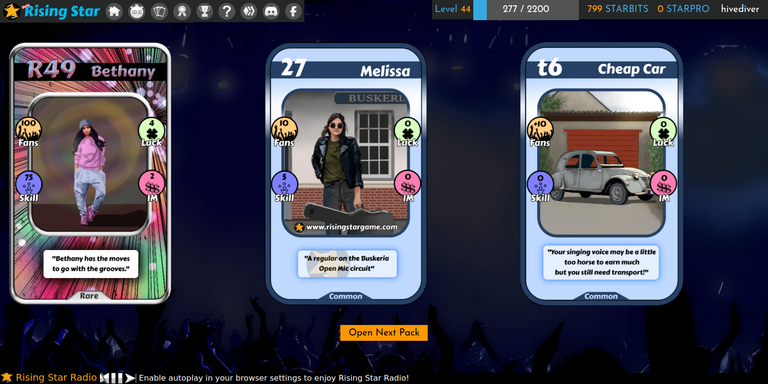 ---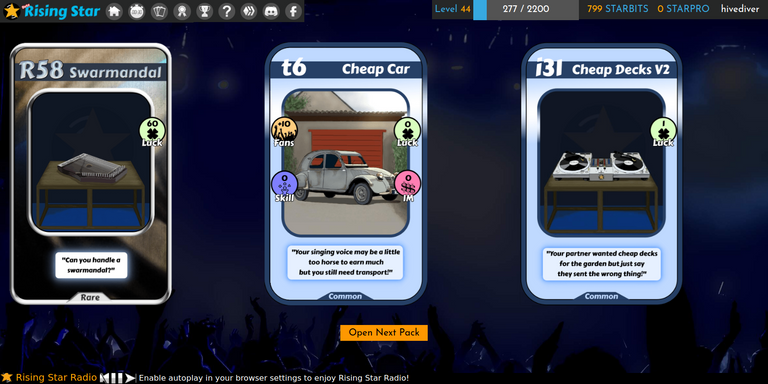 ---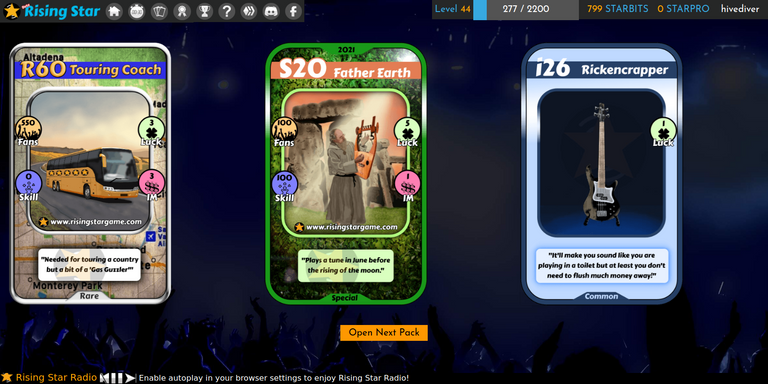 ---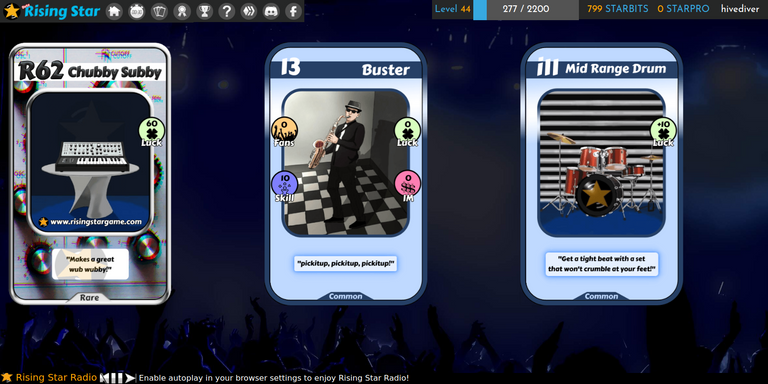 ---
The special card S20 Father Earth was in my fifth card pack.
I wasn't going to come right out with this information, but since @mimismartypants asked me right after if I was planning on playing the Summer Solstice Festival mission, I changed my mind. 😇
---
Yes, @mimismartypants.
Not only do I plan to play the Summer Solstice Festival mission, but I've been playing it practically since I got the special card S20 Father Earth. 😁
Not only that, I've already found both Instrument Cards, the special card S21 Cow Horn and also the special card S22 Pan Pipes: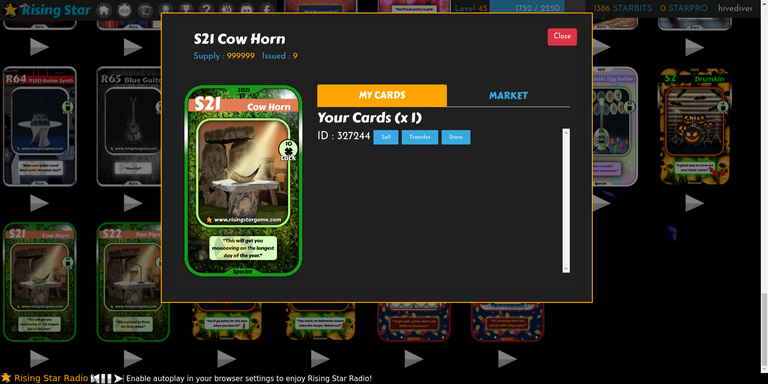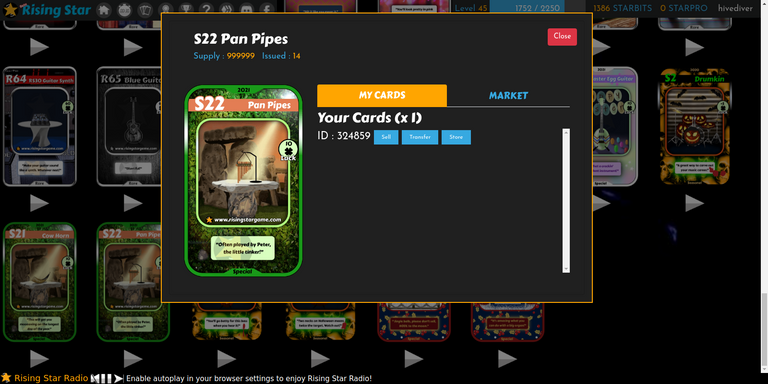 ---
And if I'm not mistaken, my special card S22 Pan Pipes is even the first that was issued ever (please tell me the NFT-ID for previously issued cards as proof if anyone disagree).
---
However, since I have since realized that this mission is taking me too far away from my next goal, I will not continue playing it until I actually become a Starbits Millionaire.
I got what I wished for and everything else is a bonus, but no longer a duty.
---
And that said I'll come to my last words:
---
That was my report for today.
I hope you enjoyed it and that I could entertain you for a short time.
If you have any suggestions or criticism to my posts, feel free to write me in the comment section. I take up every suggestion with pleasure.
Thanks for reading. I hope to meet you here again.
Have a nice day and stay healthy.