Do you play casual games? Millions (billions?) around the world play various games that require attention now and then through the day. Farmville was probably one of the early successes in this field. These days people expect to play the games on their phone, so they need to be mobile friendly.
Hive has a good range of games to appeal to all tastes. One of my favourites is Rising Star. Of course I was drawn my the music theme of the game. I helped the developer @atomcollector out in his early days here and he has been kind enough to create a card with me on it to show his gratitude.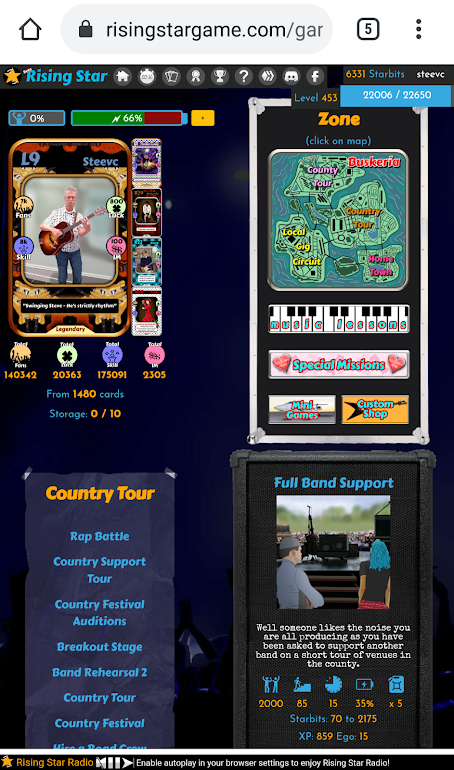 This is the game playing in the browser on my phone. All you need to do that is a private link that they game gives you. You can do most things with it apart from actually spending money as that could work out badly if the wrong person got access. When playing on a computer you can use Hive Keychain.
The idea is to work your way up through the music industry from lowly busker to superstar. Playing requires no musical skills as it is just about running missions that gain you experience and rewards in the form of the Starbits token, which can be traded on Hive Engine. Missions vary between five minutes and several hours, so you can play according to the time you have available. I kick off a long mission before I go to bed each night.
When you start off you will not be making much, but it may be worth buying some card packs or specific cards from the market to speed up your progress. Getting some pizza slices, pizza boxes or coffee cups can help you keep your energy level up as you need it to run missions.

The whiskey bottle helps deal with fan issues.
People cards get you fans and skill. Fans increase your rewards and skill comes into play after a while as having more fans than skill leads to ego problems that reduce the rewards.

Instruments bring you luck which can win you some extra cards and also come into play (literally) when you do lessons to improve your skill. You will need to build up instruments in particular categories to get the maximum skill from a given lesson. This has led to a thriving swapping scene.
There are also vehicles which are required for some missions, but also get you more fans.
A recent addition was instrument crafting. You pay some Starbits to visit a fair where you can find parts to build something. So far that is drums and guitars, but production instruments are due soon. There are 36 different instruments possible in each category and they also count towards lesson skill.

You do need to put some thought into your playing to optimise the outcomes. With the instrument crafting you can gain by creating different instruments as this counts towards your score in the gane leaderboard. Being there can give you a share in a daily pool.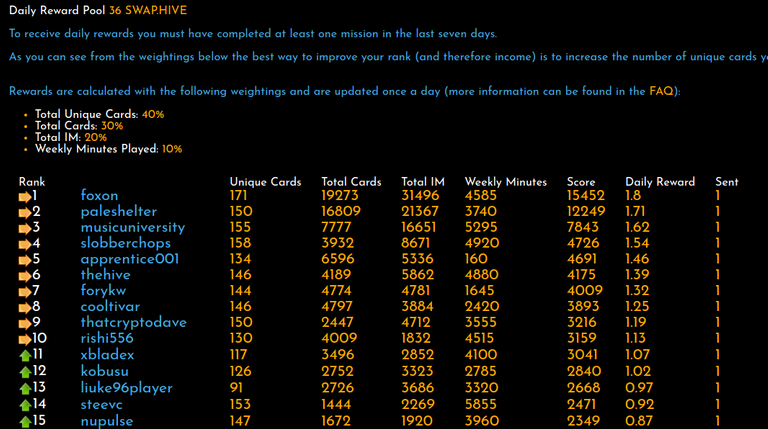 There is active development with new features appearing every month or two. They game is not even a year old and has come a long way. The developer has had to adjust various things to keep it fair and interesting.
Collecting the cards is part of the fun. The designs are great and when you reach a certain point you can form a band where you can pick cards to make a sound you like. Some cards fetch serious money as they are rare and give you an advantage.
I should mention that there is also an in-game radio station where you can hear music from the Hive community.
If you want to start playing then it is totally free. Please use my referral link as I get a little from that.
I have well over a thousand cards now and am willing to give some away to people who need them more. If you join with my link and play some missions then you can have some. I will also consider giving to other people, but I will be checking what cards you already hold. If you need some for a particular lesson then I may have spares. I tend to do the production lessions, so I will keep those cards, but I have lots of microphones and orchestral instruments. You can see what I have here.
@sentipl has been compiling some statistics on the game. The number of players is going up nicely.
So why not play? You can earn some tokens, but you may find it fun too.
Rock on!