Hey there! Welcome to my new article.
According to a recent survey, 1 out of 10 men and 1 out of 200 women are affected by color blindness. Most of them are unaware of it. but what is color blindness? Well, whenever a person is unable to differentiate between colors mostly, red, green, and rarely blue, this condition is known as color blindness. Please keep in mind that, it's not actual blindness.
Well, in this article I will discuss some important queries about color blindness, like why men are affected more? why red and green blindness is mostly seen? is there any genetics linked to it? and most importantly how can you diagnose yourself for color blindness at home.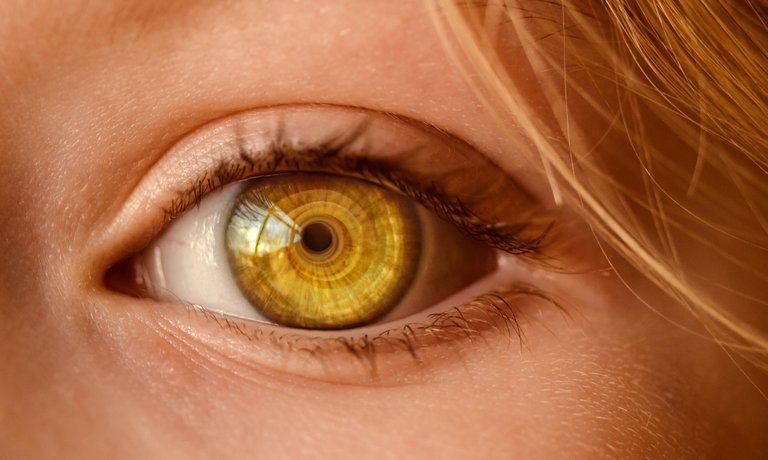 Image by Pexels, Free to use
To understand the mechanism of color blindness, you must a basic idea of components of the eye, which works together to produce an image. I guess, everyone reading this article is familiar with parts like cornea, iris, lens, and retina. The basic action of cornea, lens, and the iris is to project the image on to the retina. If cornea, lens, or iris anyone of them is defective, it will result in either longsightedness or shortsightedness. In medical terms "Hypermetropia" or "myopia".
The color blindness part comes from the defective retina. The Retina is the one responsible for taking image information and passing it to the visual cortex in the brain through the optic nerve. The Retina consists of two important cells that detect light "rod cells" and "cone cells". They have their own function. Rod cells are extremely sensitive to light. It can be more than 100x sensitive to incoming light information than cone cells. This is the reason why we are able to see in dim lights or in the dark. If rod cells don't function well, we will be completely blind in the dark. However, the defect of rod cells does not cause color blindness, it's actually cone cells.
---
Color Blindness and Cone cells
Our eyes determine the incoming color according to its wavelength. We perceive the visible spectrum of light between the wavelength of 380 nanometers to 700 nanometers. The colors that fall in this spectrum are violet, blue, green, yellow, orange, and, red. To determine the difference in wavelength, there are different cone cells that are sensitive to different wavelengths. Namely, three types of cone cells are found, "S-cone cells", "M-cone cells" and "L-cone cells".
The "S-cone cells" function to detect the shortest wavelength which is to "bluish" side. likewise, the "M-cone cells" function to detect medium wavelengths which are towards the "greenish" side, and finally, the "L-cone cells" function to detect large wavelengths that are towards "reddish" side.
All three-cone cells act together and create different signals for different wavelengths. The visual cortex of our brain acts as a final station, where the color is determined by observing the ratio between different signals by these cone cells.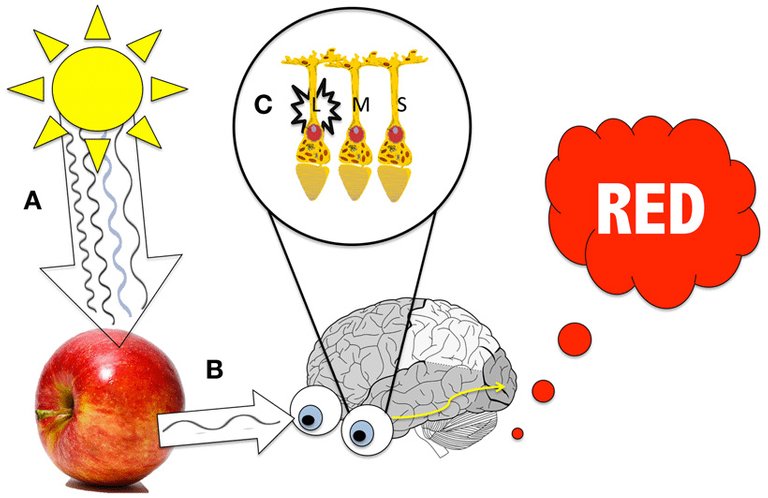 Image by Wade A and Benjamin A, Wikimedia, CC BY-SA 3.0
Whenever there is a defect in any one of those cone cells, it creates color blindness. Let's take an example if the "M-cone cells" and "L-cone cells" are either absent or defective, the person becomes "Red-green" color blind. That means the person is unable to differentiate between those two colors.
---
Variations of Color-Blindness
color blindness can be hereditary or non-hereditary. Non-hereditary color blindness is less common can be due to trauma or Uv radiation damage. The most common variation is the hereditary color blindness. I will talk about the genetics link later in this article, but first, let's see what the different types of hereditary color blindness are.
Trichromacy: This is the most common one. In this variation, one of the three cone cells is altered which creates impaired color vision. Note that, color cells are just altered not totally lost. This is not severe. There are some sub-classifications that determine, which color is altered.
Protanomaly: L-cone cells are altered in this type which reduces the sensitivity of the retina to Red color. It can be also called "Red-weak" blindness. It makes the red look more greenish.
Duteranomaly: M-cone cells are altered in this type which reduces the sensitivity of the retina to green color. Also called as "Green-weak" blindness. It makes green looking more reddish. Also, the most common one.
Tritanomaly: S-cells is altered and is also the rarest one. This reduces the sensitivity to blue color. Also called as "blue-weak" blindness.
Note: In both Protanomaly and deuteranomaly a person finds it difficult to differentiate between red and green color.
Dichromacy: This one is very similar to trichromacy but in this variation, the cone cells are either completely absent or completely non-functional. This variation is moderately severe. There are some sub-classifications too:
Protanopia: L-cone cells are completely absent in this type. it is moderately severe. The perception of Red color appears to be gray colored.
Deuteranopia: M-cone cells are completely absent. Therefore, a person is unable to differentiate between red and green color.
Tritanopia: S-cell is absent and is labeled as "Blue-yellow" color blindness. Or can be also said "Blue-green" blindness. This is the least common one.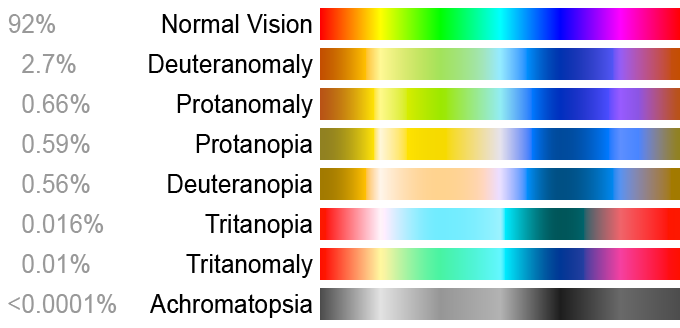 Monochromacy: In this variation, there is total color blindness because of the absence of 2 or more types of cone cells. Here, the vision of the affected person is one dimensional and is very severe.
---
Genetics of Color-Blindness
The hereditary color blindness is due to the receiving of the X chromosome with a mutated gene. However, there are studies showing the association of more than 19 other chromosomes to this condition but mutation on the X chromosome is considered to be most common and also explains why males are more affected.
Mothers have XX chromosomes, whereas Fathers have XY. Both of them contribute to determines the gender of the baby. For example, X from mother and Y from father determines male gender whereas X from mother and X from father determines Female gender.
If a boy receives a mutated X chromosome from mother and Y from father, there is a 100% chance of going color-blind. If a girl receives mutated X from mother and normal X from father, she will act as a carrier of this condition. To suffer from color blindness, a girl needs to have a mutated X chromosome from both, mother and father. This also explains, why men are more affected than women.
---
Can you diagnose it yourself?
The diagnosis is quite simple and requires only a few steps. Believe me, with the help of a friend and a few pictures you can diagnose yourself at home. The name of the test is the "Ishihara color test". This consists of multiple colored dots and patterns. A normal person can easily identify the shape, pattern, or number in between the dots. A color-blind person will have a hard time identifying the number or shape in between the dots because all the colors get mixed up.
Okay, here's a test for you: comment below, what numbers you see in these pictures and I will reply with an answer.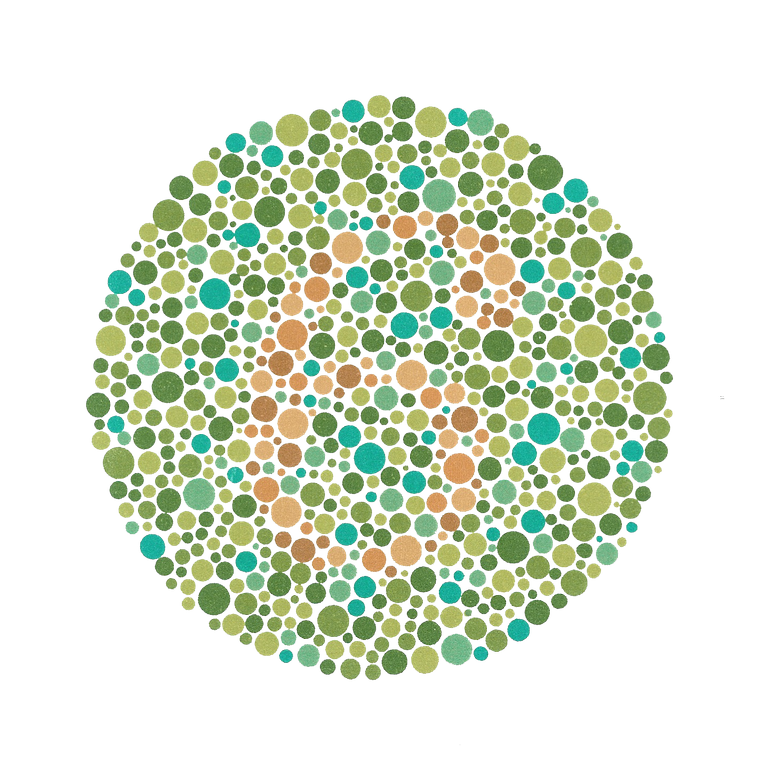 Ishihara Test plate 1 by Shinobu Ishihara, Wikimedia, Public domain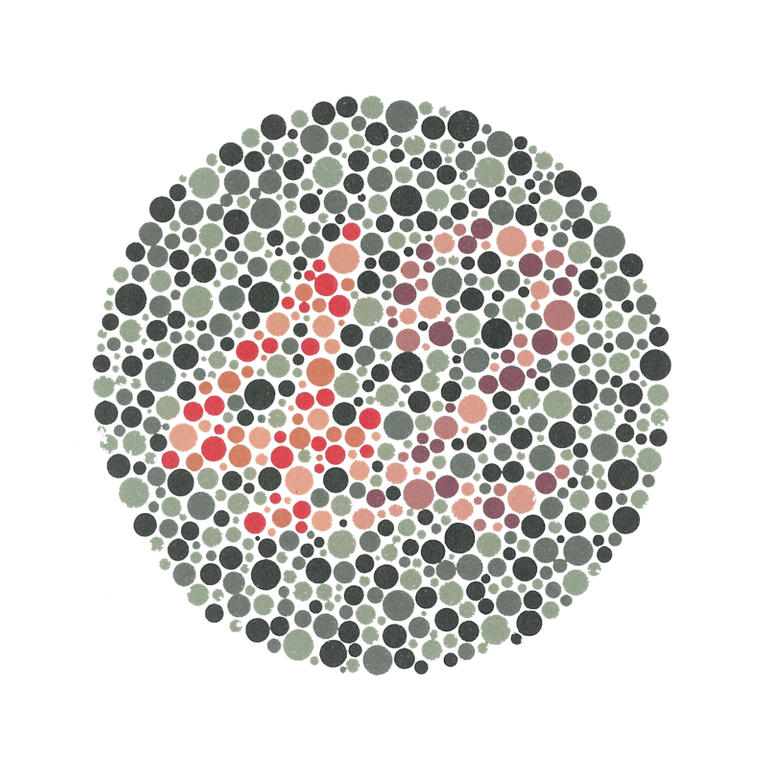 Ishihara Test plate 2 by Shinobu Ishihara, Wikimedia, Public domain
---
Okay comment below, what number do you see in those pictures. No Cheating.
You can find hundreds of these pictures online, print them, and test yourself at home.
---
Management of Color Blindness
Till now, there is no actual treatment for color blindness. If the color blindness is associated with some side effects of medicine then it can surely be treated by treating the underlying cause but hereditary color blind is not curable.
But wait, there are some lenses that can help with mild color blindness. These do not work for every blind people. Here, one eye is provided with a deep red-tinted lens. This blocks most of the green light and appears a little bit dark. So, the person compares with the vision of each eye and find out the difference between green and red. Yeah I know that's very confusing.
The glasses that you must have seen in most of the viral videos, is called "Enchroma" glasses. These glasses do work but mostly for red-green color blindness. Also, we can say it works for the color blindness variations "protanomaly" and "Deuteranomaly". These types are explained above. These glasses are embedded with rare metals which helps to absorb certain wavelengths of light. This leaves the wavelength that an affected person can easily distinguish. Red will be more red and green will be more green making it easier to differentiate. This will only work if the blindness is not too severe.
Also, if a normal person use this glasses, they can see the colors more vividly too.
That's it for this article guys. I hope you liked it and don't forget to comment on what numbers you see in those pictures above.
*All the images used are copyright free*
References:
[1]https://www.colour-blindness.com/general/how-it-works-science/

[2]https://en.wikipedia.org/wiki/Color_blindness

[3]https://www.colour-blindness.com/general/causes/

[4]https://www.nei.nih.gov/learn-about-eye-health/eye-conditions-and-diseases/color-blindness/types-color-blindness

[5]https://www.allaboutvision.com/conditions/colordeficiency.htm

[6]https://www.healthline.com/health/how-do-enchroma-glasses-work


My previous articles:
[1]The science of Hair-loss and its treatment