In the blog of this week, I describe another of the research works that I have undertaken in 2020-2021. In this work, collaborators and I proposed a common explanation for several anomalies in particle physics data, and addressed at the same time a known shortcoming of the Standard Model of particle physics. As usual, readers pushed for time (as this piece of text is a bit longish) can read the introduction to the blog and its last paragraph to get the main essence of the discussed topic. For the others, have fun with the full text!
The anomalies considered are the so-called flavour anomalies, which I have mentioned several times during the last few weeks. These anomalies refer to long-standing deviations between Standard Model predictions and data, and are around the place for several years. In a recent blog I introduced hypothetical particles called leptoquarks as a potential way to restore agreement between data and theory. The present post is again about these leptoquark beasts, but not only about them (otherwise this won't be funny).
It is also well known that the Standard Model is unable to explain dark matter, as addressed in the blog of last week. Cosmology data indeed tells us that an unknown form of matter called dark matter should fill the entire universe. Consequently, it would be nice to have a particle physics explanation for it, which the Standard Model cannot provide.
In the research work discussed today (that has been accepted for publication in the Journal of High Energy Physics a week ago), I detail how a bunch of physicists decided to team up in order to build a theoretical framework both explaining the flavour anomalies and providing a solution to the dark matter problematics. As written explicitly in our article, this theoretical model can be seen as a way for leptoquarks to manoeuvre in the dark to solve several big issues in particles physics.
Our results show that such a model can actually be constructed, and that it is viable in terms of all existing constraints originating from cosmology and particle colliders. Moreover, we also found that whereas the Large Hadron Collider (the LHC) at CERN was a bit sensitive to the model, the best way to probe it was still unexplored. In other words, we have identified loopholes in the program of LHC searches for new phenomena.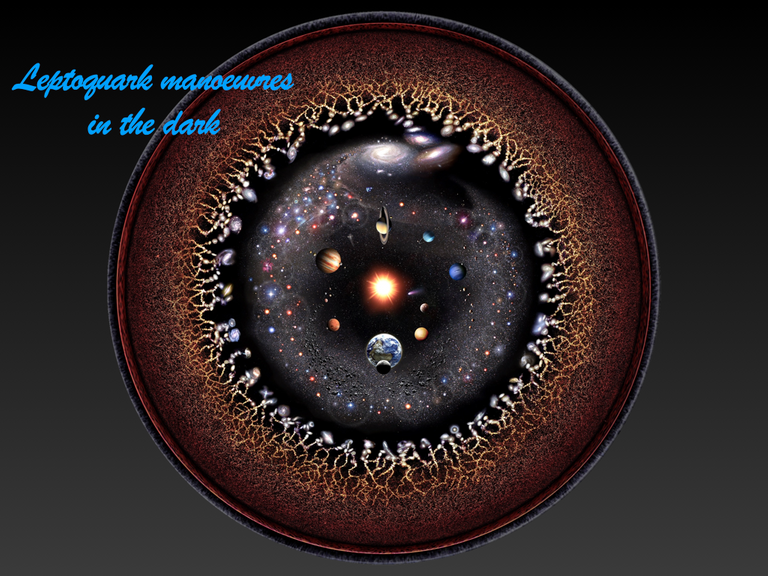 [Credits: Original image from Kalki (CC BY-SA 3.0)]
---
Leptoquarks and the flavour anomalies
---
The Standard Model of particle physics is an amazing theoretical framework. Built in the 1960s, it provides an explanation for all high-energy physics data accumulated during the last 60 years. Moreover, it can be used to make predictions for any future high-energy physics experiment. In the context of the Standard Model, matter is made of quarks and leptons.
Quarks are the most fundamental building blocks making atomic nuclei, and leptons include particles like the electron that are needed to achieve a coherent picture of atoms (i.e. a nucleus with electrons more or less orbiting around it). Whereas in principle two light quarks and two light leptons are sufficient to describe all matter in the universe, the Standard Model comes with two additional heavier copies of each particle. In addition, it is worth to note that all particles have antimatter counterparts (called antiquarks and antileptons).
Quarks and antiquarks are sensitive to the strong interaction (one of the three fundamental forces included in the Standard Model), so that they can form composite particles. Known examples include protons and neutrons (that then pair to form atomic nuclei), as well as quarkonia objects containing one quark and one antiquark. This contrasts with the case of leptons that are not sensitive to the strong interaction and only interact through the weak and the electromagnetic forces (two forces to which quarks are also sensitive).
Quarks and leptons however do not directly interact with each other. The strong, weak and electromagnetic forces indeed only allow quarks and antiquarks to interact among themselves, and the weak and electromagnetic forces only allow leptons and antileptons to interact among themselves. A bridge between these two classes of particles and antiparticles should thus come from new particles beyond the Standard Model.
Such a bridge exists in models featuring hypothetical particles called leptoquarks. In the word leptoquark, we can find both the words lepton and quark. This is not coming from physicists' madness, but from the fact that leptoquarks provide new interactions involving simultaneously one lepton and one quark.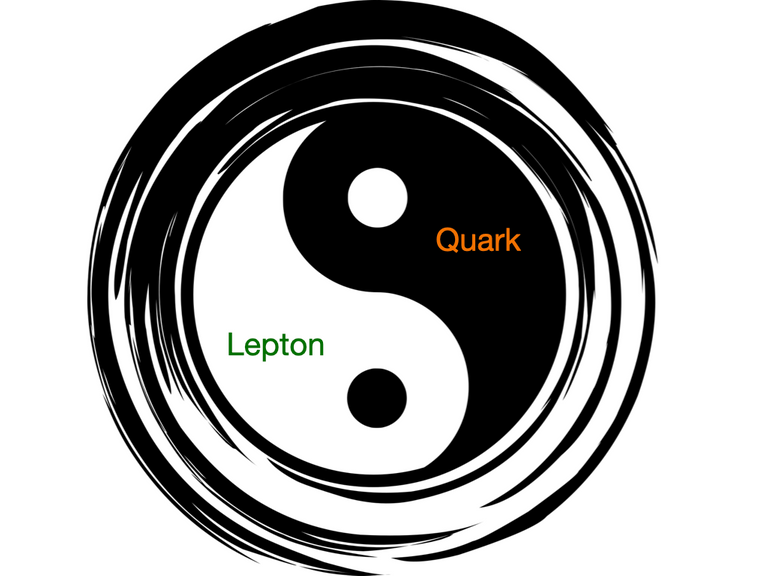 [Credits: Original image from mohamed_hassan (Pixabay)]
It is now time to say a few words about the famous flavour anomalies. These anomalies refer to properties of composite particles made of one quark and one antiquark, and in particular to their decays into leptons. We recall that there are three charged leptons and three neutrinos in the Standard Model. In this context, the decays considered are predicted to feature some universality relative to the type of leptons in the final state. However, this seems to be violated in data. Equivalently written, processes involving the decay of a composite particle made of quarks and antiquarks into some leptons exhibit a strong disagreement between theory and data.
This is where leptoquarks could save the day. To show this, let's consider a model beyond the Standard Model in which there are leptoquarks. Leptoquarks naturally contribute to a decay process in which a bound state of quarks and antiquarks decays into leptons, as leptoquarks provide a direct connection between the initial-state quarks and antiquarks and the final-state leptons. Relying on this, predictions are modified deeply, the impact being sufficient to restore agreement between theory and data.
However, so far there is nothing really new. In our work, we moved one step further and decided to build a model that additionally solves the problematics of dark matter.
---
Leptoquarks as a window on the dark side
---
So far, I have tried to demonstrate why particle physicists are quite interested in extending the Standard Model with leptoquarks. Those hypothetical particles allow for an explanation of various anomalies in data. We are now ready to tackle the darker part of this blog: dark matter.
Whereas the concept of dark matter was first introduced at the end of the 19th century, dark matter as we know it today is a bit more recent. It originates from the original work of Zwicky in the 1930s on the galaxy rotation curves, and from its confirmation by Rubin 30-40 years later. Using the distribution of stars in the universe and our knowledge of Newtonian mechanics and gravitation, it was shown that some invisible form of matter should be present. Otherwise, the rotation speed of stars around the galactic centres would be too slow.
This invisible form of matter is called dark matter, where 'dark' here contrasts with 'light': dark matter does not emit, reflect or absorb light. Whereas invisible, it however interacts gravitationally, and thus influences the way stars move in the galaxies. With dark matter on board, it suddenly becomes clearer (at least to physicists) why stars lying at a large distance from a galactic centre rotate at a much higher speed than expected.
Dark matter is thus included in the Standard Model of cosmology (also called the 𝛬CDM model). With such a model at hand, we have an explanation for many cosmological observations. For instance, we can study the variations in temperature of the cosmic microwave background (i.e. the fossil radiation filling the universe and left over from the Big Bang). These variations can be understood only if matter comprises about 80% of dark matter.
Similarly, data from gravitational lensing (that fact that light is bent by massive objects when it travels close to them in the universe) and simulations of the formation of galaxies both show that a significant part of matter should be very dark…
In other words, there are a lot of indirect proofs supporting the existence of dark matter.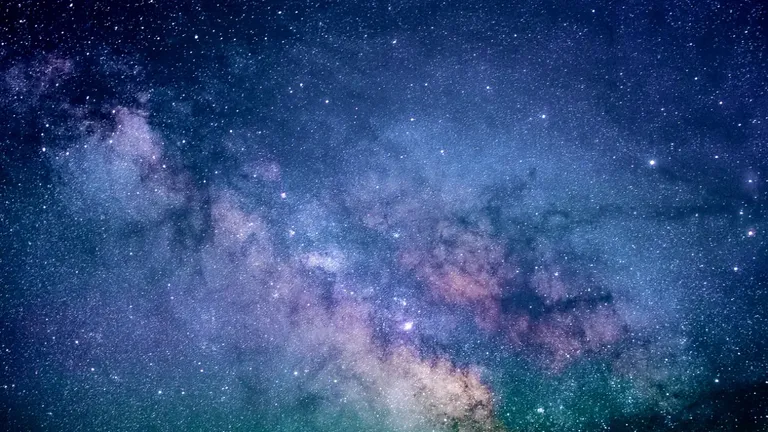 [Credits: Jeremy Thomas (public domain)]
I have tried to sketch that dark matter is very motivated. However, there is no particle that can play the role of dark matter in the Standard Model. Consequently, trying to get a particle physics explanation for dark matter necessarily requires to extend the Standard Model. And here we are with the research work discussed today.
In our work, we aim to construct a particle physics model in which both the flavour anomalies and dark matter could be accommodated. This proceeds in four steps.
We first start from the Standard Model.
Second, we add a leptoquark to the theory to restore agreement with data for the flavour anomalies.
Third, we include another new particle that could play the role of dark matter.
Finally, we connect dark matter to the Standard Model.
As mentioned in the blog of last week, a dark particle with good properties relative to observations necessitates that it communicates with the Standard Model through a mediator. A direct communication does not indeed allow dark matter to be stable, as it should be in order to be still present in our universe today.
We are naturally tempted to use the leptoquark as a mediator, as we want to build a consistent and unique framework to solve both problems considered in the simplest manner. This is where the story starts to be really cool: there is no way to do it without having a third new particle.
A consistent model in which dark matter is well connected to the Standard Model hence requires to introduce two dark particles. In our research article, we demonstrated that such a particle physics model (with two dark particles and one leptoquark) could be viable with respect to data and have both the flavour anomalies under control (so that these are not anomalies anymore), and a dark sector with the right properties relative to cosmology data.
The next interesting question that we tackled in our publication concerns the tests on the model that could be achieved at the Large Hadron Collider at CERN (the LHC).
---
Leptoquarks and dark matter mutually hiding at the LHC
---
In order to test our model at the LHC, it is necessary to determine its collider signatures. This means that we need to assess how the model materialises in terms of new phenomena that could emerge at particle colliders. There are two possibilities. We can either investigate the results of existing searches for leptoquarks, or study analyses targeting for dark matter production. Let's first focus on the latter.
Dark matter production at the LHC leads to collisions looking like the one shown in the figure below, that represents the record of a high-energy collision that happened inside the CMS detector.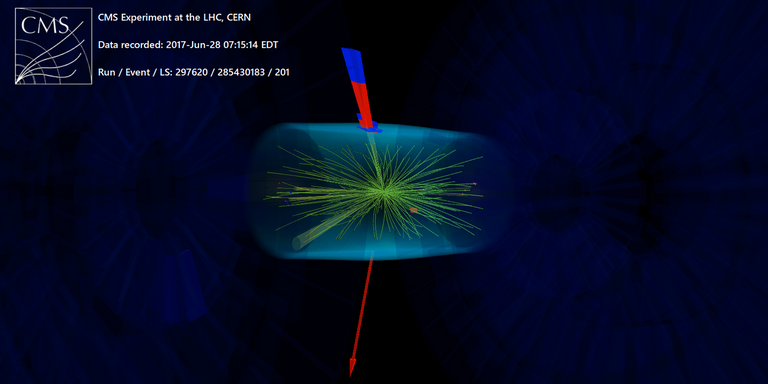 [Credits: CERN]
In this figure, we can see tracks (in green) and energy deposits (in red and blue, in the upper part of the figure) recorded in the detector. One of the golden rule of physics says that energy and momentum are conserved in the collision. We can try to verify this property in the above collision. We would then find that some energy and some momentum are missing. These missing bits correspond to the red arrow appearing in the lower part of the figure.
This imbalance in energy and momentum conservation can be associated with dark matter being produced in the collision. Once produced, dark matter indeed always leaves the detector invisibly. In our model, signals containing such an imbalance are very common, so that they offer a potential handle on the model. Of course, no signal beyond the Standard Model has been found in LHC data, so that we need to make sure that our model is compatible with these non-findings.
We have found that one way to make this working imposes that the masses of the two dark particles are very close to each other. Once this is enforced, then the model is viable. However, other searches are needed to tag the leptoquark nature of the mediator liking dark matter to the Standard Model.
The most efficient manner to produce leptoquarks at the Large Hadron Collider is to pair-produce them. This comes from the fact that the pair production mechanism involves the strong force, which yields a copious production rate. Once produced, the two leptoquarks then decay instantaneously.
There are two possibilities for these leptoquark decays. Either the leptoquark decays into a particle pair comprising a lepton and a quark (as leptoquarks connect quarks and leptons), or it decays into two dark particles (as our leptoquark is the mediator to the dark sector). Those two possibilities give rise to many potential signals.
In the simplest case the two leptoquarks decay in the same way. This is a good situation as current experimental searches for leptoquarks almost always assume that the two produced leptoquarks decay into a given final state. The corresponding signature is therefore made of two identical leptons, and two identical quarks. We can then derive constraints on the leptoquark in our model by studying the corresponding LHC results (nothing has been found).
However, this possibility of leptoquark pair-production followed by identical decays is not the only one. There is indeed a variety of modes in which one leptoquark decays in one way, and the other into another way. Those channels are however not considered by the LHC experimental collaborations, so that a lot of potential handles on the model are unavailable.
Among those missing channels, a signature in which one leptoquark decays into a visible quark-lepton pair and in which the other leptoquark decays into dark particles is very appealing. Such a channel could indeed unravel the connection between the flavour anomalies and dark matter. This is illustrated in the figure below in which we have the leptoquark mass on the x-axis, and the dark matter mass on the y-axis.
What is important is the black line. We determined that with a new analysis targeting a signal made of one visible leptoquark decay and one dark leptoquark decay, the LHC can be sensitive to every point (or mass configuration) lying on the lower-left of the contour.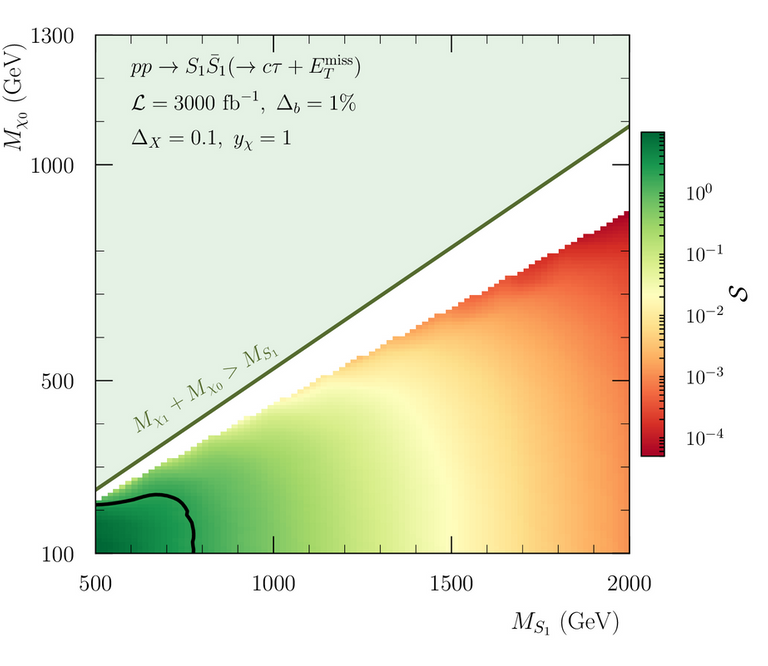 [Credits: arXiv:2111.08027 [hep-ph]]
While this seem to show that only a tiny fraction of all possible mass configurations are covered, this specific analysis is the only one that could demonstrate the existence of a bridge between the flavour anomalies and dark matter.
---
I didn't read anything. What is all of this about?
---
In this blog, I discussed one of my recent research works addressing two problems of the Standard Model of particle physics. With my collaborators, we constructed a particle physics model in which there is a particle that can play the role of dark matter, and in which the so-called flavour anomalies originate from the presence of a leptoquark in the model.
We first demonstrated that there is a viable way to reconcile theory and data for the flavour anomalies, and get viable dark matter relative to cosmology. Next, we studied the model phenomenology at the Large Hadron Collider. Here, there are various handles on the model. We can either use its dark side to get information on its dark matter component, or we can use the presence of a leptoquark to search for new phenomena leading to the associated production of leptons and quarks.
We have found that whereas constraints exist from existing LHC searches, many potentially relevant LHC channels are not covered. Existing bounds on the model are therefore weaker that what they really are, and the model's discovery potential is thus underestimated.
In particular, the analysis of a leptoquark pair-production mode in which one leptoquark decays into a visible particle pair and the other decays into a dark particle pair is missing. This is a crucial drawback as such a channel could unravel a potential connection between the flavour anomalies and dark matter.
These loopholes in the LHC search program are the most important findings of our paper. Hopefully the situation will improve in the next LHC runs, as we have sent a message to experimentalists about fixing the issue.
I now stop writing here and I hope you enjoyed this blog discussing two problems of the Standard Model. Feel free to engage in the comment section, and ask me anything about my work or particle physics and cosmology in general.
I wish you all a very pleasant week. As a teaser about what will come by the end of the week, I will mention that art and science can do great things when combined. Please follow the @stemsocial account to stay tuned!