For just over a month now, my two eldest girls, along with two of their friends, have taken on the responsibility of cooking every Tuesday night. They cook for 10 people, 5 kids and 5 adults. They get a little bit of money from each adult on the Monday, so that they can then go into town to buy the ingredients, they need for their chosen meal.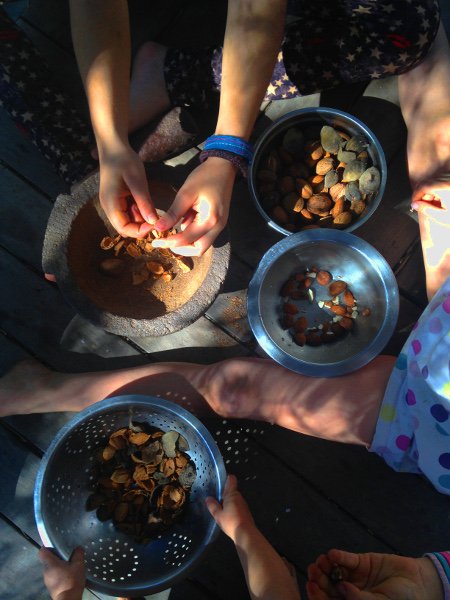 My girls making almond butter, from almonds they harvested on the land.
They take it very seriously and it has been interesting watching them get together to discuss and plan what they will need. Twice now they have looked up recipes online. We are not allowed to know until the actual night they are cooking, because that is just how it goes.
It's such a treat for me to have one night a week off, from cooking. It has also been interesting, to see the dynamics between them all, as they work as a group. The youngest of course, gets bossed around the most. Which happens to be my daughter, but she is just happy to get to hang out with her older sister and her friends.
They idea came from them, they all wanted to have a sleepover together and offered to make us all dinner if we agreed. It wasn't difficult to say yes, to such a proposition. The first time, they made us pasta and we all commented how great it would be, if this became a regular thing.
They agreed and that was the start of it.
As a child/teenager, we take certain things for granted. Always having food to eat, is certainly one of them. So giving them the opportunity to actually see how much food costs and how to budget, is such a wonderful life lesson.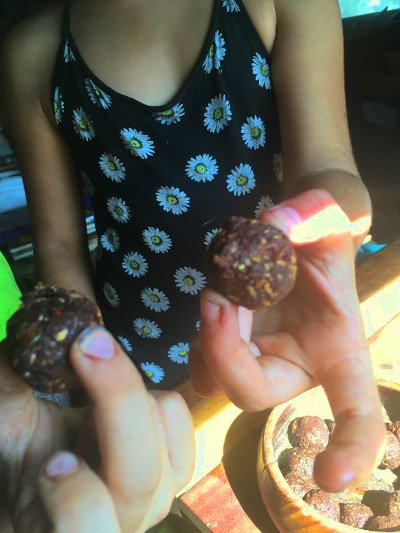 Making raw chocolate energy balls.
On top of seeing, how much energy goes into making the food itself. The most exciting bit for them, seems to be the fact that they get to go shopping themselves. They also seem to enjoy planning what they will be cooking.
All the dinners they make are vegan and gluten free, so that everyone can enjoy them. Whilst they get on with the prep, it gives me time to just be with my friends and really appreciate our kids.
The second night, they cooked us Vegan Burgers, with oven chips from scratch. Instead of burger buns, the burgers along with all the toppings where in lettuce leaves and they tasted great. We were all so impressed and it as great to see the pride on our kids faces.
Since then, we have had pizza, also made from scratch, Vegan savoury Crepes, with Salad and Vegetable Curry with Rice. I have been super impressed with their cooking abilities. There have been a couple of times, when they were not so enthusiastic, but we reminded them, how they had made a commitment.
Which is also another great lesson for them to learn.
They are also responsible for cleaning up afterwards, this part has not always run so smoothly. We have tried to encourage them to clean up as they go along, but kids do not generally respond well to being told what to do, especially as they get older.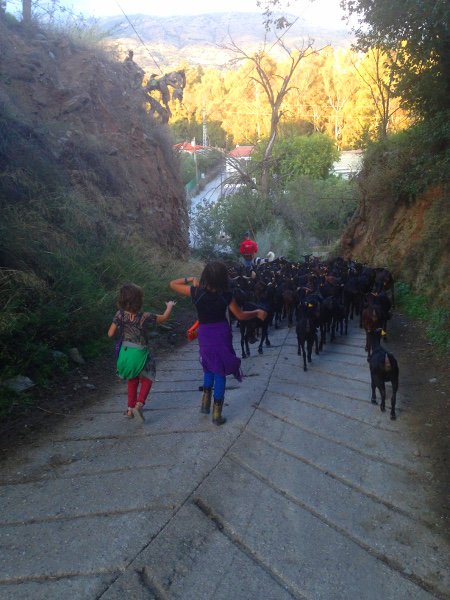 Giving them responsibilities like this, helps them to become more confident. Since this wonderful new tradition started, both my girls have begun cooking more. Today my eldest even made me lunch, a mushroom and spinach wrap.
The best way to learn, is just to do it. Our children are very good at letting us know when they are ready and we need to be ready to trust them, when they do.
Just the other day, I was visiting a friend. Her daughter was in the pool with my youngest and she kept on asking her mum if she could swim without her arm bands on. I could see that her mum, did not yet feel comfortable with her trying, so I just told her how important it is to listen. That our children know when they are ready and if perhaps they are not then they will realise that when they try.
If we do not allow them to try, then we are telling them not to trust their own instinct and that is something we really want them to hold on to. So she let her try. Her daughter then proceeded to swim right around the edge of the pool with no arm bands. She would swim a little then reach for the edge, take a breath and away she went again.
It was wonderful to watch and to see how proud that little girl was of herself.
As parents, we are here to listen to and encourage our children. To give them the space they need to teach themselves. In one way it's a very hands off approach to parenting, but there is a huge amount of trust and respect involved and those two are very valuable things to carry with you throughout your life.
I am still without a camera, so unfortunately, I have no photos of any of the wonderful meals that they made. But take my word for it, they all looked and tasted real good.