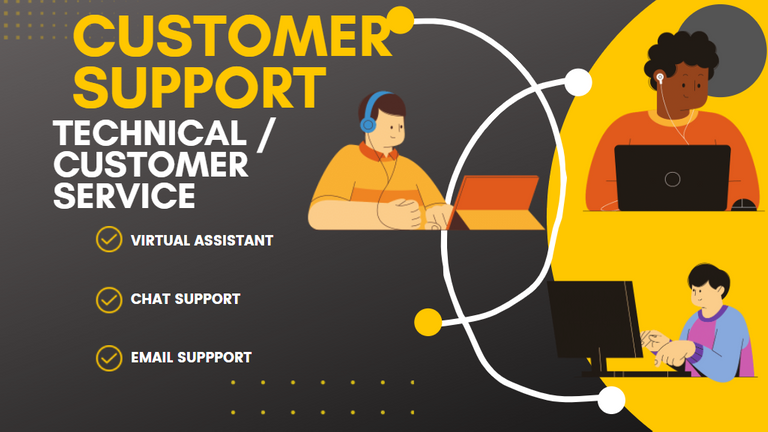 Edited by ivarbjorn in www.canva.com
Hello everyone, it has been almost a month since I last write a blog, and it is mostly due to a busy work schedule and a very urgent project that needs to be done within a month and probably one of my last projectsdw, I didn't have any breather at all and I had to pause my commitments in Hive like curating for the cartel, I also did not find the time to write a blog aside from the Weekly Digest of @rabona since it is the easier task to do, and would not consume a lot of time to curate about 5 to 6 posts a day, and write the new updates.
Anyway, my current job is not stable anymore and it could be gone anytime, so I am now trying to find more opportunities, and maybe, just maybe I can find something here in Hive that is why I am making this posts, to let people here in Hive know that I am available in case you need someone with my skillset.
My Job Experience
I specialized in Chat Support, Data Entry, Lead Generation, Virtual Assistance, and Technical Support. I am an experienced Chat Support Representative, I have worked in this industry for 5+ years with 3+ years of Freelance experience, I have mainly worked on this things; manning website live chat, which can take up as much as 6 chats at the same time with 1 minute response time, responding to emails, troubleshooting(via remote sessions), I have also experienced working with computer data migration software company, large Telco companies in the US, and I also worked with small businesses as a Virtual Assistant, doing, lead generation, data entry, researching information, making a quote, sending invoices, processing payments, and creating appointments.
I could say my English Written Communication Skill is above average, and at most at the professional level. I am also used to working in different shifts and can handle stressful working environments, easily. With my Technical Skills, I could say that I am at in Intermediate level and will be able to troubleshoot almost any computer issue as long it can be accessed remotely.
By working with Telco's in the US, I get to understand a lot about Internet Connectivity and how to fix issues in a short period and make sure that customers are well taken care of. We are talking to a minimum of 5 Chats at the same time for this account as the account gets a heavy volume of chat traffic every day.
I have also worked with their sales department. Process sales orders and arrange the dispatch and administration of products sold. Receive, manage or escalate customer complaints related to the sale of the company's products/services. Maintain sales statistics and records of sales performance. Provide administrative support for the production of sales-related documents. Identify sales leads and escalate them to external sales staff.
I did also experience to be a Virtual Assistant(when I started my freelancing career), by working as a virtual assistant I have understood lots of processes and bits on how to help run small or larger scale businesses, helping clients in any way possible, using the things I have learned in training and the things I already learned in my own, and used my experience and technical skills from studying Bachelor of Business Administration, Major in Management to ensure a desirable outcome for both internal and external clients.
I am also working in the @oneup-cartel and @rabona as a curator in Hive and working as moderators for some discord communities like @clove71's Discord server, and I am also helping @woonft's discord by answering some of the community's questions, I thought I will just add that to my job experience, being a curator and a moderator is not an easy feat.
That is pretty much all I can say about my work experience, and I really wish you find the time to read this post, and if ever you know any opportunities that I could get my hands into, let me know! Thank you!



Let's Connect:


You can also DM me in discord if you have questions: ivarbjorn#9345