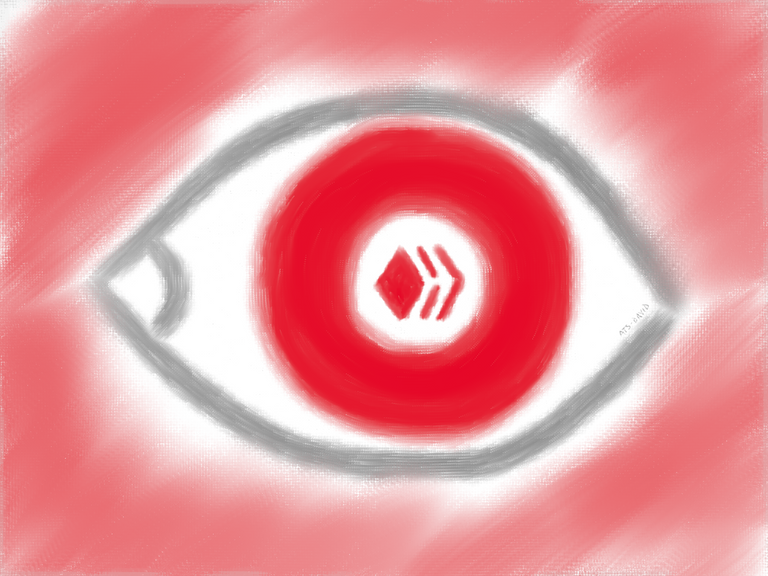 Original artwork by me. I'm traveling and had no other Hive images to use. You can buy this image from me!
We need a strong mid- to long-term vision for the Hive blockchain.
I was recently asked to share some of my thoughts about the direction of Hive and how we can make this blockchain attractive to a wider pool of developers, investors, and users. I have mentioned these ideas in different places over the past several months/years. This will be for community contemplation and discussion.
---
My vision for Hive
This is a list of changes I'd like to see with some rationale to follow:
Remove social rewards from Hive's base layer.
Reduce overall token inflation by 50%.
Adjust inflation/reward percentages distributed to witnesses, stakeholders, and the Hive development fund.
Send 50% of current Hive development fund to @null.
Improve HIVE Dollar pegging tools and incentives or remove the token altogether.
Increase/Improve other decentralized financial products on Hive.
Create world-class documentation and developer tools for Hive to facilitate adoption and second-layer application development.
Use condenser and hivemind as a showcase for social media applications and content rewarding.
---
Why should we make these changes and improvements?
Some of the ideas above are self-explanatory or are largely accepted as needed for growth. Some may not be as clear-cut or they're unpopular with certain groups of users. I'll explain some of these ideas and my reasoning for them here.
1 - Remove Social Rewards
The primary reason for removing social rewards from Hive's base layer is to provide more versatility and less load on the chain's base layer. It will also remove the single largest point of contention between users, developers, and investors of HIVE.
Investors of a token/blockchain shouldn't need to scour pages of social content just to protect themselves from dilution. As Hive grows, the blockchain continues pushing into other interests outside of social media, yet investors and developers can be hamstrung by Hive's social media reward protocols.
If social rewards can be moved to second layer apps (#7 and #8 above), then the playing field for bloggers, gamers, artists, and any other group of investors can be more leveled. There's no reason for investors in a gaming community to be forced to vote on or police content just to collect rewards for staking...or else have their investment continually diluted.
2 - Reduce Inflation
With social rewards removed from Hive's base layer, inflation can be reduced. Currently, social rewards comprise 65% of annual HIVE inflation. Reducing inflation by 50% will actually provide an increase in tokens for the purposes of stakeholder incentives, which is where I believe the extra tokens should go.
3 - Token Distribution
As mentioned, once social rewards are removed and inflation is reduced, the distribution of tokens can be adjusted. I would like to see 40% go to stakeholder "interest" and the remaining 60% percent divided evenly between witness rewards and the Hive development fund.
4 - Burn Tokens
As a result of the creation of Hive as a fork/split from Steem, the Hive development fund received a windfall of 75-80 million HIVE tokens. Since a portion of inflation - and an increased portion at that - will still go to the fund, there is a rather large pile of tokens sitting in reserve to be released at a later date...and contributing to downward pressures on HIVE/HBD prices.
There are no short- to mid-term needs for this surplus of tokens. It can be argued that, in some distant future, those tokens may be needed for development. I don't believe this is true and if we improve the Hive blockchain now, there will be far superior incentives and enticements to build on/with this chain.
5 - HIVE Dollar Tools
The history of HBDs is a sloppy one. The tools are largely inadequate and the demand/use for HBDs is still quite small and limited even after four years. The current "pegging" essentially relies on printing HBD via the Hive fund and then selling or burning them afterwards. It's a convoluted scheme meant to do a job that may be able to be accomplished via better protocols.
One such option through Hive code is a two-way conversion that has been discussed for a few years. If that is a viable option, then we should try it and test its robustness. If there are other ideas out there, then we should discuss them.
If HBDs cannot be reasonably pegged and if the interest in or use of them continues to be essentially non-existent, then we should consider scrapping the token altogether.
6 - Other Financial Products
Hive currently has three fairly good financial products baked into its code: Savings accounts, escrow, and a (somewhat) pegged stablecoin. We should explore improving these products (as in #5 and through better incentives for using savings accounts) and adding to them.
Products like loans and insurance can be created. With zero fees, fast transaction times, and unique named accounts, those seeking decentralized finance (DeFi) solutions can find them and actually use them without the pain of exorbitant fees, transaction delays/cancellations, and confusing wallet addresses.
Second layer options can be expanded/improved with the data still being entered into Hive's immutable ledger. The use of custom JSON transactions - such as how Hive Engine uses them for token creation and trading - allows for nearly limitless options for financial product implementation.
7 - Documentation and Tools
More than anything else, if we want world-class app development and big investors, we need world-class documentation and developer tools. This should be our main focus whether the ideas here are implemented or not. Hive development funding should be directed to achieve these ends as soon as possible.
8 - Social Media App Showcase
Removing rewards from the base layer of Hive is not meant to disregard content creators and social media in general. We should have content platforms...as apps on Hive.
The open-source interface should be improved until it is an enterprise-level interface that showcases the main features of the underlying Hive blockchain and the second-layer social features that have been in development for years. Along with interfaces such as Peakd, Dapplr, and Innerhive, it should highlight these second-layer solutions for censorship resistance, content tokenization, and integration with other third-party Hive apps - such as dCity, NFT Showroom, and Hive Engine.
---
The complete package for complete domination!
A little hype or hyperbole never hurt anyone, right? But in all honesty...
Why can't we have it all on Hive?
We have a great blockchain in terms of the underlying technology. We have a relatively large and fairly loyal community for blockchains/crypto.
We just need to focus our energy and resources on what the market wants instead of forcing something that we don't even excel at, which is social media products.
Hive can be the home for world-class developers. Hive can be the home for world-class decentralized finance. Hive can be the home for world-class gaming, blogging, and digital art galleries. It should be our job (particularly for witnesses and core developers) to provide the incentives and tools to make it all possible.
We can't do that while arguing about content rewards and trying to maximize token accumulation through various voting schemes and backroom deals.
Let's open up Hive's potential and show the world how great blockchains and cryptocurrencies can be.
---
These are my own ideas and opinions and should not be construed to represent the ideas and opinions of other Hive stakeholders or witnesses.
---
If you like what you've read and want to support these ideas, then consider approving @ats-witness as one of your Hive witnesses.