I have noticed that @steevc often does a post called Follow Friday. I think its a good idea, a way to introduce people to new and/or interesting accounts.
On the latest one he wrote this comment:
Another week ends and it is time for my regular #FollowFriday post. I still live in hope that others will adopt this tag, but I will keep doing it anyway.
Source
I'll have a go at it this too. On my blog I write about a wide variety of stuff, but the main focus is usually on Wildlife and other aspects of the Natural World. Obviously that means I spend time looking for and appreciating other peoples post that are on the same lines. I'm not just after pretty pictures, but I want interesting articles too, full of facts and thought-provoking content.
As I write this, the time is currently 23:35, so hopefully I can get this published while it is still technically a Friday!
Lets get to it... here are 3 accounts that share lots of interesting information about the natural world around us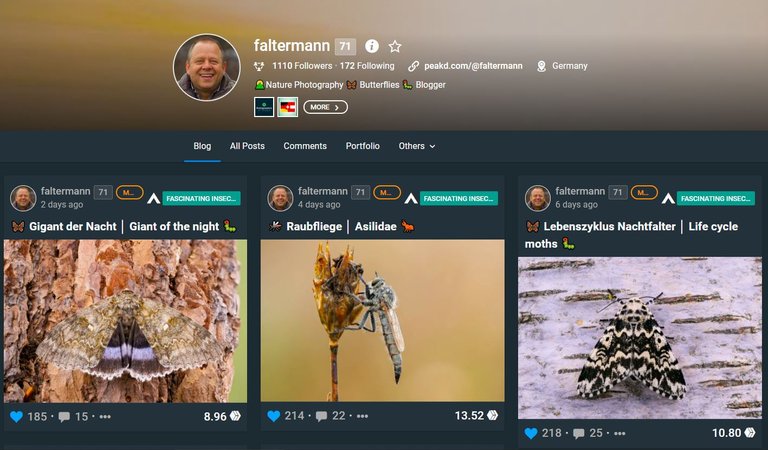 1 - @faltermann
This probably isn't a surprise to many of you. @faltermann is a well known account, and has many followers and gets rewarded well on his posts. And this is for good reason, the content he shares on the various species of insects (most notably Moths and Butterflies) is full of detailed information, and the photography is of a very high standard. He also goes to the effort of providing background info on the location, or info on how he took the images.
I found this account within a few days of joining HIVE, and it encouraged me to put some effort into my posts and write interesting articles as opposed to just posting pretty pictures.
Check out his latest post 🦋 Gigant der Nacht │ Giant of the night 🐛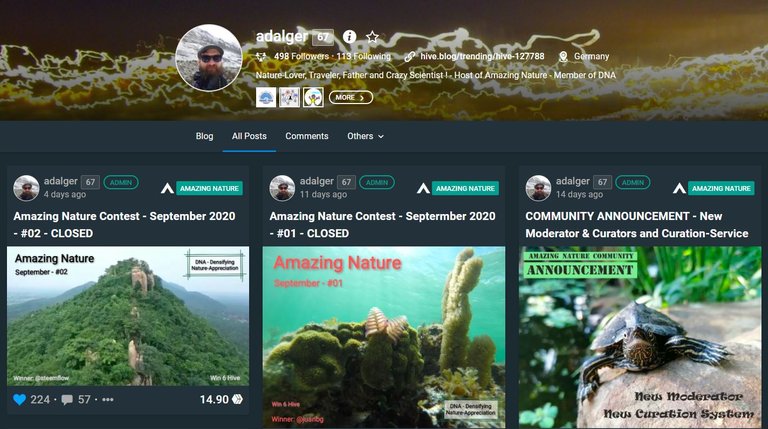 2 - @adalger
Another 'big' name regular readers may recognise, @adalger is a scientist who loves exploring the great outdoors. These days he seems to spend most of his time managing the Amazing Nature Community. This is a place for where lots of accounts share the 'Amazing' Nature they can see in their local area, and as HIVE is a global place, so there is lots of cool stuff to see of animals and insects and flowers and landscapes.
I'll let him explain it in his own words:
To participate in the #amazingnature contests just create a post that shows how amazing nature is for you personally. This can be anything from a beautiful flower or animal to an astonishing sunset. Source
Check out his latest post Amazing Nature Contest - September 2020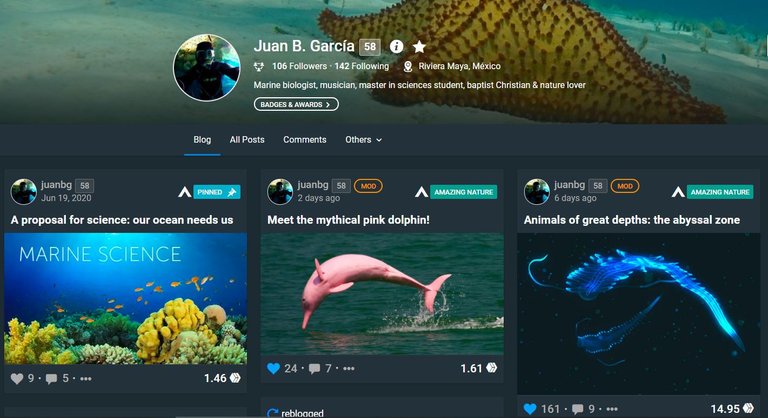 3 - @juanbg
And now last but certainly not least, @juanbg is a smaller and currently a lesser known account, but I suspect it won't be like that for long. He is a Marine Biologist from Mexico, who appears to be very busy in real life. This means he doesn't post very often, and he doesn't always talk about nature, but when he does the Articles are amazing! Well researched and referenced with the relevant sources, he deserves more attention than he is currently getting.
The themes are almost always linked to the oceans, and there is loads of cool information. I don't expect to experience the kind of nature he manages to get close to, so this is a fascinating glimpse into another world
Check out his latest post Meet the mythical pink dolphin!


As I check the clock it is now technically 00:20 on Saturday, but nevermind, I nearly made it on time haha.
I hope you check out these accounts, there is some really interesting information (and pretty pictures!) being shared by all 3 writers.
I'll now turn this over to you... Are there accounts that I have missed? Are there people sharing interesting information about the world about them that I need to check out?
Please leave any suggestions in the comments below

Thank you for reading, I hope you found it interesting.



If you have any thoughts or opinions on this article then I'd love to see your comments.
And if you really like the content then maybe you would like to upvote or re-hive it.

All Photos taken by @dannewton unless otherwise stated.
Check out my website for more of my work.
Facebook - Instagram - 500px - Redbubble