Why?
Recently, I noticed a friend used blocktrades.us to change their HBD to HIVE:

(Screenshot from peakd.com)
I like @blocktrades and blocktrades.us is a good service.
To change HBD to HIVE or back, I would not recommend it, though.
You can almost always get the best conversion rate with Hive's Internal Market.
Also, I would not recommend using Hive's conversion function, unless you know what you are doing. But that is for a different post.
What is it?
Hive's Internal Market is a built-in function of this blockchain.
Like a post or a vote, there is a native function called: limit order.
Where is it?
In theory, anybody can build their own frontend for it.
(I have created my own tool for it, but that is not working anymore)
Go to:
You can also use peakd.com to get there:

(Screenshot of my wallet from peakd.com)
...that will also direct you to wallet.hive.blog.
How?
https://wallet.hive.blog/market looks like this: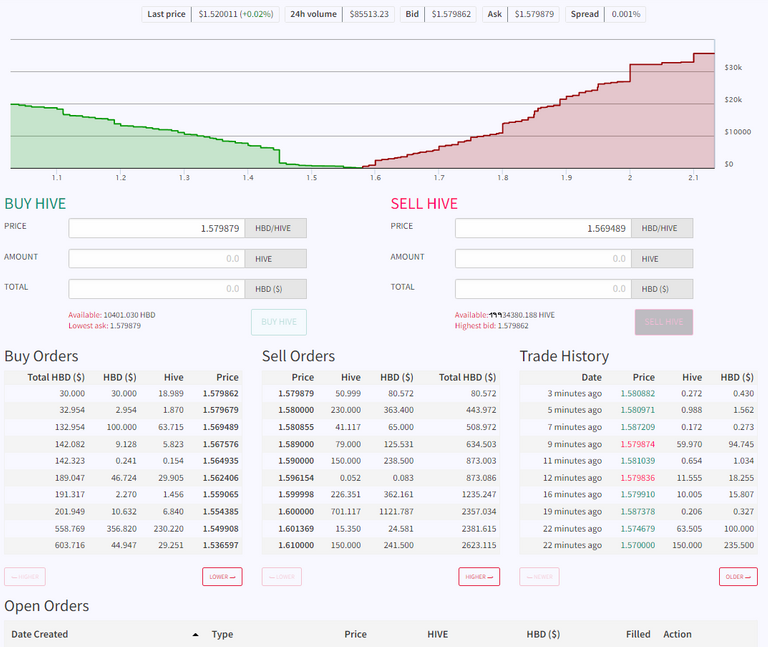 (Screenshot of my wallet on wallet.hive.blog/market)
There is the order book and it works like any other exchange;
There are two prices already filled in:
The highest buy order
The lowest sell order
If you want to buy HIVE for HBD quickly, just click on the lowest sell order (ask) and select it as your price. For larger sums you might want to check, if that sell order is large enough (Total HBD) to cover your own order.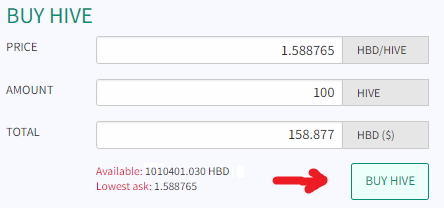 Clicking BUY HIVE will create a limit order.
If the price of your order is high enough, it will instantly fill the order waiting in the order book.
It will always fill at the best price if your buy order's price was too high.
Conclusion
I will stop explaining here; You can find countless guides on how an order book works elsewhere on the internet. If you are dealing with anything crypto, you need to educate yourself on how exchanges work.
Hive's internal market usually has the best price, there are no transaction fees or conversion fees.
It's Hive's built-in exchange.
Please never use blocktrades to swap your hard earned HBD to HIVE, or back.
Unless you know what you are doing, dont use Hive's conversion function.
You might occasionally get a better price using a diesel pool or other services, but that is for advanced traders and there are bots, which are usually much better at it and quicker than you could ever be.
Use the Internal Market!