Recap
About two weeks ago we introduced referral support on @hiveonboard. It's amazing to see how many people are ready make use of it, on-boarding new people on HIVE everyday.
In order to help you, keeping track of all your referrals, here comes a feature update.
HIVE Referral Tracker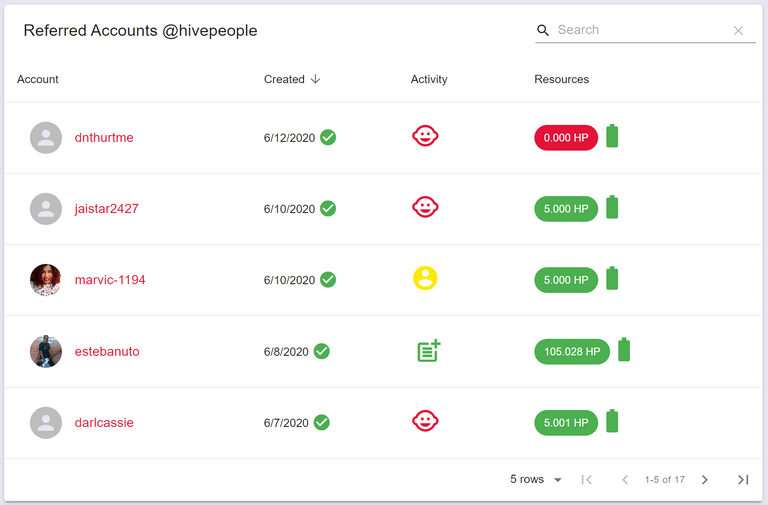 Everyone can now access all their referred accounts on @hiveonboard.
The interface creates a list of accounts and useful data like:
Account Name
Date of Account Creation
Status of Profit Sharing (Mouse-Over for details)
Activity Indicator
HP of the Account (Mouse-Over for details)
RC Indicator (Mouse-Over for details)
You can sort any column as you like when clicking on the heading or use the search function.
The referred accounts shown in the list aren't limited to accounts created on @hiveonboard instead all accounts created following the Open Standard for a HIVE Account Referral System will be shown. In other words, if you referred an account with another dApp, the referred account will be listed as well.
How To Access
Just browse to https://hiveonboard.com/learn, click on Referral Program, enter your account name and hit the TRACK YOUR REFERRALS Button.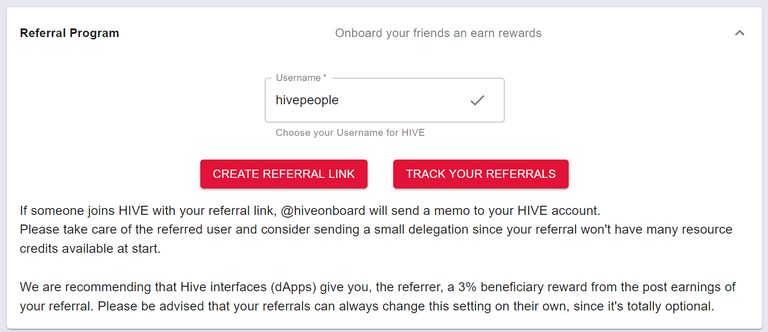 Or just use this link and replace the account_name in this url with your own:
https://hiveonboard.com/referrals/account_name
Feel free to bookmark this url if you plan to use it frequently.
Convenient Helper
As you can see in the screenshot below, we suggestion a delegation of 5 HP for accounts that
a) are considered as active and created at least one post,
b) have less than 5 HP and
c) have 80% or less resource credits available
For your convenience you can simply click on the delegation button an delegate 5 HP with HiveSigner.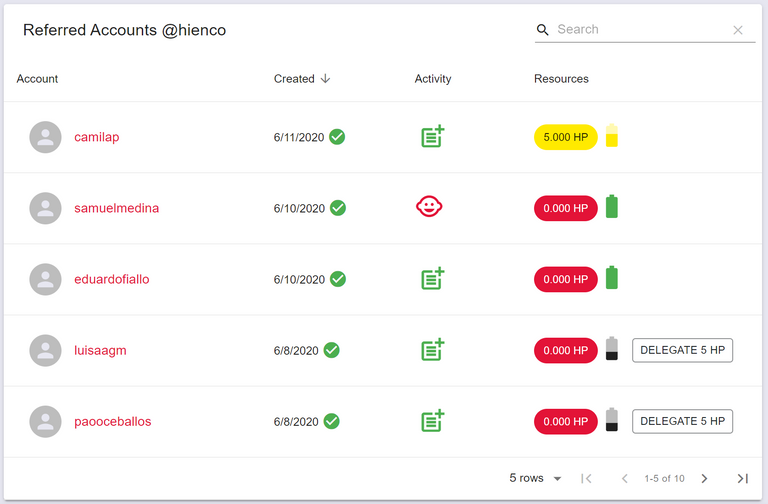 Asking for dApp Support
Since no dApp has integrated the Open Standard for a HIVE Account Referral System for profit sharing yet, we and referrers still have to wait for adoption. I'd love to hear feedback from dApp developer on their plans and considerations about this topic.
200 HIVE Bounty for the first dApp Adoption
I'am hereby putting up a bounty of 200 HIVE to any dApp which is going to integrate the open standard first, following the Guidelines for dApps in the post linked above and of course supports post creation.
If you need help or have questions regarding this open standard, feel free to reach out to me on Discord.
---
This is @roomservice and when you like my work, I would be glad to be your witness: Vote here