Hey and welcome to our beloved Community!
So you are interested to join the Hive and want to know how things work here? Then you just found the Post that explains all the Basics and how to earn your first Hive Rewards (HR).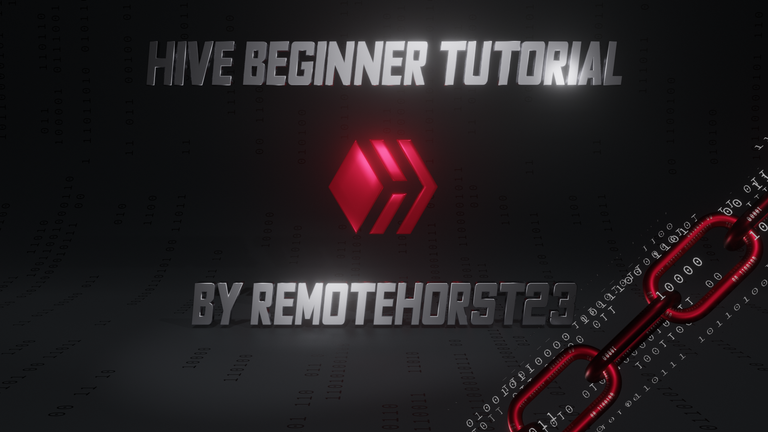 Hive is a social Blockchain
This means that you won't get anywhere if you aren't social at all. Create Posts, engage with the Community, follow interesting People, make Friends and Comment on Posts you like! The Hive Community is very pleasant and you can also ask questions for sure!
Engaging with other Users and get to know them is crucial for your success here. You will find Hivees on major social media platforms too. For instance you can search for the Hive Tag on Twitter,
Things you need to know about the Hive Blockchain
Blockchains consume a lot of computational resources. Hive is so fast and performant, that our Blocks are created every 3 seconds. This means Block creation is pretty cheap compared to other Blockchains.
But you should also know that every action you perform on Hive costs Resources. Don't worry, you don't need to pay for it! At Hive, we have a system that is designed to give a lot of advantages to its Users like free Transactions, recharging Resource Credits(RC) and Voting Mana. You don't need a deeper understanding of these things, but its good to know these Basics from the beginning.
Account creation
There are several ways to create your Account on Hive. Since Hive is very young it could be that some of these options don't work right now, but we expect them to work soon. I will cover this later on and if you still have problems I maybe got solutions for you.
Account creation on a Blockchain is a resource-intensive action, but the Hive Devs made it possible for free so everyone can get an Account! Think of it as a Donation that all Users share from the Hive Reward Pool.
If you use the free Account creation it takes up to 72 hours until your account is created. For normal users, this should be OK. If you already produce high-quality content and want to join right now, leave me a message on Twitter or the Hive Telegram and I may even donate an Account to you that can be created instantly.
You DO NOT need a new Hive account if you already had a Steem account. Your account was ported for your convenience!
Frontends
There are several Frontends you can use with Hive. Imagine Hive being your Motor and you can simply change the Design of your Car to your liking. The standard Interface is https://hive.blog/
In this tutorial, I will cover https://peakd.com. I personally prefer https://beta.peakd.com/ where I can discover new features faster.
The Advantage of these different Frontends is decentralization. If one of the Frontends is down or offline for maintenance, you can simply switch to another Frontend and everything is still running.
No matter what Frontend you use, you post your Content on the Hive Blockchain and every Frontend will display it to its Users! Isn't that awesome?! Time to get Hived! 😍
The Reward Pool
Hive creates Coins like interest. This interest is then shared in a Reward Pool. If you upvote something on Hive, a fraction of this Reward Pool is then shared with the Author of the Post you upvoted and even with you. Creating good Content and upvoting good Content is rewarded on Hive which I think is awesome!
Voting Mana and Hive-Power (HP)
Your Voting Mana depends on your Hive Power. Voting mana recharges over time. The more HP you got, the more your Votes are worth for you and the Author you vote. You can stock up on HP by converting Hive Coins to HP.
Hive Power is needed to perform Actions on Hive. Every Like, every Comment or Post you create, needs Resource Credits. And Resource Credits recharge your Voting Mana. Got it? Good!
As a simple estimation: The more HP you got, the easier it will be for you to earn Hive.
Coins Coins Coins!!! 🤑
Maybe all of this sounded so good to you, but I please you to not expect too much. Especially if you start with a free account and you don't want to buy Hive Coins, growing your account can take a long time, depending on the quality of your content. Hive is not a get rich quick scheme!
---
Boost your growth!
If you want to have a better start there are several ways to do so. And there is (almost) always a free option. If you create really good content, you may even get some Delegations or big upvotes.
Upvote Value depends on the specific User who upvoted you. They can range between 0,000 (mostly 0,001) or 0,2 HR and if you are lucky or very good, you may even get single Upvotes worth hundreds of Hive Rewards!
Developers or good Authors who bring real value to the Chain have a good chance to earn high upvotes. But don't get disappointed if it doesn't work from day one. You need patience because many people need to discover your content.
Like everywhere else, on Hive you get Followers by engaging with the Community. However, growing your Followings not only depends on good content but also on your Hive Power. The more you have, the bigger your Upvotes. This means that people also follow you because it could be that you upvote and follow them too. The chance to get your valued Upvotes sounds rewarding to engage with you.
Don't fall for it!
If you are just here for the Coins, this probably wont work that well for you. Maybe this was the first reason why you get interested in Hive. That's ok, but over time you will notice what a great community we have here. The Hive is only a few days old and was Forked from Steem, so don't expect millions of people here. Almost everyone here was a Steemian before and they have a lot of experience. Engage with them to learn from them and also share your knowledge!
Inviting your real-life or Social Media Friends is a good way to start a thriving community. Think of it, as if you would be part of the YouTube movement from the first days! Imagine how big your channel would be today!
Tags and Communities
Choosing the right tags for your Posts is crucial too. Surf the Hive and see how others used their tags or be creative and invent your own tag to find all your posts. Be careful to not spam wrong tags in your posts just to get views as this could maybe even lead to downvotes.
Delegations
Users who have enough Hive Power for themself can give Delegations to other users without risking them. Delegations can be returned by the Delegatee at any time but it only takes a bit to get them back. You remember HP is needed for almost everything because it recharges your Voting Mana and Resource credits. Getting Delegations is one way to start your Journey on Hive.
If you started with a free account and found out that you literally can do nothing except reading Posts, you need a Supporter or buy some Hive. Probably you find someone in the Hive Discord who can help you out?
Tell them what Content you plan to create, show them what you already did and if you are friendly and ask them, you may have a real chance to find someone who supports you.
Stock up on Hive
If you don't want to depend on others to support you, you can also buy some Hive Coins. You can find out which Exchanges listed Hive on Coingecko.
Post Payout
Your Comments and Posts are active for 7 Days. They don't disappear afterwards, but they cant generate revenue after that. When these 7 Days are over, you can claim your Rewards (the Upvotes your Post received) inside your Wallet.
Powerup
When you transferred (or earned) your first Hivecoins to your Hive wallet (that's an @ followed by your Account name, for instance, my Wallet is @remotehorst23), you can do the Powerup. Hive-Power is not only used for normal Voting, but also for Witness Voting.
Witness Voting
Witnesses are the guys who run Hive on their Servers. Voting legit Witnesses is crucial for the Hive Blockchain to be and stay independent and decentralized. But don't worry. If you are new, take your time to discover all the things and you will naturally grow into it. Very small Accounts with only a few HP don't make a real difference when its about Witness Votes. You can vote later too, but please keep it in mind.
---
Logging in
Your first login should be at https://hive.blog/ with your owner key. You only need the owner key if you don't own a (Steem) account already (where you know all your keys). If you know these keys you can use them with the Login service of your choice. They normally tell you what keys to use.
Then you go to your Hive Account Settings and reveal all your keys. If you come from a Steem Account, please change your Keys in Hive for security reasons! Print them out or write them on a piece of paper. You should be sure that this piece of Paper is really safe from theft. If you write them, be very careful to have everything right! Double and triple check! You can also copy and paste them, but if your Device is being hacked, it could be that someone finds these Keys.
Don't worry! Afterwards, it will become easier because we will use a tool for simple and fast login.
Peaklock
For the beginning, I would suggest using Peaklock as it's known to work. The other services are expected to work soon. Devs need to adapt them from Steem to Hive which takes some time to test for security.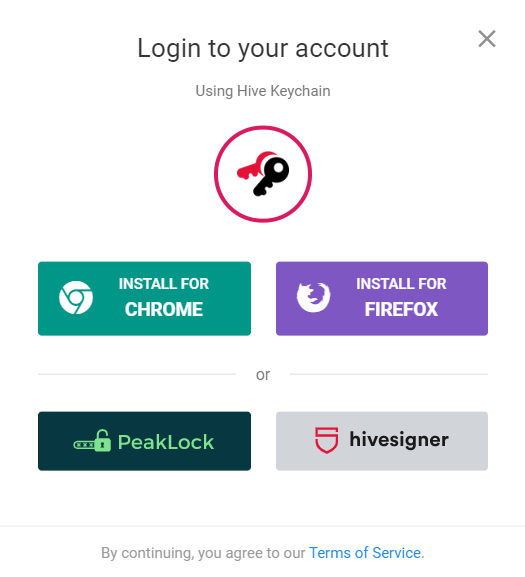 The PeakD interface
First of all, when you logged into your account, you can upload a Background Image and a profile Picture. Edit your Profile to your liking, add a short description and maybe a link.
Voting Mana
If you hover your Mouse over your Account Name in the Top right corner you will see two bars. You can then hover over them to see more details. The blue one is your Voting Mana and you should try to keep it over 50% as each vote will have less value if this gets lower.
The red bar shows your downvote mana. This is independent of your Upvote Mana because the Hive decided to have two reward pools and even downvotes (also called flags), costs rewards but they won't lower your Upvote Mana.
Both bars will refill over time and it's a good idea to use these resources regularly. If you don't use them, they will stay in the reward pool and other people will use them to reward good content.
If you want to vote a lot, you can set the default voting value lower or setup the Voting Value for each vote individually. Normally it's at 100% and you can give ten 100% votes a day until your Bar is empty which I don't recommend. Remember, each following 100% vote has less value.
General Settings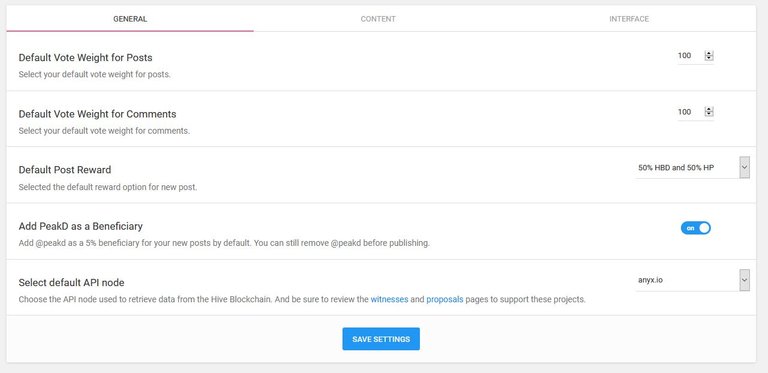 If you read and vote a lot, you should change the Default Vote Weight for Posts to 50%. You can change this anytime if you find out you want to vote even more. But with a new account and only a few HP a hundred 5% votes have no value at all so it's better to vote the best content and give some Hive to the creators. 😘
I would suggest lowering the Vote weight for Comments to something like 50% or less if you read and vote a lot of comments. If you are a Whale and have a few Millions of HP you can even set this to 5% and they will still get rewards. Don't worry! You can also change your individual vote afterwards if you think it was wrong.
The Default Post Reward should be good if its 50% / 50%
If you like PeakD and want to support them (hey, its free and they have a lot of work!) add PeakD as a Beneficiary.
If you notice that the PeakD Frontend is only slowly loading Content you can try other API Nodes. Actually I use anyx.io as I heard its pretty fast compared to others.
The rest should be pretty self explanatory. Don't forget to go to Interface settings and try out the Night Mode! I really like that as its not only good for your Eyes but also for lower energy consumption! 😉
---
---
I hope my tutorial helped you to get a better understanding of Hive. If you have any questions feel free to leave a comment. And if you do not have an account or account creation doesn't work for some reason, you can also use these Links to ask for help:
Hive Discord: https://discord.gg/t3pMFAr
D-A-CH (German) Hive Discord: https://discord.gg/2PZpFFa
Hive Telegram: https://t.me/hivenetwork
---
Remotehorst23 on Twitter
Special thanks to @wehmoen!
Because of him, I can donate a few accounts.
---
Edit:
Thanks for all the great comments, votes and reposts! I really didn't expect that! <3
You are free to translate this post in other languages and publish it if you want to.