A plan has been hatched amongst the teamuk Discord members to have a get together on 15th December!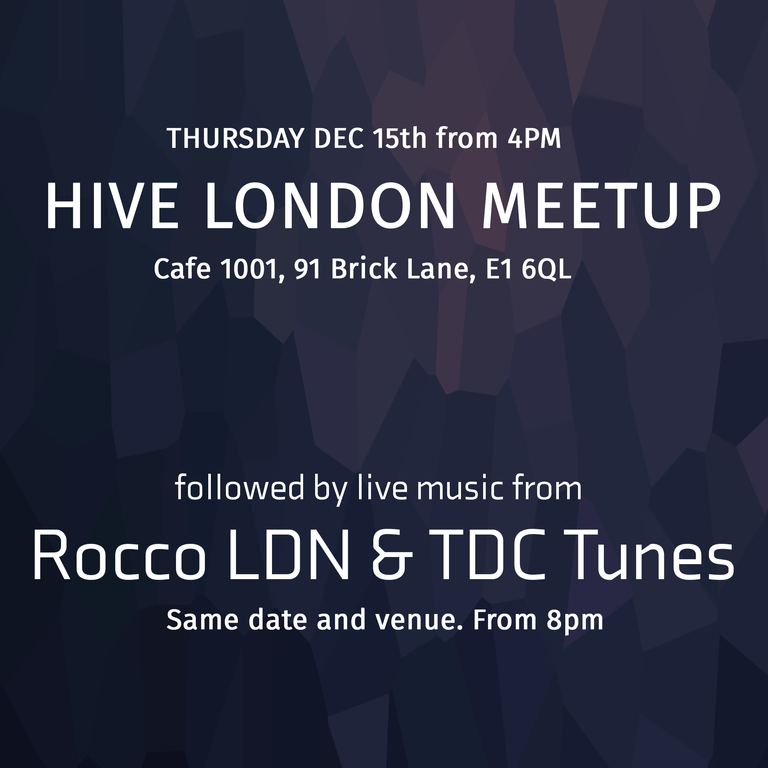 London Meetup 15th December
The important details are:
15th December from 4pm
Cafe 1001, 91 Brick Lane, London, E1 6QL
Followed optionally by my gig at the same venue which starts from 8pm.
The meetup will be an informal/social get together. A chance to hang out with and get to know some other UK/London based Hivers over a drink or food if you want.
If people have ideas for anything with any specific content (for example giving a talk on a particular topic) we can talk about that on the 15th and look to plan that for a future one in January or February.
Café 1001 has plenty of space (though I will reserve us a table). It has café drinks and food and/or alcohol if you want. There are plenty of food options there and nearby too.
And optionally if you want to stay on, there are no tickets required for my gig after - it's completely free. Just turn up!
More info on the venue here: https://www.cafe1001.co.uk/
TDC Tunes gig - same date and venue - from 8pm
The gig on the 15th will be a special one consisting of:
Rocco LDN & TDC Tunes (Electro-pop duo)
We will be performing 5 new songs for the very first time anywhere. Alongside our existing single Cosmic of course.
From the promoter:
Rocco LDN and TDC Tunes are a London based electro-pop duo. Their tracks have hints of 80s synth
and noughties dance, peppered with bamboo flutes and upbeat, reflective lyrics.
Why see them live?
TDC Tunes combines electronic keys with the flashing lights and cable madness of
modular synths in the live set to accompany Rocco LDN's instantly recognisable, soulful, and distinctive voice.
Check out our song Cosmic to get an idea of the vibe: https://ffm.to/playcosmic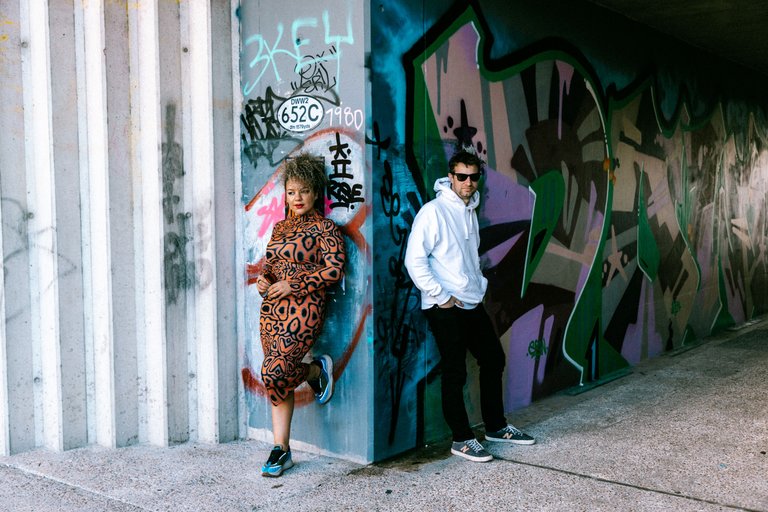 TDC Tunes - Modular Synth set
I will also be performing an improvised modular synth only set. If you've listened to my Brixton Radio show or watched it on Twitch you'll have an idea what this is all about.
Check out my Twitch channel for some highlights:
I'm live there every Monday night at 9pm (UK time)
Olskee - DJ set.
His sound often bridges the gaps between a wide range of genres, with a focus on trip-hop, lo-fi, downtempo, and chill out house.
He is also the founder of OAKHI Records, label under which he released several singles and EPs.
Team UK
If you are from the UK OR live in the UK you are welcome to join the Team UK Discord here: https://discord.gg/qMAJZ8epBX
and also to use the teamuk tag for a small upvote and reblog. (just people living in or from the UK though please).
And if you are in search of other UK hivers check out @steevc's BritList - most recent one being at: https://peakd.com/hive-133987/@steevc/the-brit-list-november-2022
Thanks to the following for getting involved in the discussions so far about meetups and showing an interest. And for the encouragement to make this one and hopefully future ones happen: @mcsamm @shanibeer @Alonicus @steevc