Yes Hivers!
It's time for a little mid-week moon mission update. We imagine everyone here is feeling pretty good right about now, the market is about as green as a winter morning on Endor and all this "alt" hype has been very good for anyone believing in Hive. One of our pet projects, SCIFI FINANCE, has been on an absolute tear, with the SPICE DAO token shooting up to ATHs seemingly every day and the hype building. Every day we sit around getting the feeling that something could set off a chain reaction that will throw the thrusters into overdrive and jolt us into a nearby Nebula. Every time there is a drop in price, we see dozens of believers sprinting to gobble up the dips and accumulate for launch. There's going to be a planet of the Apes somewhere once this thing really takes off...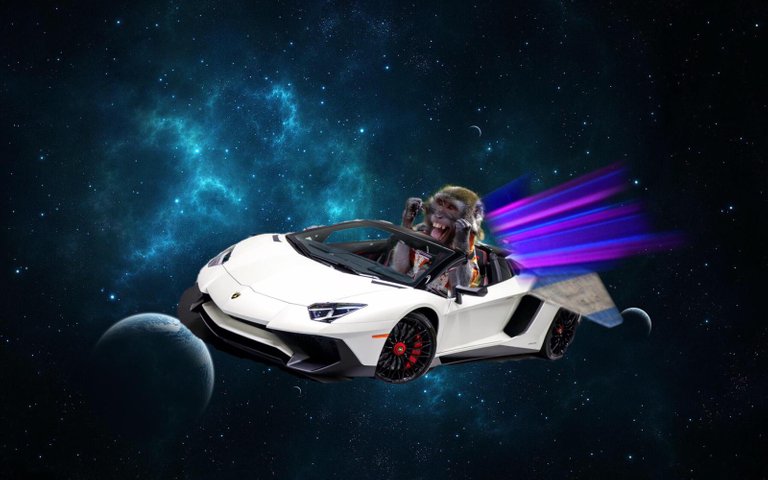 But the excitement is not just limited to the SCIFI community, over here we have felt a new wave of enthusiasm that is most welcome. If there is one thing that we have learned these past months, it is that the entire DeFi space has a lot of great ideas, but one thing that will eventually kill them all is Gas fees. The Ethereum mining fees the past month are outrageous! There's likely millions of capital sitting on the sidelines that is waiting for the day the network fees will become more reasonable to invest. These fees are currently serving as a barrier to entry for many smaller investors. But in a way, #hivesolvesthis....
The frictionless transactions here on Hive are only in the earliest stages of their development. We must admit, when we first joined this community, our interest in the platform was purely in the decentralized nature of content creation. Being able to be an "owner" rather than a "user" as is expressed by many here. That mentality was something that interested us from the first moment that we read about Hive back in 2017. However, the potential is so much more!! It is for this reason that we have made a commitment to expanding the userbase here on Hive. Obviously, our intergalactic experiences have made us extremely attractive to a lot of developers on networks, and in our early conversations, we have spoken to them about moving their blogging, press release and video updating here instead of on Medium or a centralized platform. We think that the first conversations have been positive, and will likely start to lead toward migration here. This can have a very positive effect for the awareness and "ownership" growth of the entire Hive Ecosystem.
But beyond that, there many exciting dApps that are being developed on the Hive Blockchain! We are still working on the verses for the song we are writing about Hive, and in doing so we have been doing more research on all of the different sub-communities and dApps that exist. What a glorious wormhole to dive into, there is no limits to the innovation and creativity of this community! That alone makes us feel Bullish AF.
We would love to hear what other creative ideas some of you have in the present moment to ensure that Hive will thrive during what is appears to be an extended bull-run and wave of new people and projects interested in the entire Decentralized space. Moon Line is always open to ideas and we are willing to help develop Hive in any and all ways that we can!
Comments here is always a way to get at us, but also slide into our DMs on Twitter @themoonbois and lets go to the moon!