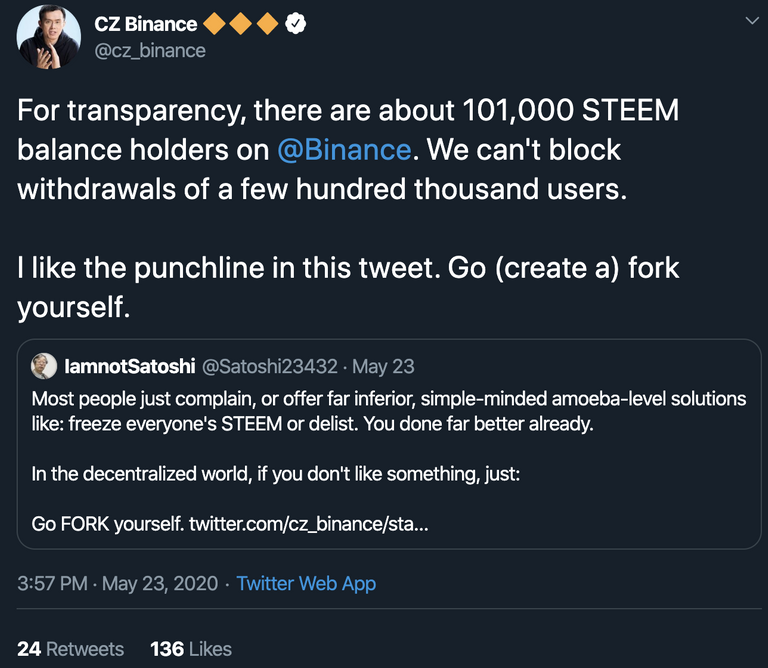 ---
I can understand the reasoning of CZ behind his argument that we should create another fork, as this is pretty much the "fairest" and most decentralized way of deciding which "decision" has more money/stake behind it.
However, in this current situation, sadly it makes absolutely no sense for us to actually create a fork. Doing so would take too much dev-resources that we're actually needing somewhere more important: on Hive.
The core-devs are in the finishing touches of finalizing HF 24 and doing anything else besides that is a waste of time IMO. Even though that's clearly unfair to those whos STEEM was seized/stolen (myself included), there's a lot for us to gain by making #Hive successful.
This ofc does not mean that we should give up the fight against Justin Sun and the STEEM-heist-gang nor does it mean that we're forgetting - theft is theft, BUT we've already forked from Steem, 2 months ago. And we've got a ton of work to do - pretty much 1-2 years of what should have been done on Steem (& more).
So, with this said: Let's not fork our efforts, but work on making #Hive all it can & should be.
All the best,
Wolf