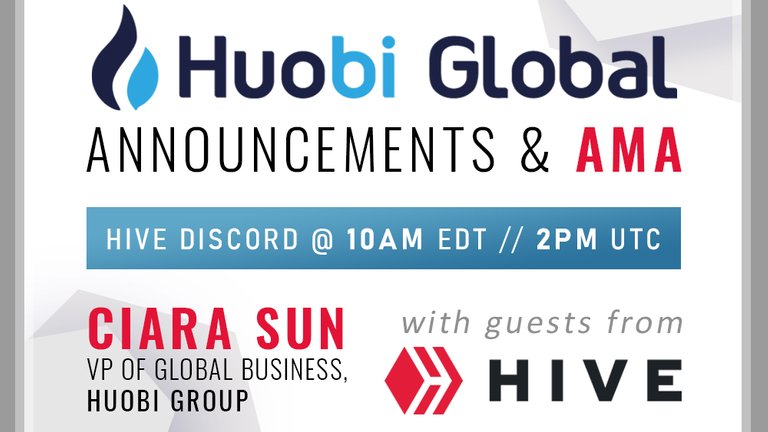 Join the community in the Hive Discord to welcome Huobi's Ciara Sun in an AMA style chat session on April 22, 2020! Use this post to submit questions for tomorrow's event.
There will be lots of news to share and time for questions and comments! Some Hive users will be helping Ciara facilitate this chat and participating with a few questions you may have about Hive and our ecosystem, so please submit for both groups in the comment section here... this is where the main questions will come from.
Take the time to read through and support the ones you would most like to see asked: look to see if your question is already submitted, and reply or add a vote to it to help create an interesting and valuable AMA for everyone! Tomorrow morning, questions and comments may be submitted during the AMA as time permits.
Here's how to participate:
Check the comment section for questions you'd like to ask about Huobi Global and their services, about the Hive ecosystem, about decentralization, blockchain - whatever you want to know! If it's already been asked help signal boost the ones you want or add the ones you don't see.
Tomorrow, you will find a special AMA set of channels in the Discord. One will be for questions only, and will have the top questions from this post and the Huobi telegram already listed. Some questions will be taken there as well, if time permits. This channel will have a 30 minute cooldown, so make sure to check for anything you want ask before you post as duplicates will be removed.
There will be a special chat channel for everyone to participate in together that will open at the time of the AMA and will close afterwards.
There will be a special read only transcript channel that will collect questions and answers together so they can be read back for anyone who misses out, and that will be shared on chain in a post later on.
Have fun! Serious and silly questions are encouraged, but a degree of professionalism and respect is required. Large chat groups can get unruly and we want this to be a place for everyone to participate. As we move towards further decentralization, welcoming more exchanges and userbases around the world to Hive is a big part of the journey. Take this chance to learn more about the cryptosphere and get pumped for some fun announcements for both Huobi and Hive.
You can find Huobi's tweet about the AMA here: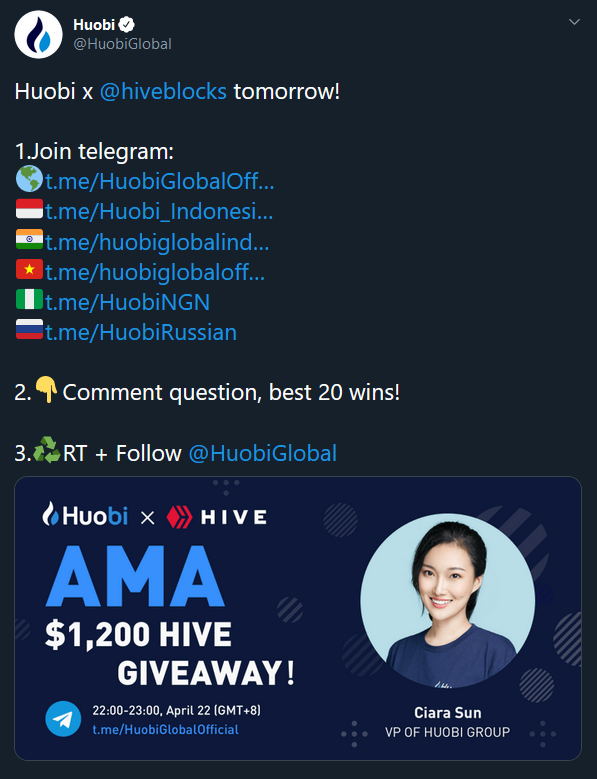 Announcements and giveaways will be happening and the community will be gathering, so come join the buzz and check out the AMA event!
Get your questions submitted below, help share the news about the event, and we'll see you in the morning.