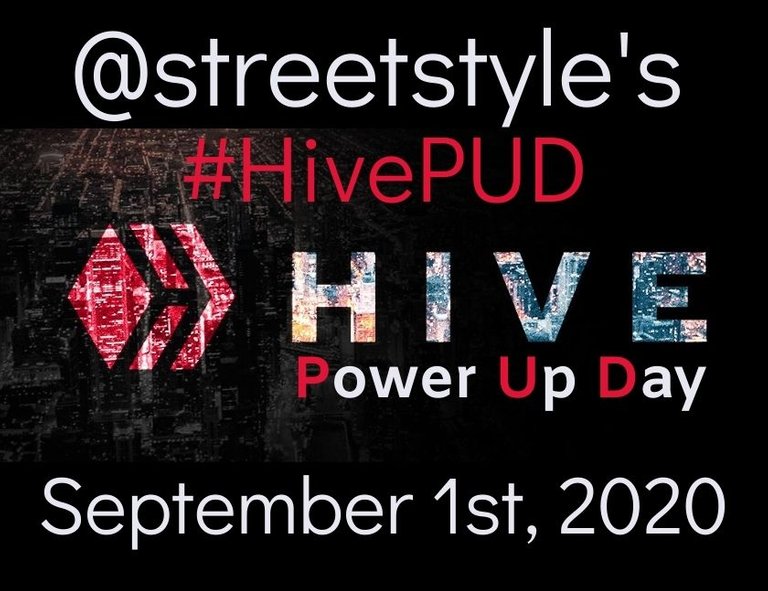 Just under a week from today, on September 1st, 2020, the next Hive Power Up Day will be here! Since @streetstyle is still AFK (away from keyboard), I'm continuing to run his initiative in his absence, as well as sending good thoughts in his direction and hoping we hear from him soon that all is well. There are also some big & exciting changes happening this month, including the merging of #HivePUD with the Spanish #HPUD initiative, as well as some AMAZING new badges for Power Up Day courtesy of the @hivebuzz team, so let's get started!

What is HivePUD?
Hive Power Up Day has been taking place on the first day of every month since it's inception on that other blockchain over a year ago. There's a great old post from @sndbox that explains all the reasons
you personally benefit from powering up
. For the community as a whole, it's a great way to show support for our blockchain home by staking (aka powering up) Hive and adding to its value. And as @streetstyle has always said...
On the first day of the month...
• ...we ask that everyone who can do so, power up any amount of HIVE they are holding on the first of the month.
• ... we ask accounts that are currently powering down to please pause the powerdown during the hours of the first of the month.
• ... we ask that those who are trading and/or selling Hive, not to do so during the hours of the first of the month (and if possible, cancel any type of sell order on any exchanges for the same hours).
Also, after chatting with someone the other day, I realized I don't think I've ever really put into words what it means to me personaly to power up Hive - I mean yes, I've obviously thought about it, but I was asked, "Why do you want to see people powering up their Hive?" and it took me a minute to figure out an answer to that pretty simple question.
I ended up saying (which I've edited a bit to try to make me sound smarter, of course) that I believe Hive has the ability to grow far beyond our current expectations, and it's encouraging to me to see other people (from whales to the tiniest fish in the Hive ocean) powering up, as it shows we all share the same long term vision for our blockchain home.
And as we saw with what happened on that other blockchain, the more we all power up, the more voice we all have in governance (higher stake means your vote counts for more), so we can have our say in things like top witnesses, proposals, and such. Plus there's something to be said for the financial benefit of bigger curation rewards, and earning passive income from the interest off our stake.
How to qualify for prizes
Remember what I said about changes? Here's one of them - while these are based on @streetstyle's original rules, after some discussion with @arcange and @victoriabsb, I'm adding in a minimum amount of Hive to power up. But don't panic - this is actually a very cool & potentially very beneficial thing. I'll get to that in a moment, but for now, the requirements are:
Your reputation must be above 39 and below 70.
Your total Hive Power (before the 1st) must be more than 100 and less than 8000.

NEW:

You must power up at least 10 Hive on September 1st.
To be included in the winners list, you must meet all four requirements above. The order of the list (first place, second place, and so on) will be determined by the biggest PERCENTAGE of Hive powered up, not necessarily the most Hive powered up. As @streetstyle used for an example -
If you have 1000 HIVE Power already powered up prior to SEPTEMBER 1, and on SEPTEMBER 1 you complete steps 1-4 with a 100 HIVE Power Up,

and

another HIVE member has 300 HIVE Powered up prior to SEPTEMBER 1, and on SEPTEMBER 1st Powers Up 60 HIVE Coin, then this 2nd user would be winning with a 20% power up versus the first example with a bigger power up but smaller percentage of only 10% based on their account.
What are the changes?
As I mentioned, @arcange reached out on behalf of the @hivebuzz team, with some wicked exciting plans for the Hive Power Up Day badges, as well as cool challenges through the HiveBuzz.me site. Because of the awesome things they have in store, we all decided it would be easier to merge the #HivePUD and Spanish #HPUD into one initiative with one prize pool. So while @victoriabsb will be checking the #HPUD tag for qualified entries and I'll be checking the #HivePUD tag, all who qualify will be on the same winners list.
What does that mean?
Simply that...
Speaking of, here are a few words from Victoria (aka one of the busiest & most awesome mommas on the blockchain!) via the aforementioned post -
[ENG]

So, this is an exciting announcement! You guys know by now I'm not that original to come up with this whole Hive Power Up Day all on my own, this was originally a project of @streetstyle, that I decided to bring to the Venezuelans and since last time to the whole Hispanic community on our native language spanish, since streetstyle has gone on a break from the blockchain the lovely @traciyork has taken the original initiative under her wing, and so, when her and @arcange reach out to me to see if I want to join forces and make the Hispanic initiative part of the Global one OF COURSE I SAID YES!

[ESP]

Ok, ¡este es un anuncio emocionante! Ustedes saben que no soy tan original como para crear todo este Hive Power Up Day yo solita, esto fue originalmente un proyecto de @streetstyle, que decidí llevar a los venezolanos y la última vez a todos los hispanos, en nuestro idioma nativo, desde que streetstyle descansa de la blockchain, la encantadora @traciyork ha tomado la iniciativa original bajo su protección, y cuando ella y @arcange se comunicaron conmigo para ver si quiera unir fuerzas y hacer que la iniciativa hispana forme parte de la global. ¡POR SUPUESTO QUE DIJE QUE SÍ!
Oh, and be sure to follow the @hivebuzz so you don't miss upcoming announcements about some other cool features they're working on!
Why the minimum Hive Power requirement?
Last month, when the HiveBuzz badge for powering up 100 Hive was announced, I was thrilled because I was able to just about scrape together - otherwise I would've just gone with what I had available (don't quote me, but I think it was only around 40 or 50 Hive that I'd saved over the month). Talk about being a prim example of the power of incentivizing power ups with super cool badges! I wish I could say my next step was to check if Victoria would be able to qualify, but my greedy little gamer brain was too excited at the prospect of getting one. Luckily @arcange has a much more generous brain and powered up Hive on Victoria's behalf so she could receive the badge too.
Yes, powered up on her behalf.
You would think that as someone running the Power Up Day festivities, I would've remembered that that was a thing. 😂
When talking to him about it, he reminded me that other people are able to help their friends power up and get the Power Up Day badge (all the details in THIS POST), so for example - say Charles wants the badge, and his friends Alice & Bob want to help him.
Alice powers up 3 HIVE to Charles and Bob powers up 7 HIVE to Charles.
Total is 10 HIVE and meets the minimum requirement so Charles get the PUD badge
Isn't that wicked cool? I know I'd be onboard with helping small accounts trying to reach the 10 Hive minimum for powering up, and I'm sure there are much bigger accounts around who would also be willing. So instead of the 10 Hive minimum being a hindrance to people, I see it much in the way the HiveBuzz team does - it's a great way to encourage people to help each other out!
HIVE POWER UP DAY Prizes
In addition to making your own vote more valuable and adding to your curation rewards (as well as earning interest on your stake), some amazing members of the Hive community are offering prizes that include delegations, Hive giveaways, and other cool stuff (listed below).
And once again in @streetstyle's own words...
The prizes are meant to incentivize the smaller members of the HIVE, the young bees looking to turn blogging nectar in honey for the HIVE. By Powering Up Hive coins into Hive Power, members of the HIVE show support for the HIVE BLOCKCHAIN and the HIVE Community while helping to grow their own account as well.
If you'd like to jump in and offer a prize for future #HivePUDs just shout out either in the comment section, or on Discord (traciyork#4860) and I'll be sure to update the prize list accordingly!
And no worries if your account is too big/small to qualify for an "official" prize - remember that any time you power up, you "win" a bigger upvote and more power on the blockchain. Can't go wrong with a prize like that! 😍
Prize list
I've had prize confirmations from a handful of people so far, and will update this list as we go. For now (based on the past couple of months) these are the potential prizes, marked accordingly as ⛔ (NOT CONFIRMED) and ✔️ (CONFIRMED).
1st Place -
2nd Place -
3rd Place -
50 HIVE Power Delegation for 3 weeks - Sponsor @sn0n ⛔
5 HIVE Basic Income units/levels Gift Sponsor @improv ✔️
4th-17th Place Each -
25 HIVE Power Delegation for 3 weeks - Sponsor @sn0n ⛔
4th-20th Place Each -
5 HIVE Basic Income units/levels - Gift Sponsor @improv ✔️
ADDITIONALLY -
1,000 total HIVE Power Delegations (amount & how it's split TBD for a period of 30 days - Sponsored by @sgt-dan ⛔
1400 HIVE Power Delegation (amount & how it's split TBD after winner's list is announced) for 3 weeks - Sponsor @edicted ⛔
PLUS -
AND EVEN MORE! -
Special #HPUD Prize pool -
Last month before we decided to merge, I offered the Spanish #HPUD some delegations, so I'm keeping that as something separate for at least this month.
A total of 300 Hive Power delegations for 4 weeks, divided in any way @victoriabsb decides is best - Sponsored by @traciyork ✔️
Timeline Reminder
Power up Hive on September 1st, 2020
Post about your powerup on September 1st, 2020
Unofficial winners list will be posted September 2nd or 3rd (allowing time to correct for errors/omissions)
Official winners list will be posted on September 5th, after which sponsors will disperse prizes
That's it for now!
Thanks to everyone for all you do to make our new blockchain space a home! Special shout out to @abh12345 for graciously agreeing to help me again by pulling together the data when the time comes - Asher, you're a ROCKSTAR! And here's to another awesomesauce Hive Power Up Day - I think we're doing @streetstyle proud!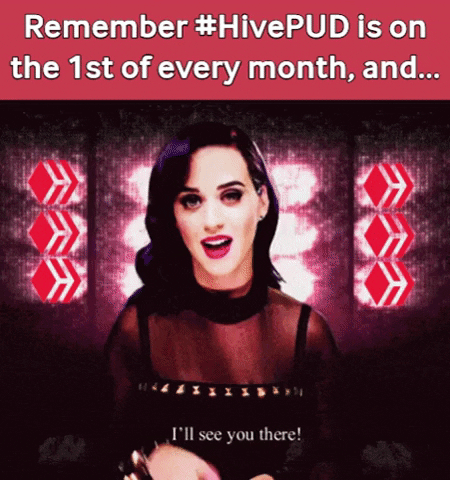 Image Credits: blog thumbnail created on Canva, using a photo (that I first spotted on a post by @fionasfavourites) created by @nateaguila which is "free to use for the purpose of supporting, promoting, or marketing Hive-related topics or projects." HivePUD GIF created using both Giphy and ezGIF.

Thanks for stopping by!

My posts may occasionally contain affiliate links. If you click through,
I might get a wicked small commission, with no extra cost to you.
Blog graphics created on Canva
My photographs are taken with my trusty Nikon,
sometimes utilizing my handy dandy tripod.
All words and images are mine (unless otherwise indicated),
and can sometimes also be found on my various social media sites.
Speaking of witch which...

I have one billion many homes on the interwebz.
Here are a few...