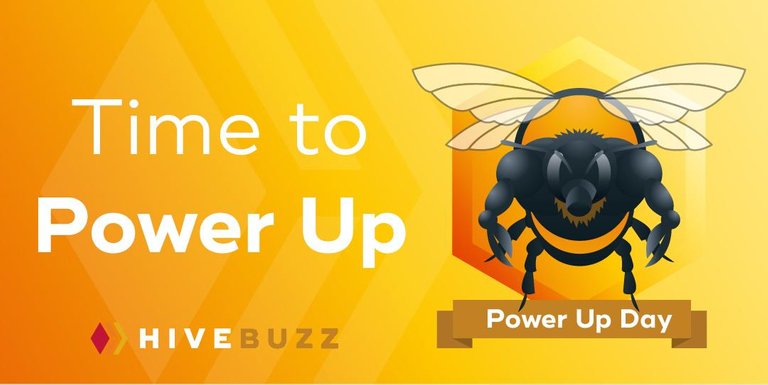 The Hive Power Up Day (PUD) is taking place on the first day of every month and the next one will occur in a few days, on October 1st!

Este post está traducido al español - aquí


Une version en français de ce post est disponible - ici
Since August 1st, HiveBuzz supports this initiative which allows you to collect Power-bee badges if you participate in the Hive Power Up Day.
In the last edition, we saw a 36% increase in the number of participants and we hope to beat this record once again.
For more information about the next coming PUD, you can read this post from @traciyork or this post from @victoriabsb.
Are there any changes to this edition?
The answer is yes and no.
No, because we keep the changes made during the previous edition, namely:
a lower minimum requirement of 10 HIVE to power up to get a badge
a scale of Power-Bees depending on how much HIVE you power up, the only difference being that you now know the thresholds used for the different levels.

Read the previous edition announcement and feedback the for more information on this.
Yes, because we love fun above all else and it would be less fun without a little bit of novelty.
But to discover them, you will have to have a little more patience... All we will say is that the concept of mutual support within a community will play an important role.
How to get your Power Up Day badge (October edition)?
You will have to power-up HIVE on the 1st day of October.

IMPORTANT:

HiveBuzz will use UTC date and time to validate when your powered-up. Therefore, check your timezone and convert your local time to UTC before powering up! To help you not miss the moment when you can do your power-up, we added a countdown to our website.

Power-up at least 10 HIVE. This will entitle you to the smallest power-bee. The more HIVE you power up, the bigger your power-bee!

You don't have to power them up in one step. All the Hive powered up will be counted together at the end of the day.
Strictly follow these rules and this badge will be on your board!
The badges will be distributed to all successful participants at the end of the Power Up Day.
Why participate in the Hive PUD
The first reason is to have fun.
Then, in addition to making your vote more valuable and growing your curation rewards (as well as earning interest on your stake), you will also strengthen your influence on the blockchain.
Finally, some amazing members, like @victoriabsb, @traciyork, @r1s2g3, @minnowsupport and others, are offering prizes that include delegations, Hive giveaways, and other cool stuff to the Hive PUD participants.
And last but not least, remember this small note we added to our previous announcement:
Note: Maybe you should start to collect as many PUD badges as possible. Just saying...
Just to tease you about things we prepared for the next editions.
---
Be ready and Power Up!
---
HiveBuzz is a project created by @arcange