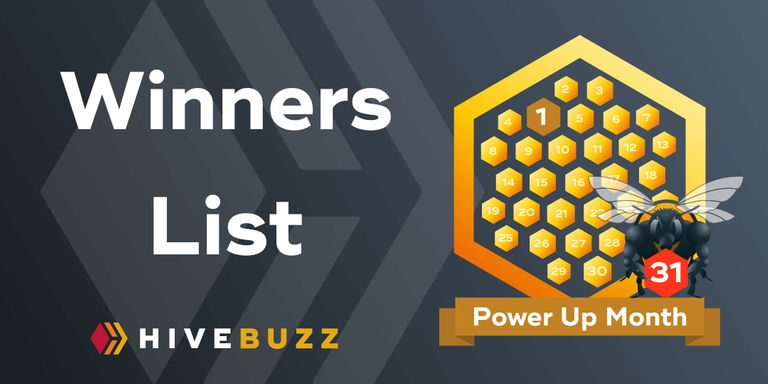 The second edition of the Hive Power Up Month challenge is now over.
Once again, this challenge has proven how difficult it is to stay committed for a whole month, even with rules as simple as:
a power-up or 100% power-up post every day of the month
no power down
To sell or to Power Up?
As you can see in the following graph, we have lost a lot of participants along the way, including the very last few days.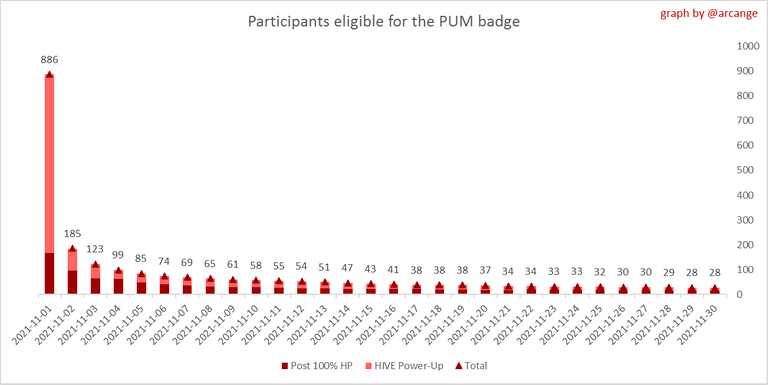 Some made the mistake of not posting or powering up at the right time. Some have published but forgot to activate the 100% HP option. Others simply forgot to participate for a day. And each time the sanction was final: "Sorry, see you next time!"
It must also be admitted that, with the rise in the price of HIVE, the temptation has been great in recent days to sell rather than power up.
This means that for those who have managed to hold on to the end, the badge they will receive will be even more valuable.
Special mention
We would like to give a special mention to @justclickindiva. She missed the PUM badge by two days. That was really close. Hopefully you will finally get the badge next time.
Kudos to those who, while no longer eligible for the PUM badge, told us that they would continue to participate every day until the end, just for fun or to keep the good habit of staying engaged. You're amazing!
And now, the winners list
They are 28 participants to have held out with perfect regularity.
Among them, 15 chose the publication with a 100% HP payout option. The 13 others preferred the power-up way. Some even did both for safety ;)
They will soon receive their "Power Up Month" badge: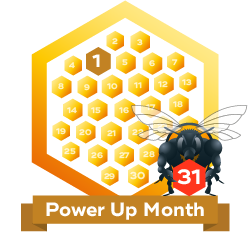 Congratulations to @ayleenr, @arcange, @bashadow, @beeber, @cezary-io, @coquicoin, @deepresearch, @definethedollar, @drugelis, @emeka4, @fermionico, @forykw, @hasan1981, @manuvert, @mmckinneyphoto13, @nikolina, @sagesigma, @savvyplayer, @sebbi87, @shinyobjects, @tawadak24, @tdctunes, @tibaire, @traciyork, @ultratrain, @vanje, @wrestlingdesires and @ynwa.andree.
New Power Up Challenges next year!
As always, we were asked if there would be a Power Up Month challenge in December as well.
Once again, we will skip the month as we did after the previous edition.
Several reasons for this:
December is a festive month and we are going to organize other challenges.
The rules and conditions for Power Up Day and Power Up Month are going to be changed and we want to be able to notify everyone in good time so as not to catch you off guard.
Therefore, see you in January 2022 for the new Power Up Challenges.
Prepare yourself! 2022 will kick off in high gear!
---
PS: Do not miss the last Power Up Day of 2021, today December 1st!


You can still participate to get your Power Up Day and Power Up Helper badges.
This is a special edition where you can win a one-month delegation of 50,000 Hive Power!
Read the announcement here.
---
HiveBuzz is a project created by @arcange