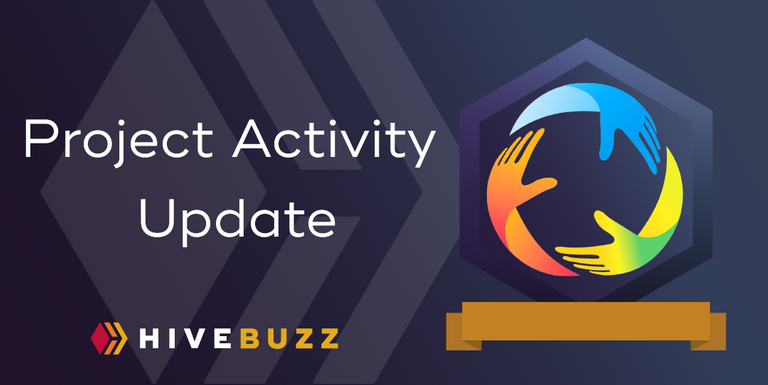 HiveBuzz (formerly SteemitBoard) was relaunched only 1 month ago. First of all, it is really nice to see you all having fun with Hivebuzz and when we see you so motivated, so engaging with us and others, collecting new badges and finding new friends, this brings us a big happy smile on our faces!
We already achieved one of our goals: to bring fun to the Hive community.
As HiveBuzz runs a witness, we would like to publish a regular report on our activity and how we think it helps the Hive platform.
We want to say how grateful we are towards everyone who voted for our witness (@steemitboard) which is now ranked #49 (you can check this on @arcange's witness page). This really helps the project to survive and continue to redistribute fun and part of what we get to all users on the platform. Thank you!

Dieser Beitrag ist ins Deutsche übersetzt: hier


Este post está traducido al español - aquí


Une version en français de ce post est disponible - ici
Work done
The Hive Revolution campaign
As you know a few weeks ago we started a new challenge with the Hive Revolution badge.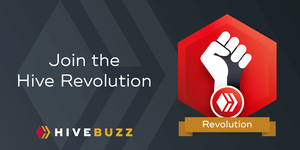 A total of 135 users officially joined the revolution and definitely turned their back to Steem showing their flag! Many of them even got the first star on their badge by performing the first mission we initiated a few days later.
Congratulations comrades!
We had planned to provide you with 5 missions in total, but at the same time started working on the HiveBuzz Shop.
A bad decision it was, as it brought more work than expected. Creating the shop, fixing some bugs on the https://hivebuzz.me website and supervising our posts translations didn't make it possible.
We are really sorry we didn't find the time to go on with our next missions! Lesson learned!
We wanted to go on with it now, but with respect to the events going on in the US right now and seeing many groups using a similar sign to ours, the team decided to rather put the Hive Revolution on pause.
Online Shop
We are very proud to have our online shop live since a few days and happy to see first orders coming in!
The shop offers all kinds of high-quality gifts like t-shirts, hoodies, jackets, caps, hats, cups, drinking bottles, masks, cellphone protection, pillows, baby bodysuits, mousepads, socks, bags and many more.

Hurry up! The launch promo discount of 15% is running till Sunday 23:59 UTC. You can read the introduction post here
We plan to add more designs but do not hesitate to let us know if you want us to add your special favorite badge. We will also publish a separate post to explain how to choose your favorite gift and how to use our extensive customization features to personalize your item and make it unique!
The webshop has been localized for several countries, allows payments in your own country currency and worldwide delivery!
Sadly we cannot accept HIVE payments (for now)! @Arcange had a talk with the supplier. They do not accept crypto but are interested in it. Therefore, he proposed to help them to implement Hive payment. Future will tell...
If any of you have received one of the items, please send us a photo or video and let us know your feedback on your shopping experience!
We are looking forward to seeing you walking around with the Hive logo or HiveBuzz badges on your items!
Upvotes from HiveBuzz reactivated
Thanks to the fact that we have recovered enough Resource Credits, we are also happy to announce that the upvotes from HivBuzz coming with its notifications have been reactivated, this in order to incentivize the user's activity.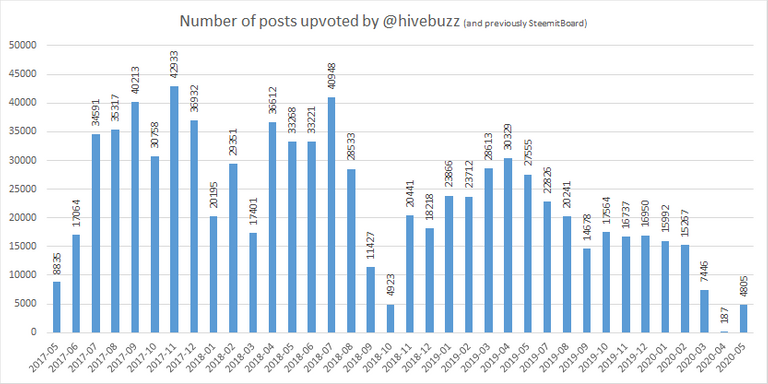 Since then, no less than 4805 upvotes have been distributed to 692 distinct authors in less than a month. And it's only a beginning...
Proposal
Three weeks ago we also launched our Hive proposal to enable our project to survive and grow.

Although we have already received significant support (a huge thank you to all of the 165 supporters who have already voted to support our proposal), it is still very shy and we have only reached a quarter of the support votes needed to be funded.
To be able to keep up the work we have done until now and do even more, we need your help! Please read our proposal and support it! Every vote matters!
Vote for this Proposal on Hive.blog / https://wallet.hive.blog/proposals/109
It will be very much appreciated!!
We are looking forward to your feedback.
The Hivebuzz Team