Happening in about 2 days, ramping up for edition 6 of HiveFest. After a great turnout for HiveChat on Twitter, you should be getting ready for another epic edition in AltspaceVR, right? In this update you will find the schedule, livestream location for those who are not able to join in VR and some generic VR guidelines. Well over 600 folks have registered via HiveFe.st website, so let's see how many manage to get in to AltspaceVR!
Setup your AltspaceVR account already and update your softwares!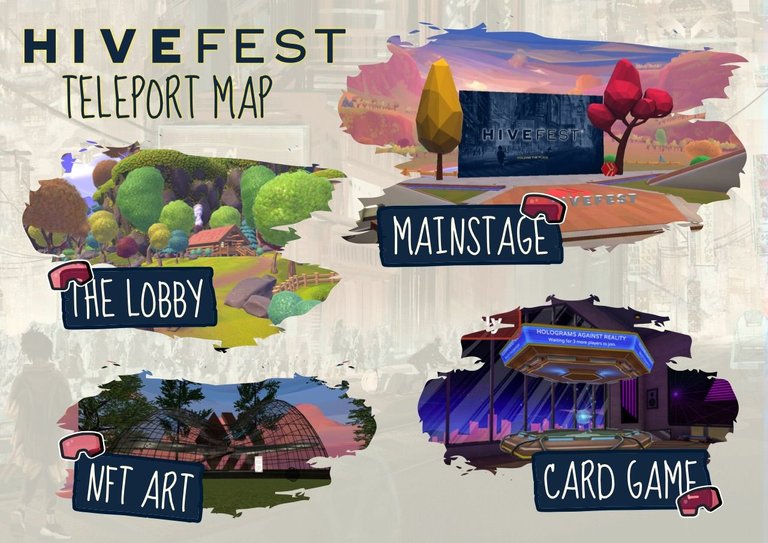 Navigating HiveFest 2021 in AltspaceVR
HiveFest consists this year of 4 main worlds:
Lobby Meadows: this is the default start place / launchpad, pickup your badge here, mingle have fun and go out on Altspace missions. You can follow the main / presenter stage via the in-world livestream or hop to various other event and non-event worlds
Mainstage: This is the presenters' world: an open air stage which hosts the stage to 30+ Hive related projects over the course of 2 days. Please respect the pressenters on stage, fellow crowd trying to listen in. Crowd interaction, like questions is possible, but moderated by using the so-called "Raise Hand" feature, which is opened up, whenever appropriate by the presenter.
NFTShowroom gallery: over 40 artworks have been curated: artists currently selling their artworks on NFTshowroom.com. On display in this airy art gallery world for you to explore fellow creative Hiveans. Find something you like? Take a picture and find the artist later on on NFTShowroom.com!
Hivefest Holograms against Humanity game: an interactive (NSFW?) card game to play with fellow attendees, based on the famous "Cards against Humanity": Each round, one player asks a question from a black card, and everyone else answers with their funniest white card.
Note: Because of capacity reasons, both the Lobby and Mainstage will have several "instances" running. These are called rooms and you can upon entering pick your own room to go to. You will see how many people are in a certain room, and you should be able to see where some of your (Altspace) friends are hanging out. Be sure to add some friends on AltspaceVR to follow them along!
How to get your HiveFest Conference Badge
If register on HiveFe.st before the cutoff, about 12 hours before the event you will receive an encrypted memo containing your secret word. This will be a combo of "hiveusername:secretword". Upon entering HiveFest in the Lobby area you can find a big computer, which is actually running the blockchain. Here you can checkin with that "hiveusername:secretword" combination to grab your own interactive conference badge. Keep the secretword to yourself!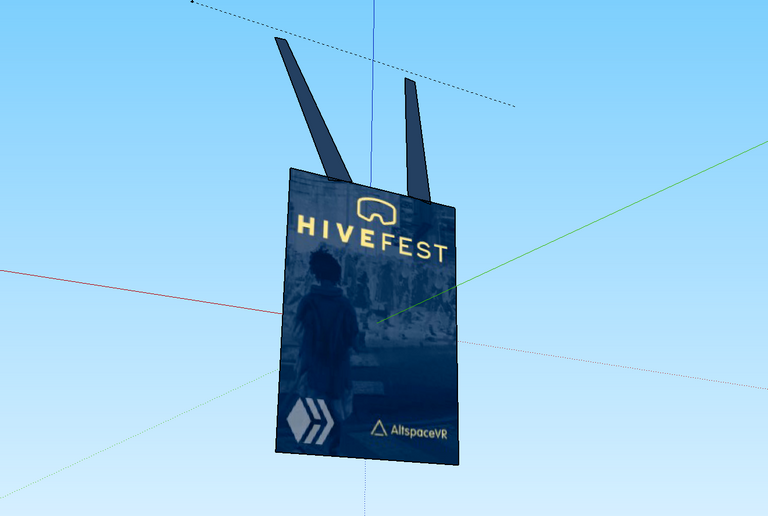 How to behave in VR: just like the real world... And then some
Ok. 600 people inside a VR world. Everyone influences eachother's experience. We all have unique internet connections, and an array of audio devices and more over: unique background noises :)
Basic rules for making the experience fun for everyone:
Use a headset on the AltspaceVR desktop apps: this prevent echo-ing
Mute yourself when not communicating: again: echo.
Be nice! Every avatar you see, represents a real person.
You hear someone's audio glitch/stutter? Kindly notify her/him, re-entering the space most of the time fixes this stutter.
Going for a break in the real world? Please exit the VR room, so your avatar is not dangling AWOL in the VR world.
HiveFest 2021 Schedule
Over 30 projects and speakers take the stage during friday and saturday. Both days start on 4PM UTC and run for about 4 hours with every 15 minutes another presentation. Be ready with some drinks and foods so you don't miss out. The Lobby World opens each day one hour in advance at 3PM UTC.
Hivefest 2021 will be streamed live
Follow the event via direct videobroadcasts from within VR to the real(?) world:
1,000 HIVE Give Away results
Quite some responses to the Attendee Card Generator give away from last week's post. The 1,000 HIVE will be split among random selected 10 winners from the comment section. Congratulations and see you at HiveFest! Check your wallet soon for 100 HIVE from @HiveFest.
---
Hope to see you on Friday & Saturday!
Be sure to register if you didn't yet in order to get your own Hive badge and update AltspaceVR!
This Post = 100% beneficiary to @HiveFest