みなさま、こんにちは! 今日は、「ウサギと亀」のお話を少しいじって、かわいそうな亀をシュールでかっこいい亀に書き換えてみました。大どんでん返しストーリーを楽しんでね。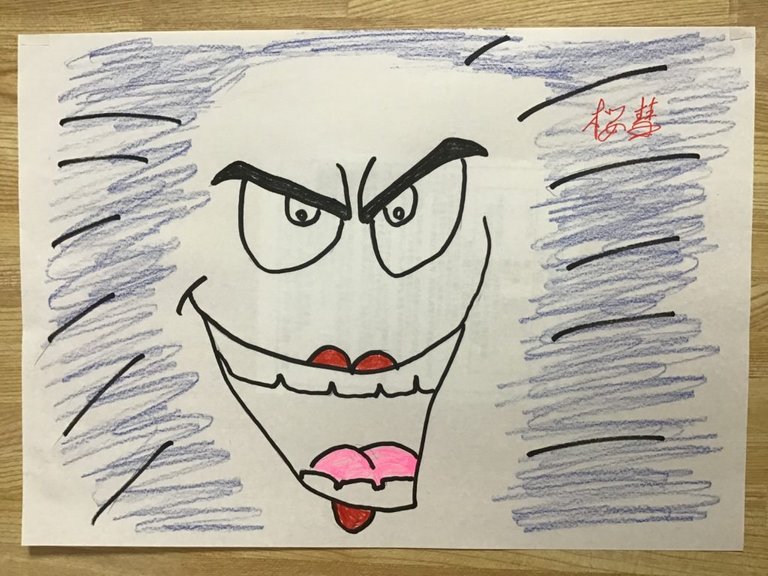 ウサギと亀
昔々、あるところにウサギのウサキチと亀の亀太郎がいました。亀太郎は歩くのが遅いため、いつもウサキチから馬鹿にされていました。
ある日、亀太郎は、ウサキチに挑戦状をたたきつけました。山のてっぺんまでどちらが先に到着するか競争しようというのです。
ウサキチは、亀太郎に言いました。「おまえ、俺に勝てると思ってるの? 俺が勝ったら、その背中の甲羅をはぎ取ってやるぞ!」
亀太郎も負けずに言いました。「俺が買ったら、お前の両耳を切り取ってやる!」
競争の日、ウサキチと亀太郎はスタートラインに立ちました。なぜか、ウサキチの耳がいつもより少しだけ短くなったように見えます。
よーいドンのピストルの合図と同時に両者は走り始めました。当然、ウサキチのほうが断然早い。ウサキチは馬鹿らしくなって、途中で公園のベンチに座って休みました。
その間に、亀太郎はタクシーに乗ってウサキチの目の前を通り過ぎていきました。亀太郎は勝ち誇ったような顔をして、ウサキチを見ましたが、不思議にもウサキチは亀太郎を見ても、特になんとも思ってない様子。なぜ?
山頂で亀太郎を待っていたのは、なんと、ウサキチでした。見ると、ウサキチの耳の長さが元の長さにもどっているではありませんか!
「おまえ、どうやってここに来たんだ? 確か、公園のベンチに座ってただろ?」と、亀太郎。
「俺はタクシーよりも早いのさ」と、ウサキチ。
ウサキチは亀太郎の甲羅を引きはがそうとして大きなのこぎりを振りかざしました。
そこで、「ちょっと待った!」と、声をかけたのはタクシーの運転手! スタート地点に立っていた二人の写真を突き付けて、写真に写ったウサキチを指さしている。
「こいつは誰だ?」、と運転手。
「いかさま野郎が!」と、叫ぶ亀太郎。
亀太郎はウサキチの耳に飛びかかり、両耳に噛みつきました。
運転手と亀太郎がハイタッチ!
血に染まった二つの耳が仲良く地面に落ちていました。

スタート地点に立っていたのは偽のウサキチで、本物はさっさと山のてっぺんに! その作戦をすべて見抜いていた亀太郎のほうが何枚もウワ手! 亀太郎とタクシーの運転手は最初からグルだったわけです。

最後まで読んでくださってありがとうございます。
時にはずるがしこくなって、この世界を生き抜くのだ。

The Hare and the Tortoise・Be crazy like a fox.
Hello! Steemit Friends! Today, I remade the story "The Hare and the Tortoise" in order to build up the poor tortoise into a brave hero. Enjoy the surprise ending!
Once upon a time, there lived a hare named Usakichi and a tortoise named Kametaro. A hare was making fun of the tortoise for being so slow.
One day, Kametaro sent a challenge to Usakichi, offering a challenge to run a race to the top of the mountain.
Usakichi said to Kametaro, "Fuck you, do you really think you can beat me? When I win, I will tear off your shell!"
Kametaro said in defiance, "when I win, I will cut off your ears!."
On the race day, Usakichi and Kametaro was standing on the starting line. I don't know why, but, Usakich's ears seemed to be a little bit shorter than usual.
"Ready" " Get set" "Go!" Two guys started running. Off course! Usakichi was running so faster than Kametaro. Usakichi was getting tired of competing with a heavy fellow, so, sat down on a park bench to rest.
While Usakichi was resting, Kametaro got in a taxi and passed by Usakichi. Kametaro looked at Usakichi with a smug look on his face. But strangely enough, Usakichi seemed to think nothing of Kametaro. Why?
What? Why? It was Usakichi that was waiting for Kametaro at the top of the mountain.
What? What? What? Look at his ears! They became the original length again!
"How did you come here? I saw you sitting on the bench." Kametaro said.
"I can ran faster than a taxi." Usakichi said.
Usakithi brandished a saw to try to cut off Kametaro's shell.
At that time, "Wait a second!" A taxi driver said. He showed a picture of Usakichi and Kametaro standing at the starting line, and pointed at Usakichi in the picture.
"Who is this?" the taxi driver said.
"You are such a liar!" Kametaro shouted.
Kametaro jumped at Usakichi's head, and bit into his ears.
A taxi driver gave Kametaro five.
Two ears dyed with blood was laid side by side on the ground.

Usakichi at the starting line was false! Usakichi was at the top of the mountain without running! But Kametaro had seen though Usakichi's crazy plan. Kametaro had a slight edge on Usakichi. Kametaro and the taxi driver were conspirators from the beginning.

Thank you for reading my story through to the end.
Sometimes, be crazy like a fox to survive in this world.