When I wrote about Joogsie about a year and a half ago, it was an exercise in dealing with my own heart. The idea of losing Joogsie so quickly to whatever was ailing her was tough to deal with, and sharing that helped me sort my feelings and offered an opportunity to connect with friends through the struggle.
What surprised me was how much it seemed to resonate with others, resulting in many asking how she was doing several months later. It was quite encouraging. I'm still surprised sometimes when folks as how she's doing.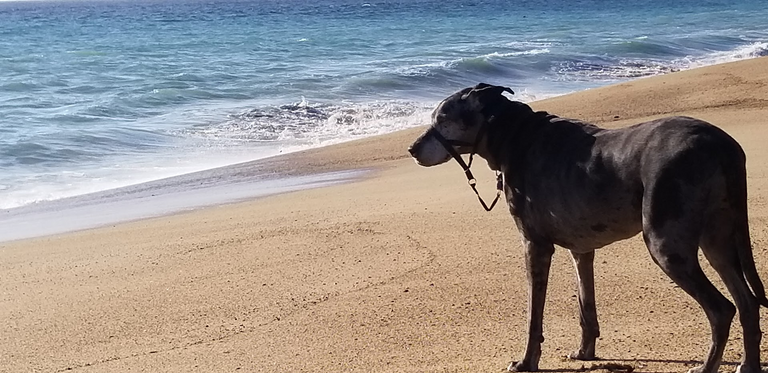 Joogsie's first trip to the Pacific, in Viña del Mar
I'm happy to say that she's still going strong, in spite of another surgery just a few months ago. You can see in the picture below that she had a mammary tumor, probably about half the size of a baseball.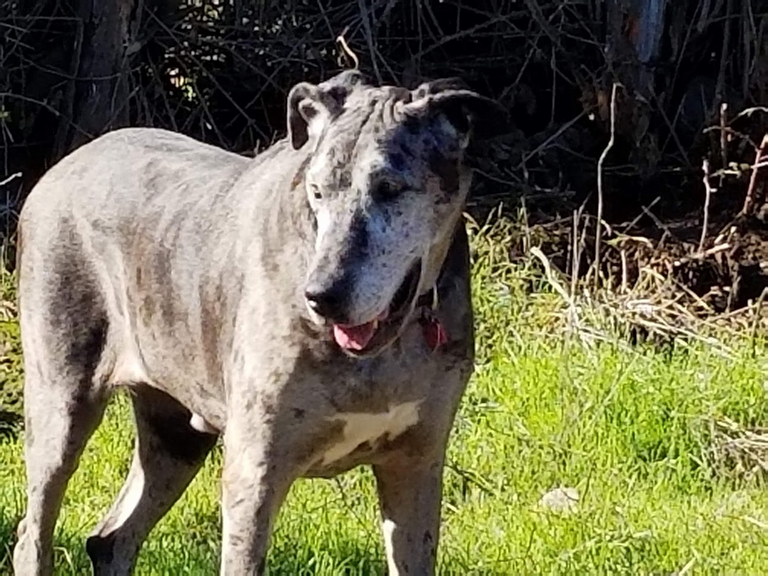 We really think it's the result of getting into processed dog food. If you care to go back to some of her backstory, you can check out these articles:
Last year was a blast. By that, it wasn't so much that it was fun as that it was wild. Life just got busy with exciting endeavors, failed business pursuits, heartache from betrayals, new loyalties and so much more that is part of our journey on earth. One thing that I hadn't written about though, was that we started making plans to move to Chile. So last August, I took a trip to start getting my documents in order so I'd have a temporary visa when we got here in March.
How to get a 125 pound Great Dane to Chile?
As many of you know, in order to put a dog on the plane, they either have to fit under the seat in front of you (NOT Joogsie!) or in a crate that is at least 1 foot taller than their shoulders. For Joogsie, that meant that very few planes would hold her crate. And the idea of her being stuck in the hold, moved around on a tarmac and out of sight for 15 hours or so was something we were really hoping to avoid.
So, yeah, we pulled the "emotional pet" angle. It wasn't tough. Wifey went to her doctor and plead her case. He said the letter would be ready the next day. So we got approved to bring our ol' girl on board as emotional support. Honestly, I think it was probably my emotions that needed it more than anyone's. But I'll take what I can get and wifey was the better candidate with the doc.
A New Home and a New Adventure
Joogsie did great on the flights. We paid a little extra for the bulkhead seating so that she could lay in front of us. The only real challenge was that she was still a little big, so our poor fellow traveler found his feet getting pushed around a bit. But he was very kind about it.
Upon arriving, getting through customs was very smooth. Our vet had given us all the proper paperwork and apparently it was filled out as it should be. We walked out of the Santiago airport into a new dawn on March 1st.
Just a couple days later, Joogsie's hip had a sore that was clearly infected. We really don't know why, but it was a bit out of control. After a few weeks of aloe treatment, she was fine. But for the first week it just didn't seem to want to heel. We were a bit worried for her. Part of our concern for this is that she had to get a rabies shot to come to Chile. It can be tough on a dog's immunity, so we knew she might be compromised. But there was no getting her into the country without it.
A New Challenge
As mentioned above, she had a mammary tumor here. I shared before that we had put her on a raw meat diet when she first started getting sick about two years ago. She thrived on it and we never looked back.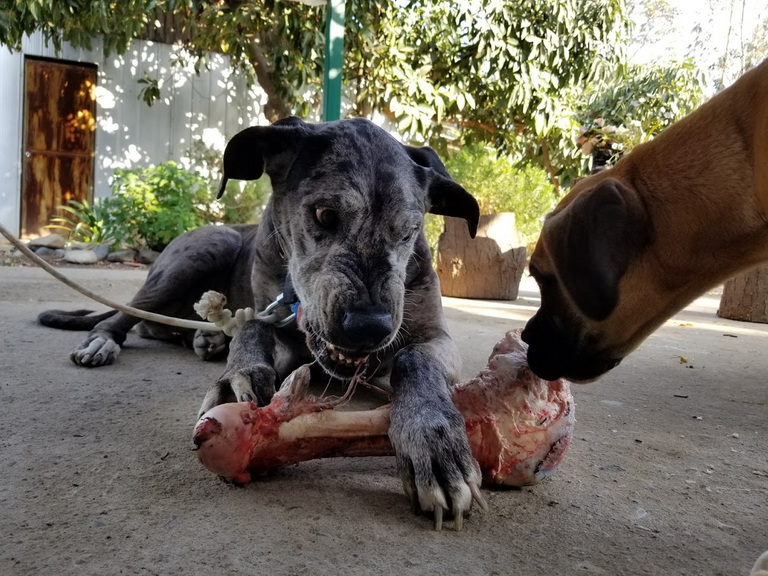 However, our neighbor free-feeds her dogs and, while we won't feed Joogsie processed dog food, we can't seem to convince her that it's a bad idea. So she was heading up there regularly and stealing from her new friends.
Here you can see her sharing with one of her new friends, Ryker. He's a cool boxer pup that's helped to keep Joogsie young.
While we can't know for sure, we're wondering if the processed food helped to "feed" the tumor. When we had the large one removed last year, she already had some mammary tumors. But the vet thought she'd absorb them after being spayed, so left them. They really didn't change that we could tell, until this one suddenly grew by several multiples over just a couple of months.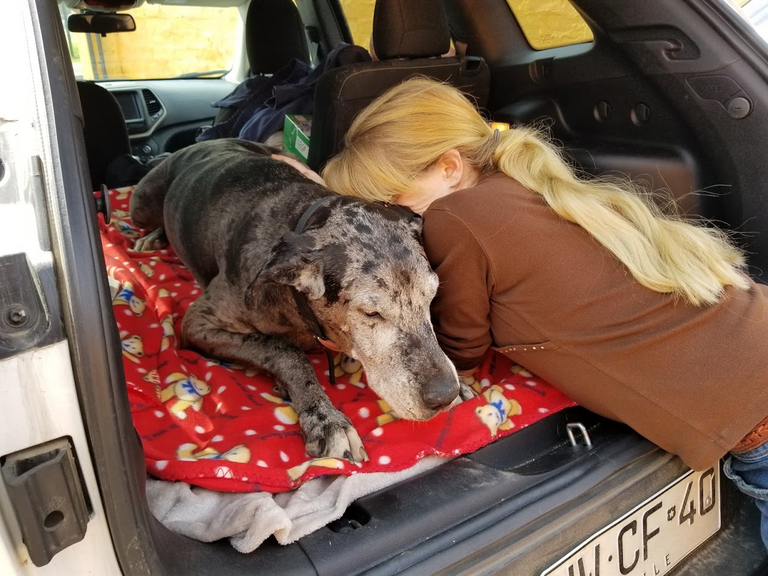 Again, we were faced with having to put an old dog under the knife. While the decision was easy, the doing of it was not. The concern, of course, is that they just can't take the anesthesia. And big dogs tend to take it harder than little ones.
God blessed the day though, and our ol' girl came out of it with a long zipper down one side where all her mammary glands had been removed. Here you see wifey snuggling up, happy to see our girl loaded for the trip home.
She was ready to play within a few days. But we had to keep her reasonably quiet for a couple of weeks, before they took her stitches out. For some reason, she got the chills and seemed weak and sick after getting them removed. And her bladder was out of control for a couple more weeks, worrying us that she was declining from the surgery.
But, again, she showed her resilience and desire to live and came out of it. In fact, wifey and I were just remarking about how incredible she's doing. She's more alert now than she's been since before the move and jumps at the chance to play. For awhile, she'd just follow me with her eyes when I got up. Now her head pops up and often she's on her feet at my side to see what's up.
July 4th marked her 10th birthday. Anyone who knows Danes knows that's old for them. Their average life-span is 6-8 years. It's a tough aspect of these amazing gentle giants of the dog world. But Joogsie was never average. She's always been amazing, in both her difficulties and her incredible blessings. Her AAAlpha personality has made her the most difficult dog we've ever had, in some ways. Her loyalty, attentiveness, playefulness and mere presence have more than compensated for that.
The Next Adventure
Next month we move to new digs closer to the ocean. It's a one year commitment. That means, God willing, that we'll get to celebrate Joogsie's 11th birthday there. How many more does she have? Only God knows. But we take it day by day and are far less apt to take them for granted.
Thanks for following along,
Another Joe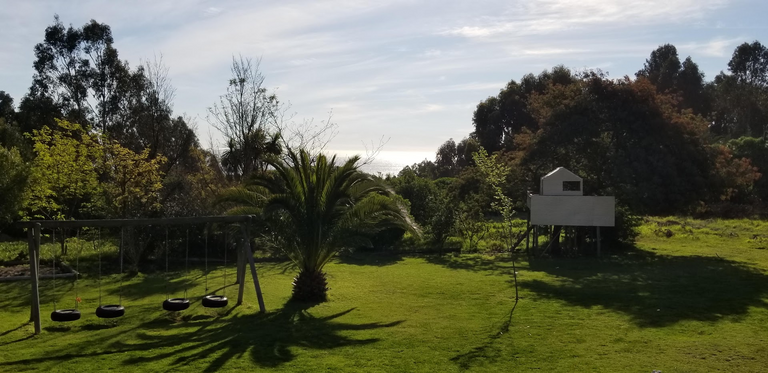 Joogsie's new view!