I can't believe it's been EIGHT FREAKING MONTHS since I posted here on steemit. I don't even know how it happened and I swear it doesn't feel like it's been anywhere that long. One day I just took a break from posting and...here we are over half a year later.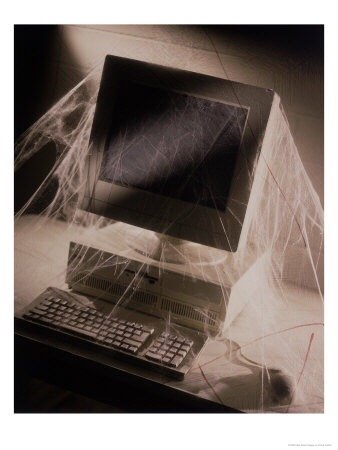 This feels like only a slight exaggeration. 
What's been happening?
It's been a roller coaster of a year; 2018 came at me HARD, with some nice positive and a whole lot of negative. 
Starting with the positive, as most of you know I accepted a position as a ghost tour guide earlier this year (in fact my last post was all about that), and that job took off big time. What started as a part-time gig quickly became something more substantial, as I went from working 2-3 nights a week, to giving 2-3 tours a night EVERY SINGLE EVENING, essentially working from about 7 pm - 2 am...on top of being a stay at home dad most days of the week and continuing my part-time job at the museum. It was a pretty brutal schedule but, for the most part, a fun job and looking back I'm very glad I did it. And it was really encouraging to see that my guests were leaving outstanding reviews for me online (part of the reason why my supervisor began booking me for just about everything we offered). However, the schedule was exhausting: I was working more that 50 tours a month, and let me tell you guys, giving the same tour over and over hundreds of times can take a lot out of you mentally (and dealing with those guests). I turned in my notice a couple weeks ago, and last night gave my last ghost tour to a very pleasant group. I really enjoyed that job, but I am equally thrilled to move on to something new! (I also lost about 50 lbs walking all over the city so big win for me!)
Unfortunately, this summer was also a very devastating time for me. In July, I began the exceedingly painful process of separation and divorce. It's been months since all this began and, quite frankly I'm still trying to understand it all and come to terms with what happened (it was all very sudden and rather unexpected). I've tumbled my way through all the glorious stages of grief and honestly, I'm still not at all sure where I am now, though looking forward to the future, I do believe the worst is in the rearview mirror. Coupled with the lack of sleep due to my night job and raising a kid, and it's been a very difficult fall; I'm hopeful that, with the end of the tours, I'll be able to catch up on sleep and move forward with more clarity. The silver lining in all of this is that things have been fairly amicable for the sake of our son, and I am confident they can continue in that way so we can avoid a truly ugly situation.
What's next?
Honestly, I'm still figuring all of that out. First step is moving out, hopefully early next year (due to our finances and child care, we are separated and living in the same house which, as you can imagine, is not something that is really working for us at all). I've already located a few promising places to rent that are animal friendly and in great locations for work and caring for my son.
All of my friends and family have been incredibly supportive during this time. If any good has come out of this, it's that I think I'm closer to many of these people than I was before and they have been amazing throughout the entire process. I really owe these amazing individuals, and I know that when I come through this, it will be in massive part thanks to their kind words and support.
As for steemit, I want to say I am coming back. With the conclusion of my tour job, I will be far better rested with more time on my hands for writing. I can't say what the immediate future holds for me but I am very hopeful that steemit will again be a part of those plans. I have missed the community and I've checked in from time to time, so I'm thrilled to really have an opportunity to be back here. I want to shout out to @beatminister and the other steemians (is that still the term/was it ever?) who sent me messages in my absence; it's heartwarming to know that my disappearance did not go unnoticed and I was missed! 
In conclusion, this is probably not the most upbeat post you will read today, but I like to think it ends on a positive note. I am returning to this amazing supportive community and I think, going forward, I am on a path moving towards something better. So thank you all for the kind words and overall support, and I plan on resuming more herpetology posts (and videogames and whatever other nonsense pops into my head from time to time) in the very near future!
Image Links: 1