It has been a while since I last wrote on social media - about two and a half week - and kind people, like @nevies and @donnadavisart, have asked if I was alright.
I am. Very much so actually.
There have been a few events that has occupied me, and I have lost a table... at least for the next month. It shows how fine I am actually doing - that a missing table can cast me into first world despair and internet aversion.
First of all: my daughter had a coming of age party, and the week after my niece had one too. Prior to this party my wife and I always made all the food ourselves - it was sort of a hobby back when we were young, making, together with my brother, large feasts for many people. We took it too serious to ever see it as a hobby though. We made two Chinese banquets which i composed. The first with 22 different dishes, the second one with 26. We made several Turkish buffets with several warm and a sea of meze dishes, Japanese mixed buffets, once it was Louisiana Cajun kitchen, some smaller parties with French and Italian food which was inside our comfort zone as my wife and I lived in Italy in our early youth, and then of course also a traditional Danish three course meal for our grandmothers 70 years birthday party which was for around 60-70 people.
This time we had a cook... the son of an artist friend. We held him in our arms when he was not even a week old, but he has in time grown into a very calm and handsome man which takes a lot of muscles to carry around. It made everything easier for sure. But there was still plenty of things that needed to be done - like giving a speech without crying.
And then there's the whole business with the table!
It all started when I had a present from my wife...
She and an artist friend had for an exhibition bought two tables from the city hall of Copenhagen that was sold in bulk because modern offices need height adjustable tables in light imitated wood laminate. These tables was designed by the architect of the city hall to match the building, which was carried out in the local art noveau style. This style is called, Skønvirke, and is about putting as much Viking ornaments into continental European Jugend and Napoleon III style as at all possible. But as modern business and politics demand lousy looking ugliness, and cheap thrill modernism those tables had to go, and my wife bought it with the idea that I could inherit it after it had been used at the exhibition.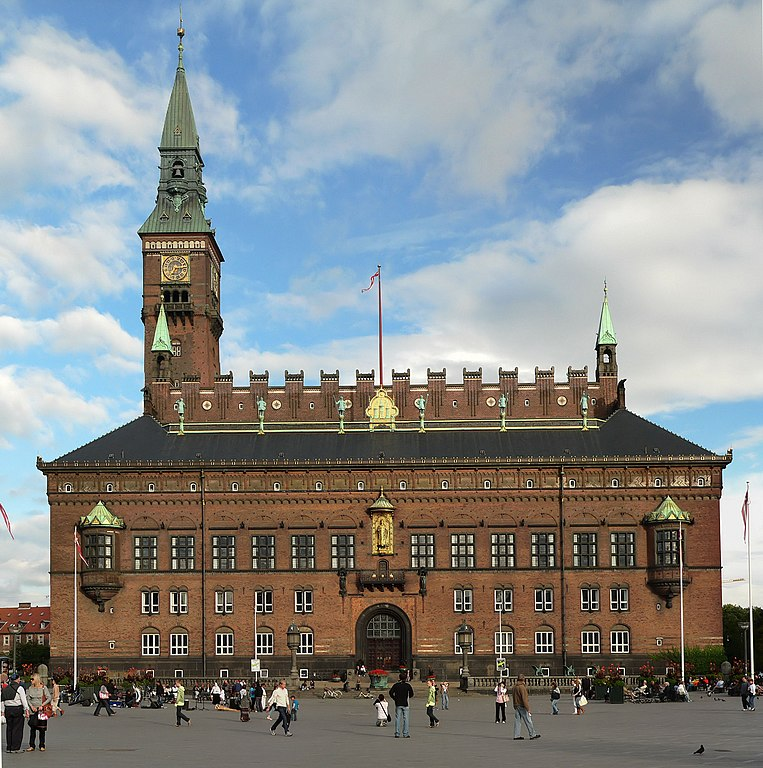 The City Hall of Copenhagen, designed by the architect Martin Nyrop who also designed the tables to fit the building. A building that I and all the other Copenhageners love. (Image by Scythian)
I was... ("am" i suppose) very happy with that table in the style I call Director-Viking. But again... when translating to modern English that habit in modern business - that everything shall have a base and beggarly, "smart" and "businesslike" ugliness to it - I have chosen to translate it into CEO-Viking instead. Nothing sounds as cheap as CEO.
Were am I? What am I babbling about?! Oh yes! The exhibition was so successful that it grew into a franchise and they have made several offspring exhibitions - and then, for one of these, my wife's artist friend wanted to use the tables again!
So I disassembled my computer setup and carried the table, made from solid wood, down from the Wyzard's Tower - all five floors. And then I couldn't be arsed to set up the old table, made from an old door and some IKEA foldable legs from back when IKEA was only known in Scandinavia, and even less be arsed to set up my computer, drawing tablet etc. Even now that it is done I fell tired thinking about it. I mean, what is a Viking CEO without his longship table?
The table will return in a month or so and I will have to do it all in reverse. But at least I can again then fell like a CEO-Viking. Next time I disappear for a couple of weeks it might be because the table has returned.