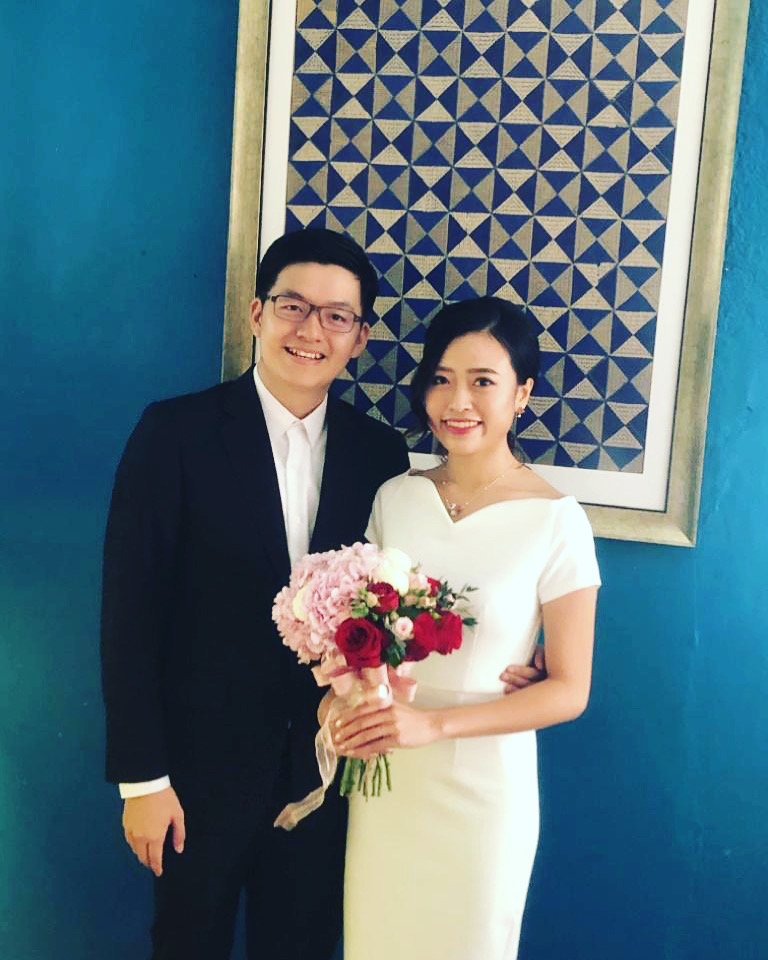 It has been one year since @enjiliew and I are legally married! Wow, time flies and we did not even notice that one year have been so brief and yet fulfilling. Some honest confessions on what had been going on since our marriage:
I would say our daily life is still the same but getting better as we live together. We developed small habits that we do together and patterns that we recognized as our unique signatures which speak itself. All of these little things add up to become part of our life improvement. Personally, I appreciate every little things that we work to build up and in a long term perspective, it will make a difference in our life.

The longer we stay together, the more friction we going to have. This is an eventual outcome that all of us have to face (I think). It is impossible to have no friction at all when it comes to perspective, standpoint, decision. However, we take it as a positive thing to deal with which bring us to a better understanding pair. Without friction, life is going to be cold and boring. With the right amount of frictions and apply some lubricant from time to time, it is the most ideal and comfortable warmth that we can maintain. This would become a way of life that we want to continue with.

2020 is the year where we step out from our comfort zone and build our own dreams from foundation. Frankly speaking, it is crazy and tough. It really challenged our very core and strip us down to the very basic as starting up with minimal income and saving is super tough. Being frugal and lean is one part of it, and having the pandemic happening at this time challenges us to think outside the box on how to build something that is resilient, low cost to start and flexible for us. We don't want to lose the mobility that we have and we want the business that we build is scalable. From these two points, we see that integration with technology and having strong presence online is imminent. Hence, pushing ourselves hard from the back of the camera to the spotlight is one big leap for us. Yet, I still feel that many still can be done and we have yet to do it all. Momentum is building and it is a good sign that we are accelerating as well.

I would consider myself to be blessed with a life partner that is willing to take on the adventure together. I never thought that taking such a leap of fate can be so fun and yet nerve breaking. It is not everyone's appetite to take on the challenge and sacrifice the security that we always had when we were employed and try things that we like. At first, we romanticized on what we going to achieve and in the end it failed at the very early stage. Thus, we learned to think realistically and to have solid action taken for every things we accounted for. Each action takes courage and calculated risk.

Building business together led us to a life where work life is not balance at all. We talk about work literally every day and every time. That led us to a point where we find it is not right to have such pace and schedule. We should allocate private time that put aside the work that we have and really look into us only. A time for the pair to bond and chill out. I find it really helps and it also brings in new perspective and energy for us. Guess both of us fancy some romantic moments from time to time, that spices things up.

Wealth comes in different form and generating revenue is one part of it and one of the most crucial part for us now. At some point, we do have different way of looking at things like building wealth. We may have different methods and philosophy, yet it is important to not just stay with the principle and not tolerate. That would bring the relationship to a stalemate which is definitely a dead zone that I don't want to be in. On the other hand, we had develop ways of ours to slowly propose and discuss on our point of views on how we wish things can be done. Analyze the pros and cons and in the end making the best call. It is something that we are working on even now, a process that needs time. Yet, I see this as part of the most valuable asset that we can build as a life partner.
In overall, I'm feeling so blessed and lucky to have her in my life. To be honest, I feel even more excited when marrying her as we are now building something even larger and crazier. Looking forward to another year of journey and we going to keep this momentum going!