China to launch world's largest solar floating station
China launched the world's largest "solar floating station" after it was produced by Singo, one of the suppliers of photovoltaic systems.
The plant, with a production capacity of 40 megawatts, is floating on a water depth of four to ten meters and connected to the electrical grid of the Chinese city of Huainan.
The current site was chosen as a former place for coal mining, as the mine left behind mineral water that could not be used for the most part. The lake itself was the cause of astrology, which caused the collapse of the surrounding land a problem of a decline in the accumulation of rain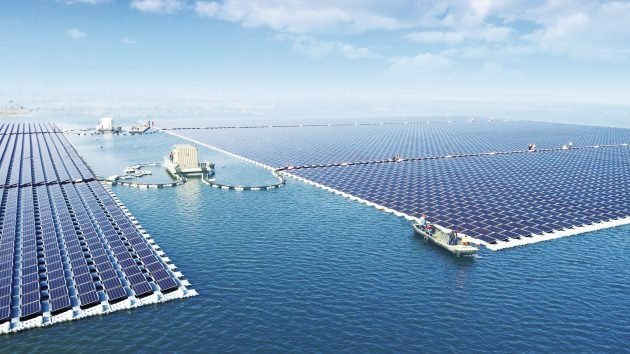 Flooding solar plants bring benefits wherever they are, because they harness unused water and abandoned land to their advantage. Water cools power systems and neutralizes ambient temperatures, improving energy production and reducing long-term damage caused by heat. These stations are filling additional areas, particularly in crowded residential areas, such as those in China. Today, the country has more than 100 cities with a population of at least one million people per city. The PV panels are specially designed to operate efficiently under high humidity levels and to prevent them from evaporation.
China is at the forefront
Although China has been one of the world's biggest environmental polluters through carbon emissions and subsequent climate change, it is opening a new page in which to take advantage of renewable energy to become a global leader in adopting renewable energies and leading the world towards a green and sustainable tomorrow. All nations must show that spirit of dedication. As climate change increases, negative human activities and changes continue. The past three years have recorded horrific numbers at temperatures, so the fate of humanity is tied to the exploitation of renewable energies. It is a good thing that creations such as the floating solar power station prove that there are endless and practical solutions to the global problem.