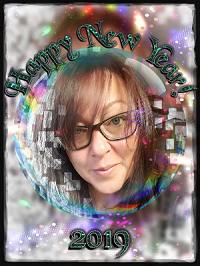 January 1, 2019
Happy New Year my Steemit friends! It's been over a month since my last post and I hope you are all doing well and having a great start to the New Year. I decided to take a necessary break and stay away from the screens that often seem to devour our daily lives. I have to admit that I am just tickled pink that the holidays are over and I can get to the usual daily grind of life. It has been a hell of a year with many changes and new beginnings and it's time to look forward to see what the new year brings.
The end of the year is busy without the added holiday stuff. With Mardi Gras looming, I usually have boxes of coconuts to paint. Painting these coconuts is definitely a love/hate thing. Sometimes I can sit and paint and it will have a calming relaxing effect. Other times I'm mumbling under my breath wondering why I agreed to this job.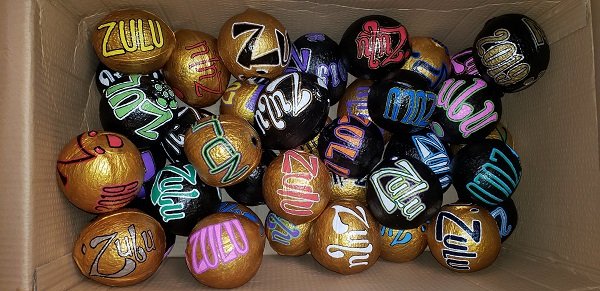 I did manage to decorate my house for Christmas this year. When the boy was little and still believed in Santa, I decorated every year. When he got older I decided that it just wasn't necessary. I always put up a tree because society dictates that I can not be a Grinch and send my tree down the garbage chute. I decorated this year (and don't laugh) to avoid the nagging of a certain someone in my life who shall remain nameless. I found an inflatable Grinch and kept the decorating to a minimum. I even re-constructed my wreath to match the Grinch colors because if I'm going to be nagged into decorating, at least I will do it my way.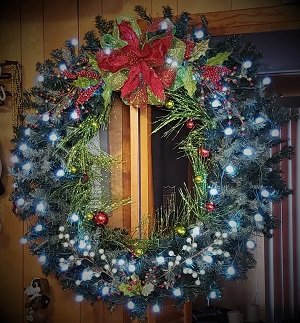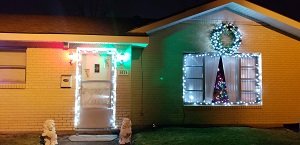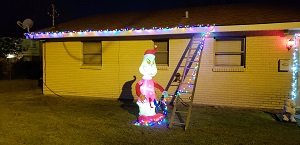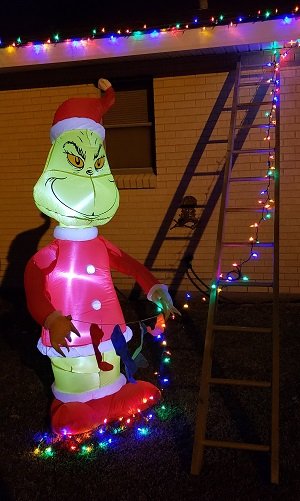 The Grinch is stealing Christmas
It was also important to me to find some me time. One thing I absolutely love to do is paint my nails. I was into nail art as a young girl and it has followed me into adulthood and even now as an old woman. I love trying new techniques and found a cool way without spending oodles of time. Any of you ladies ever heard of nail stamping?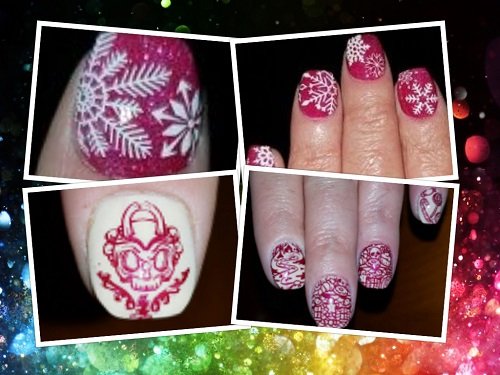 Snowflakes on the top and the stamping plate I used on the bottom is called Hansel and Gretel which I felt was a perfect scene for the holiday season. It was my first time using these plates and I am in love with the results. I purchased some cool skull plates and will try those next. It cuts the time it takes to do my nails in half.
We had our Christmas Eve bash with family, food and sweet treats. I often dread this day but this year we kept presents small and minimal, concentrated on the food and sent everyone home with doggie bags. I channeled my inner Betty Crocker and whipped up some almond flavored cupcakes with my homemade buttercream frosting. They were a hit. We had a Turducken this year and if you've never heard of it I promise you it's a sight to behold. It's a de-boned chicken stuffed with cajun sausage and then stuffed into a de-boned duck which is then stuffed into a de-boned turkey.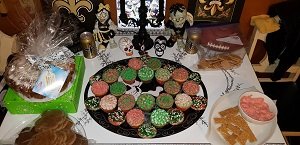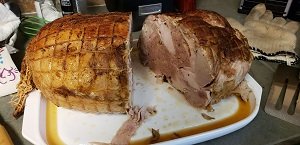 Yummy Yummy for my tummy!
Another Christmas in the books. The highlight was being able to spend some time with these two goofballs...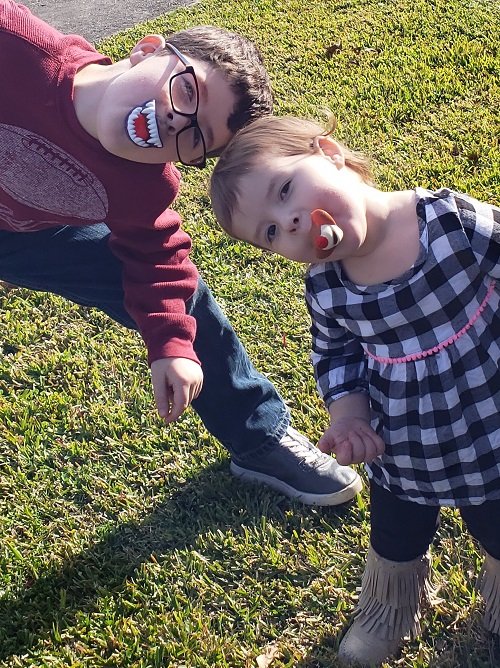 Of course I had to get them goofy suckers. They are my favorite little people ... they bring warmth to my heart and their goofiness always makes me smile. When they call me 'Nanny' I am putty in their hands. The bad part is ... they know this and use it to their advantage but I guess I would have it no other way.
The low light of this holiday season is my poor seventeen year old puppy has taken a turn for the worse and isn't doing very well. In dog years, he is ancient and it seems that his little body is starting to shut down. I am afraid that we just spent his last Christmas and New Year with him. He is very clingy and just seems to want to know that we are there. After 17 years, it's hard to imagine how life will be without him.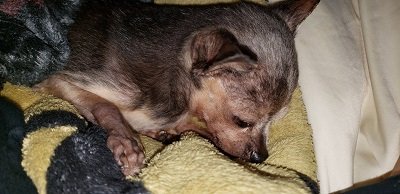 I apologize for disappearing on y'all. The end of the year festivities are often draining for me and the hiatus is necessary for my mental health.
I hope y'all had an awesome holiday season and I wish you the best in love, health and prosperity for the year ahead. It has been a blessing finding this platform and getting the know the people here. I look forward to seeing what you all have been up to. I can't wait to start reconnecting with all of you again. See y'all around peeps. Much love to each and every one of you!
I miss my #am3gas very much. @dreemsteem and @andysantics48... maybe we should get together for a chat soon? I love you ladies!