Everyone in my household either is or has been ill. We all have had a virus, which in and of itself was mild. However, the secondary infections have hit quickly and are rather severe. My granddaughter has a double ear infection which developed in less than 3 days. For me, the bronchitis hit rather suddenly and with vengeance. At the time my story happened, my daughter was at the ER with my father, who is not a complainer, presented with a sudden and severe headache. He was diagnosed with a sinus infection.
So, I'm home with my 4-year-old granddaughter. She's a picky eater to begin with, and now that she's ill, getting her to eat is all but impossible. However, I finally got her to agree to eat some cereal. She generally eats her cereal dry with a glass of milk, rather than pouring the milk on her cereal. This morning she chose Capt'n Crunch's Oops All Berries over Frosted Mini Wheats.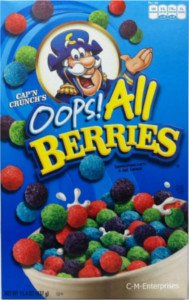 As she's eating, I'm texting with my daughter, keeping abreast of my father's developing situation. After what seemed like the umteenth time of, "Gramma, am I full, yet?" I finally told her she had eaten enough. I felt what she ate was probably enough to keep her antibiotic from messing with her stomach. So I told her to put her bowl on the counter in the kitchen.
I look up from my phone when I heard the unmistakable sound of someone stepping on dry cereal, though it was somewhat muffled. Slightly perplexed, I looked up to see where I thought the mess would be, but didn't see one. What I did see was a silly grin on my granddaughter's face as she was slowly walking toward the kitchen, and heard another 'crunch,' but again, no mess.
I asked her if she put cereal in her shoes. She said, "Nooo," with a slight upturn in her voice. Understanding a child's requirement for semantics, I tried again, this time with precision:
"Did you put Crunch Berries in your slippers?"
She looks up, raises her eyebrows, and in a sing-song voice replied, "Maaaaybe?"
It took every ounce of willpower I have to refrain from laughing. My reasons are twofold: my lungs feel like they are on fire, and if she were to know it was hilarious, she would do it over and over. So, I just smiled, shook my head and told her to empty her slippers into the trash while she's in the kitchen. I could hear a couple more crunches as she made her way to the trash can. I burst into a coughing fit, though trying not to let my granddaughter realize I was really laughing.
She returned with bare feet, so again, trying to contain my laughter, I asked where her slippers were. Thankfully, she said she put them on the counter with her bowl so they can be washed. I wiped the bottoms of her feet, swept the little crumbs from the floor and tossed her slippers into the washer, trying not to even chuckle, so as to avoid another coughing fit.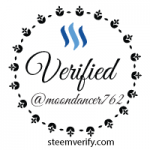 I love being a grandmother!
Photo Credit: i.ebayimg.com/images/i/370866100806-0-1/s-l1000.jpg