It's been exactly 2 years now since I bought my second dog. The first one died a few months after I bought it when a motorbike ran over it in front of my house. The memory of how she ran into the gate and fell on my feet is very fresh in my head as I watched her jerk off the last breath of air in her lungs.
I cried that day, my younger brother was inconsolable as he cried his eyes out. Winnie had become family, she could literally tell whos a blood relation or not even when she sees you for the first time. She was very friendly but yet takes no shit, nobody apart from myself dares to put a chain on her neck. I loved her dearly, she was the solace I found after the trauma of losing my dad in early 2016.
I vowed never to own a dog again because I wouldn't want to be so emotionally attached to an animal in my life again but heh? Dogs choose you and not you choosing them. Fast forward to a few months later and I got an inbox from a neighbour on Facebook, she had sent a photo of an adorable female puppy that was up for sale.
I fell in love with her immediately, I sent her the money and she came back with the dog. A couple of days later the dog fell ill, she wasn't eating anymore. I called a friend who was into dogs stuff, after checking the puppy who had barely stayed with me for a week he said the whole body is covered with maggots. We took some out and later rushed her to the nearest vet hospital where she received medication and got injected.
The story about her over the last 2 years is just too long to put into writing, last year she had her first menstrual flow and I really wanted her to get pregnant. Winnie blatantly refused any dogs to gain entry as she fought off all the male dogs that dared to come close until the time past. That was in August last year.
This year the flow started on the 25th of April. She's been at my uncle's place for about 2 weeks now where they have a male dog. They've been fighting always every day before now. Today I went there with her food and met this happening.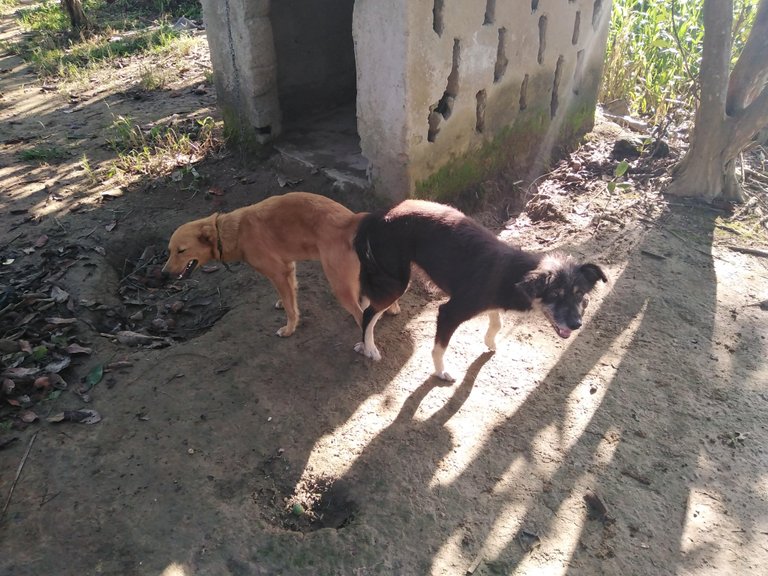 Now I want to start making plans for a cage and hope that she doesn't hurt the pregnancy once it comes. Wish me luck y'all, I am about to get grand puppies in few months time.