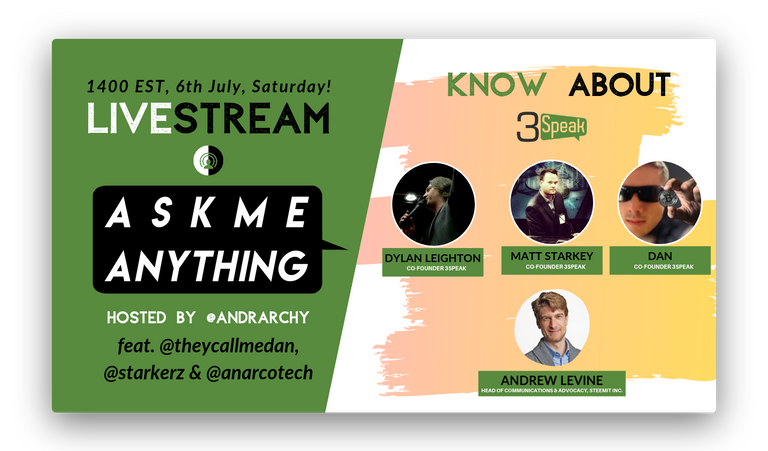 Hello Everyone,
Please get ready for a power packed "Ask Me Anything" session hosted by @andrarchy, Head of communications and advocacy at Steemit Inc. with @theycallmedan, @starkerz and @anarcotech, the co-founders of @threespeak.
It will be done via live-stream on 6th July, Saturday starting from 1400 EST only at https://3speak.online/user/threespeak We request you to join the stream and ask any questions about THREESPEAK, its relevance on STEEM Blockchain and how it will shape up in future.
The plan is to get threespeak team answering a few questions from @andrarchy at the start of the stream and then we will move on to the questions directly taken from the comment section coming during the session. Please Resteem this blog so that it can reach more and more people.
NOTE: Please check this space for any changes in schedule. We will update the live-stream link on the blog and 3 Speak discord channel on Saturday once we go live. Anyone and everyone is welcome to get the best of this live session.
---

3Speak is an online video sharing platform and a home of free speech. It was founded with the aim of helping demonetized/deplatformed content creators, blockchain influencers and social media censorship victims to have a voice and monetization opportunity powered by STEEM Blockchain.
How To Register
https://steemit.com/threespeak/@threespeak/mjvotxlu
More About us