Hello to all! It's @misslasvegas this time, as I've been asked to write this post and something new every week from now on. I will explain it all in this post.
The ManCave & BROfund, is involved in some pretty cool projects, support quite a few others, and as you know, @raymondspeaks is always checking far and wide for new and exciting things and ideas. With the investor's interests at heart of course but that doesn't mean that we can't have some fun along the way, does it?
Isn't it what all BROs should be about, having fun while getting rich growing our investments at the same time?
So in this post, we thought we'd tell you a little bit about some history, as well as a new idea we've come up with.
Which history, and which idea, you ask?
Well let's find out!
The Dragons' Den
It's one of the newest things we've recently started that's both fun and interesting, and it opens new opportunities up to both investors as project owners. So far, there have been four editions, and from what @raymondspeaks has told me: three were authorised, and one unauthorised.
Whatever that means!
Just like with the famous Dragons' Den TV show, potential investors are there to ask burning and important questions, and probe the victims project owners as much as possible to get all the information needed.
As with any investments, they need to know if the project is viable, the roadwork ahead well thought-out, and last but not least: whether they'll be able to have a good return of investment.
Our dragons might be nice (which can be debated, just not by me hehe) but they don't run charities as far as I know.
Running your own business can be very rewarding but it's usually a tough road to success.
And since investors have earned their stripes in business already, they'll know that tough questioning, finding faults and flaws in a presentation, as well as opportunities is the key to judging whether a project or business can survive or not. They need to make sure that the project is solid, and all parties will be happy in the end.
But I'd like to take you a little bit further down the rabbit hole of what is the Dragon's Den, and in particular: where it came from.
Its history - and what a history it is!
Dragons, Tigers and Sharks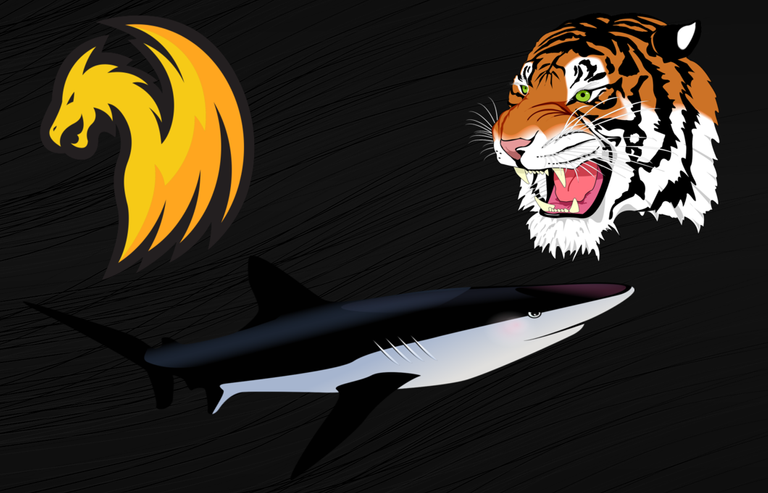 The Dragon's Den aired for the first time in the UK in 2005. Other European countries, like Poland, Hungary, Romania, Ireland etc. would soon follow using either the same name or names like "the Lion's mouth", "the Lion's cave" (both in Finland) or "Die Höhle der Löwen" (Lions' Cave) in Germany, and "Draknästet" (The Dragons' Nest) in Sweden. In France, their local show was known as: "Qui veut être mon associé?" (Who wants to be my business partner?).
A little later, the Dragons' Den moved into Northern American waters, and while Canada kept the name, others would go by the name "Shark Tank".
In Mexico the show is known under a more exotic title, namely "Negociando con Tiburones" which means: negotiating with sharks. Hmmm, not sure if that's a wise thing to do in real life but the viewers do think otherwise, as the show is a great success in Mexico.
However, neither the UK nor the US can claim the series as their own.
The original series was called "Manē no tora", meaning: The Tigers of Money, and its debut aired in 2001, in Japan.
It was created by Nippon TV, and distributed by Sony Pictures Television.
But the name is where it becomes really interesting, in my honest opinion. More about that later.
There aren't many countries with a business culture like in Japan. I am not the one to tell you whether that's good or bad. I've spent a few months of my life living and working in Japan a long time ago but even though it was short, I've grown to respect the Japanese work ethic. However, there is also a culture which I call the 'crab-culture', which means that an average worker will never speak to a manager in a higher position directly. It will always go through their direct supervisor first, then up.
The Japanese cultural standards are very much the same now, as they were 100 years ago, with very few exceptions. Once someone starts their career at a company, they stay with that company for life.
This can be great or it can be really bad.
Just imagine having to deal with a crazy manager every day for the rest of your life!
So you probably understand that in the TV show "The Tigers of Money" there was a little bit an 'All-or-nothing' vibe with the Tigers seeming to be much stricter, and digging deeper to find flaws in the businesses presented to them.
They also seem to be a bit harsher in their judgements.
In a way, that's to be respected, as it may have been a show for TV but also a real business investment.
If you're interested, check this fragment of the original Japanese series. If you take the time to read some of the comments below the video, you'll see that it's not always as straightforward as it has been presented. Some comments suggest that the way it's shown, doesn't actually portray what it's like in real-life in Japan. They're not that cut-throat after all!
source
What's in a name?
The name of any business, whether it's a large corporation or a TV show is everything. It can make or break the business before it's even begun. Business names are usually very carefully thought out, and they need to be recognisable. It creates an identity.
Just think of some of the big fast-food chains, or soft drink producers. Their names stick out - or they don't. If they don't, their product can be the best you'll ever see but it may be doomed from the start. There's psychology involved in brand and business naming!
When the producers of "The Tigers of Money" chose their name for their production, they must have had similar thoughts in mind.
But in which way beats me.
The name "Manē no Tora" was a pun on the name "Marē no tora", or "The tiger of Malaya" Tomoyuki Yamashita. Yamashita was a Japanese general of the Imperial Japanese Army during World War II.
He led Japanese forces in what is known as The Invasion of Malaya and The Battle of Singapore. The latter was called "worst disaster" and "largest capitulation" in British military history by Winston Churchill, so we can say that it was quite an achievement in his career.
However, the celebrations of these achievements were short lived, as Yamashita was tried and executed for the war crimes his troops committed during the war. Although he had always denied knowledge of those crimes, he was held responsible and charged as such.
The command responsibility later came to be known as Yamashita standard.
I think it's quite interesting that the name that was chosen for the TV show had direct connections to the Japanese General.
What do you think of this? What could their reasoning have been?
Rumours about the choosing of the name
In an interview a while ago, I heard one of the presenters of the show ask why the tiger was used in the Japanese show, and not a dragon, when the dragon is an important factor in Japanese history.
The answer was quite interesting.
It is rumoured that they'd never use a dragon in any names on TV, as dragons are very closely related to the Yakuza culture, the organised crime syndicate, and this could cause problems.
At the time of writing this, however, I have not been able to find the video in question, so please don't quote me on this.
It does make sense though.
Who would want to be connected to a crime syndicate?
This was a little bit of the history behind the Dragons' Den.
Did you think there was so much to know about it when you first started reading?
I sure didn't when I started researching it!
Some other news
Yes, there's some other news! As you've probably already seen in the last BRO Newspaper that there are plans for a daily blog schedule. Maybe you've already seen @raymondspeak's @brofund post for Monday, which means that we've started this already! Great going Ray!
So what does this have to do with me?
I'll tell you!
I've been tasked with holding an interview weekly. I am first going to start with someone in the Dragons' Den and BRO discord channel but will not stop there. I'd like to do interviews with as many people on Hive as possible. So don't hide under a stone, I will find you hehe.
When I said 'I've been tasked' this doesn't mean that I was held at gunpoint, however, like @raymondspeaks was. I'm actually doing it because I want to, and I believe it'd be a nice addition to what we already do here.
Please let us know your thoughts!
And if you'd like to volunteer for an interview, please let me know directly. That way I won't have to hunt you down. 😆

Sources:
Dragons' Den UK
Dragons' Den
Yakuza
Psychology behind Brand names
Tomoyuki Yamashita
Images sourced from Canva.com and Pixabay.com, edited in Lunapic.com