Hi, Pankaj here 👋
---

                         Almost everybody in the crypto community has heard of the TRON platform. Many praise it 👌while others criticize it 👎, whatever it may be, we all cannot deny the fact that TRON has achieved a lot in a very short span of time.
                         Whether its the migration from being a token on the Ethereum blockchain to a coin in its own native blockchain or forming partnerships with companies, it has overcome a lot of barriers and the cool part is that it is still in its infancy, so we still have time to get involved.
                         But many people are still confused about the main intention of the TRON platform, I mean many people still can't get their head around its purpose of existence and why they might like to use the platform. So this article is a little effort from my side to explain the purpose of the TRON platform in layman terms so people can get a grasp of the concept. So let's start, shall we? 😊😊😊
⭐️------------------------------> TRON <------------------------------⭐️




Building a Decentralized Platform for content creators 🤵
---
The Tron project aims to build a platform ecosystem where it's users can freely publish and own their data and earn from their content. Let me explain this to you by citing an example.😄

                        Let's suppose you are a content creator and want to make money from your website, videos etc; in order to do so you must go through giant companies like Google, Facebook, Youtube and to name a few. The problem here is that after you have published your content you have little to no control over your own content. That is to say, these giant companies then control your data and monetize it as they want in return for providing you with their platform, so as to say they act as a middleman and sometimes they do so not even sharing a dime with you. Even if they happen to share profits with you, it's on their own terms and conditions which most of the time benefits them and not the content creator. You must have probably heard of demonetization of youtube videos, which is an example of such case. Apart from that, your data is censored too which is not good from a decentralised point of view and then there are many other issues like lack of transparency etc.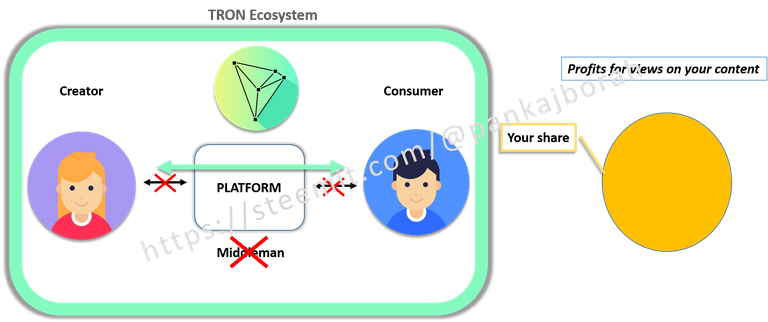 Since Tron's platform users own their data/content, they have full control of their data/content and can monetize it accordingly. That is to say for every like, view you get on your content, you get compensated directly from the network and don't have to share your profit as there is no middleman here. Apart from this, since is open source it has a high transparency. So the Tron Platform aims to put power back into the hand of the creators.
Platform for others to create their own coins and Apps
---
Tron allows anyone to create their own token or App on top of its blockchain. In very simple terms you can think of it as the Google Play Store for apps built on Tron protocol without the censorship part. This is a huge step as this lowers the barrier to entry. Example of a popular protocol running on Tron blockchain is GIFTO, which is a decentralized virtual gifting 🎁 protocol to incentivize and monetize 💰 content generation for individuals worldwide. So app or companies using Tron blockchain can issue their customers their custom token.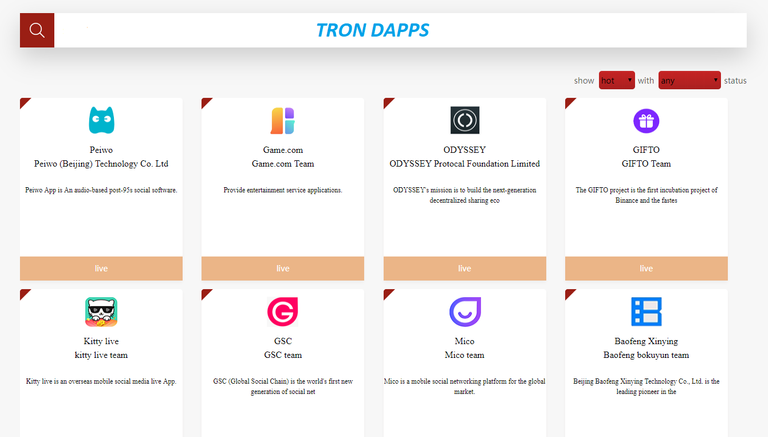 Act as a medium of exchange
---
One more important aspect of Tron is that it can act as a medium of exchange using its native currency Tronix(TRX). Let me elaborate on this.

                        Suppose there are two apps on the Tron platform, say App A(coffee drinks company) and App B( live stream platform like uplive.com), now you being a content creator provide content on uplive.com and in this process earn the custom tokens of App B, but after your show end you feel like going out and have a cup of warm coffee for refreshment. So you decide to order your coffee on App A, but you noticed that you have 0 App A custom tokens but remember, you still have some App B tokens. Now in this scenario, Tron comes to your rescue, as both App A and App B are built on Tron Blockchain, you can seamlessly pay for your coffee using your App B token and the Tron network will convert your App B tokens to Trx and then Trx to App A token behind the scenes. So in this way, Tron will act as a medium of exchange.


TRON main net launched.


Migration from Ethereum blockchain to its own Blockchain.


Several partnerships announced and apps built on Tron, one most prominent is GIFTO, which was on Ethereum blockchain too, but now has moved on to Tron's Blockchain.

✌️ Follow, Upvote and
✍️ positive comments are welcome ❤️

Hello, Friends and reader if you have found this article helpful, don't forget to follow, upvote and comment down below if you have any suggestions, I would really appreciate that. Thank you❤️