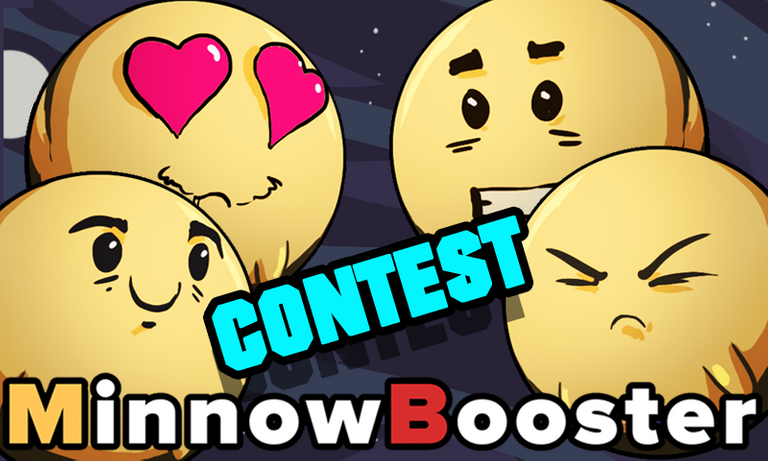 Hey everybody! On Steem I go by the username @beekart and you may not know this yet but I'm the lead graphic designer for @buildteam and @minnowbooster.
I'm really excited today to be bringing Steemians across the platform a bit of good news! Everybody loves a cute minnow and so do we! In fact @minnowbooster was created to do one thing and one thing alone and that is to help minnows reach their fullest potential. To help minnows reach greatness!
Through the help of @minnowbooster many Steemians have become fat minnows and even dolphins and our mission is still as it always has been! Helping you!
I'm here today to let you guys know about a cool new contest open to all Steemians. In this announcement I'll go over all the rules and details of our 'MinnowMoji' contest and lay it out as simply as I can!
The MinnowMoji Contest Rules
Rule 1:
You must use the template below to create (3) brand new and original minnow-faces.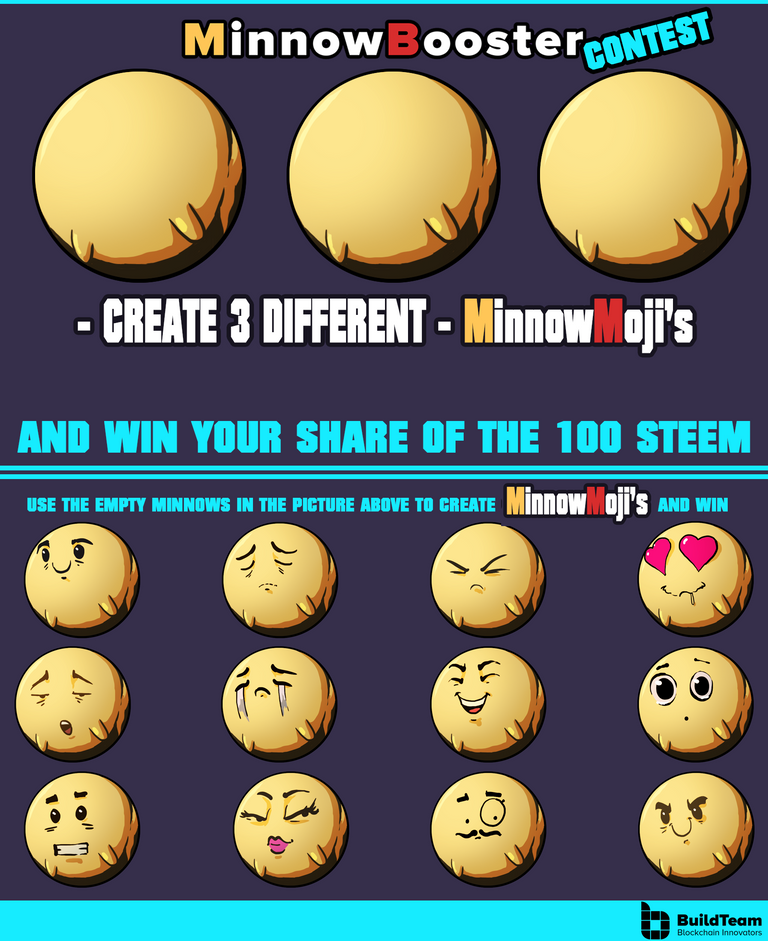 Rule 2:
You must make your submission in the comments section below within 7 days of this contest announcement. Winners will be chosen after the post has paid out.
Rule 3:
Your work must be completely original and of a semi-professional / professional nature to be considered as a prize winner.
Rule 4:
Only 1 submission can be made for each contest participant. If you submit more than 1 submission you may be disqualified from the contest at our discretion.
The MinnowMoji Contest Prize Details
BuildTeam has put aside a budget of 100 Steem to be given to prize winners.

In order to make this contest more fun we have decided that instead of picking one winner we would like to reward as many of you as possible so with that in mind we have broken the prize pool into 10 seperate prizes of 10 Steem each.

This means there will be 10 winning minnow faces but before you discount this let us explain further.

If you create 3 minnow faces using the template above you have the chance to win up to 3 times which will result in you receiving a prize of (30) Steem!
By entering this competition, participants hereby assign @minnowbooster the right of use of their designs for both commerical and non-commercial applications.
Contest participants can feel free to contact us if they have any further questions about the contest.
Feel free to root for the entrants by upvoting their submissions, spread some love and adoration for their talents! :)
Good luck Steemians and may the force of the Minnow be with you!
---
Minnowbooster strives to provide a truly investor-class model for Steem investors who are either not good at curating content or do not have the time or inclination to do so and would prefer to earn a "Masternode like" competitive APR return on investment with daily payouts, and simultaneously empowering the community and stimulating the attention economy of the Steem blockchain.
Thank you again for your continued support as we work on providing the most socially beneficial toolset on Steem.
Our team will continue to move forward to equip you with the services you need to succeed on Steem!
---
What can MINNOWBOOSTER do for you?!
| What? | Currency | Advantages |
| --- | --- | --- |
| Buy upvote | SBD | Earn an instant return |
| Lease SP from market | STEEM | Increase your vote strength and curation rewards |
| Delegate SP to market | STEEM POWER | Earn daily STEEM dividends |
| Invest STEEM in MinnowBooster | STEEM | Earn daily SBD dividends |
| Delegate SP to MinnowBooster | STEEM POWER | Earn daily SBD dividends |
| Sell your vote to MinnowBooster | VOTING POWER | Earn SBD share of sells |
---
CURRENT PARAMETERS:
Parameter
Value
Remarks
Minimum Upvote
0.01 SBD
Minimum SBD you can send
Upvote comments?
Can Be Enabled
Profit
Always Guaranteed!
Varies with SBD price, but always receive more than send.
Minimum Lease Purchase
1 STEEM
Maximum SP Lease / Steem
1 STEEM/50 SP
Price per week/Lease size
Minimum SP Lease / Steem
1 STEEM/400 SP
Price per week/Lease size
Provide us with feedback
We are happy to hear your feedback about where we can improve.
---
Join our Discord chat
Get support and connect with us and other Minnowbooster fans!

---
We are always looking to improve @minnowbooster and try to keep you up-to-date whenever something changes. If you have any suggestions about what we should change or add to @minnowbooster, then please drop by and let us know!
---
Missed the BuildTeam announcement? Here's all the juicy details.
---

---
Minnowbooster is a @buildteam project by @thecryptodrive (witness) @cryptomancer and @reggaemuffin (witness)
---
---
This is a @steemvoter subscription payment post. Thank you to Steemvoter customers for allowing us to use your Steem accounts to upvote this post by virtue of your free subscription to the Steemvoter.com bot service. @steemvoter is proudly a @buildteam subsidiary and sister project to @steemsports and @minnowbooster.