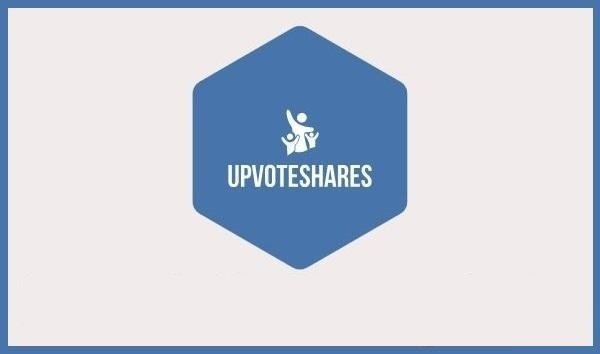 I have been wanting to make this post for a long time and finally found some time to do so. I will try to better explain some of the mechanics of the Upvoteshares model and how it is different compared to almost all of the other upvote group projects here on Steemit based on the numbers.
---

In order to go by the numbers and think about actual returns, it's important to first define the basics to build upon. This is fairly easy in the case of upvotes on Steemit. Each account can do 1000% worth of upvotes each day (10x Full Upvote) and is free to choose where they go to. As a result, the worth of 1 Steem in daily upvotes can perfectly be calculated.
What this means for Upvote Groups...
Looking at the numbers, money (upvotes) always come from somewhere and go to someone. The entire point of upvote groups should be to give members actual support on their posts with upvotes rewarding them for being active and good for the platform. This means that you get support whenever the daily upvotes you get are bigger compared to the 10x self-upvote rule, but you are giving support to the upvote project whenever this is not the case! Factors like delegations, having to give mandatory daily upvotes, ... should all be included in these numbers.


The Upvoteshares Project pretty much grew as an attempt to solve some of the fundamental issues most upvote groups have in my view to provide actual support to its members. Don't get me wrong, I'm not against any of the existing projects and appreciate what they do and I use many of them myself. It's just when looking purely at the numbers, most of them have been rather disappointing and fail to give actual returns. These are some of the issues I tried to overcome with the @upvoteshares / @minnowshares accounts.
Basic Ponzi Schemes
This concept is fairly easy when investing in a project or a game on Steemit to get a positive return. If the returns crash when everyone wants to still get a good return and no new money keeps coming in, it pretty much operates on a Ponzi structure. Most of the time only the early investors manage to get an actual return when this is the case.

Curation Rewards
Accounts earn Curation rewards and upvote group accounts earn these curation rewards at the cost of the returns of the members. Unless a program is somehow sponsored from the outside or if upvotes are done right after a post is published, it's very hard to overcome this curation reward gap reaching a 10x self-upvotes return on investment.

Predictability & Transparancy of Returns
For most Upvote Programs or groups, it's nearly impossible to calculate the expected returns or how many years of daily posts it will take to recover an initial investment. Having to rely on getting delegations which fluctuate in price, money from new members coming in having an influence on returns, the entrire format an structure of a project changing, ... All these things contribute to making things highly unpredictable.

Project Growth ≠ Members Growth
Upvotes projects are generally not designed in a way where the growth of the group account means equals growth in returns for existing members. Mostly it means more members can be brought and more members need to be supported often dropping actually dropping the returns for existing members.

Self-Upvoting
Many projects operate on a model where there is a daily post that gets self-upvoted full force often even swapping full upvotes with other upvote groups. Members also have to give a daily upvote. While it helps the group account grow, it has to come at the cost of the actual returns of the members since the total sum is nearly always negative for them.

No Exit Plan
It's nice to think something will last forever but this realistically won't happen and at some point, all upvote groups/games will come to an end. What happens when the project ever comes to an end is rarely defined and mostly an issue with projects that require to send Steem to them to participate.
---
These are some of the issues that frequently occur that I wanted to solve with the Upvoteshares Model. All these things are fairly straightforward and purely based on numbers in relation to actual returns. It's not my intention to speak badly of any of the groups or projects as I think they all provide huge value to Steemit and being able to get guaranteed upvotes regardless the returns has kept a huge many Steemians on this platform. Many projects also do great things when it comes down to giving exposure to their members and making this platform more social also helping many minnows grow.


For the entire explaination on how this project works if you are new to it, best check this post where everything is explained in great detail. This is how the upvoteshares model handles all the issues mentioned above...
Basic Ponzi Schemes
The Steem that is sent to the @upvoteshares account is powered up and can be claimed back at any given time which never makes it an issue for the returns when no new money would ever come in.
Curation Rewards
Upvotes are being done at minute 12 and take about 20% curation rewards. This is compensated by the fact that 10% extra steem is put on top each level along with the fact that shares always get more expensive while giving the same starting returns. The curation reward gap is being overcome this way over time even in the worst scenario where all shares given a daily upvote. This table shows the numbers that represent the amount of Steem in the account based on the shares. Every level starts at the account having at least 10% extra and grows each time a new level is reached. Being at 1.25 means that the curation reward gap has completely been overcome at minimum promised returns.
Predictability & Transparency of Returns
The upvoteshares model is purely based on numbers and is extremely transparant. The exact returns can be calculated fairly simple at any given time and checking if all votes are being done correctly also is very easy to do. The progression pace has been extremely steady the past 8 months and the price of Steem also has no influence whatsoever when it comes down to the calculations. All info is also shared openly in each of the posts that are made on the account when moving to a new level.
Project Growth = Members Growth !
The system is designed in a way where the value of the shares always increase and are directly linked to the SP. Both the systematic outside investment to the program along with the Curation rewards make this possible. This means the value and the minimum returns of existing members always goes up at a predictable pace!
Someone that got 10 Shares in level 2 paying 33.2 STEEM got a minimum daily upvote worth 100% from a 365.2 SP account. Now 8 months later that minimum upvote has grown to a daily upvote 100% from a 424.6 SP account. All while the initial investment can be claimed back at any given time. The returns are in reality far greater and are set at over 2.2 times the minimum promised upvote.
Self-Upvoting
The @upvoteshares account has around 4-5 posts on average each month that function as a way to progress to the next level. These are self-upvotes by the account as a way to keep the pace of moving up. This is only done if the current upvote returns of all shareholders is high enough and do not come at the cost of it. If anything, the shareholders always get priority and all unused upvotes are also distributed to all active members which highly helps to boost the returns. The setup is that active steemians who stick to the platform and bring quality get the highest returns. The shareholders that give up along with the program making extra investments each level are the source for those high returns. There will also never be upvotes required from any of the shareholders on the account posts. They are however highly appreciated and help both the account and the shareholders returns grow.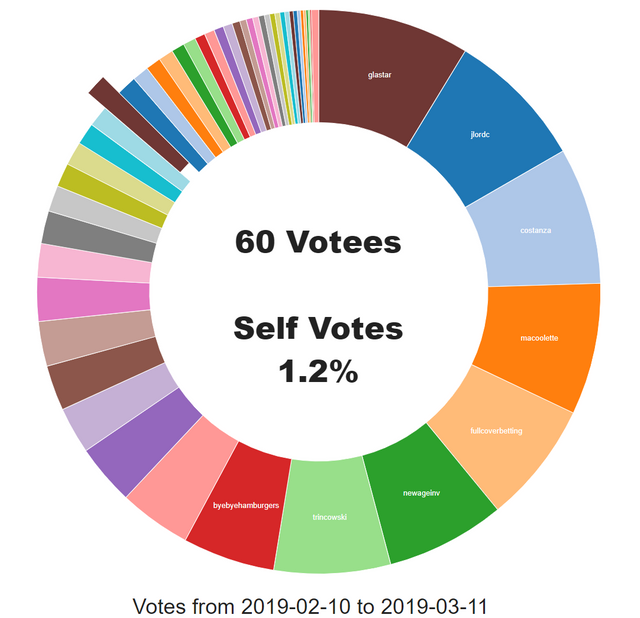 Exit Plan
The Upvoteshares project does not promise "upvotes for life" but upvotes for as long as the project will run as clearly stated in the Terms & Conditions post along with what will happen is the project ends. While the intention is to run it for many many years it can't be guaranteed which is the reason for there being an exit play in case it ever comes this far.
Upvoteshares Balance
We around 11 levels deep 8 months into the project and the model so far has been extremely balanced and there is no reason for it not to continue this way.


My intention has always been to create a fair system for everyone on a smaller scale within my capabilities more as a proof of concept. Curation remains an issue on Steemit since it simply does not earn enough rewards compared to just delegating SP out to bid bots. Running this Upvote group project both gives my main account an upvote group to be part of that I can fully get behind and it also helps to give much better curation rewards on the Steem I continue to invest on top each level. Everything about this project is aimed toward the long run.

If you are looking to insrease your own post earnings getting more guaranteed upvotes on your posts, make sure to check some of the currently available projects out and make your own mind up about them!
(Let me know in the comments if there are more and I will add them)
---
As always, feel free to ask questions if something is still unclear and scrutinse all the numbers if you will. Suggestions are also alway welcome. Also big thanks to everyone who has been part of and supported this curation project so far !