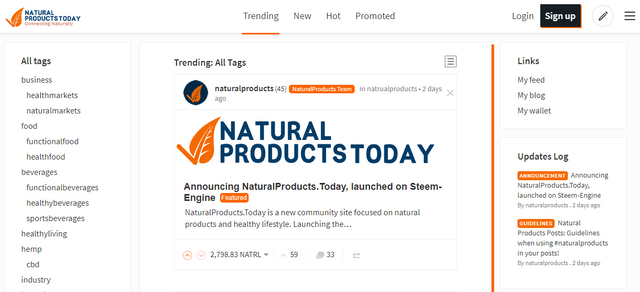 We're excited at the enthusiasm with which this tribe has gelled, and noticed that while some posts are exactly what we anticipated, others are a bit off the mark. We want to encourage everyone to share their knowledge and experience with healthy and natural products, but really want folks that come to this community to know what to expect, to find knowledge and information, to teach, to learn, to expand, to opine, to try, to sample, to expend…. well, you get it. For tips, reference the directory at the left, use the tags to organize your content but also for content and topic ideas. Then share away...
With that said, here's what we like:
health(y) ingredients and ingredient science and their uses
ethnobotany - herbs and how they were used for medicines
new healthy(ier) products and trends
science and nutrition pieces
healthy lifestyle tips
environmental issues and topics such as sustainability, transparency, regenerative agriculture
food trends such as healthy diets, clean label, plant-based
personal care topics such as clean and healthy beauty
These are just some examples.
While we respect and love the enthusiasm and lifestyle, in this particular tribe, we would prefer not to see:
recipes - without specifically calling out the health(y) ingredients and why you've used them or what you've replaced
garden pictures or talking about plants in the garden - without talking about their health properties
destination/tourist posts (if it's got a specific healthy lifestyle angle, then that's ok)
Other posting issues:
we welcome all languages but since the majority of our tribe currently is in English, please offer an English translation to we can get maximum interest.