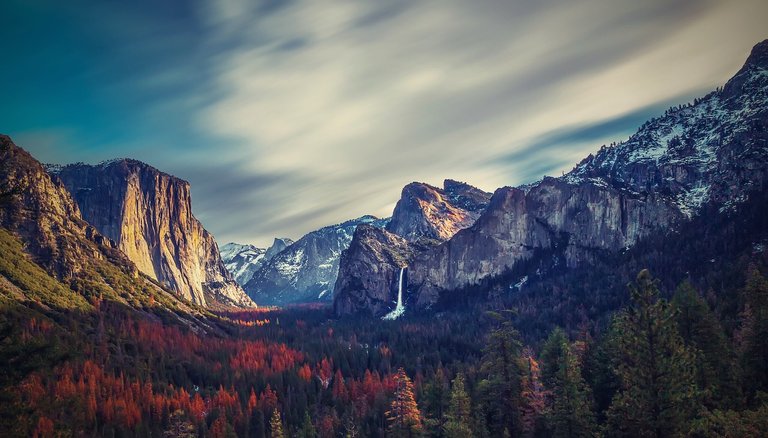 This is a two-part post. Please check my blog for the second half, coming soon.
---
This week brought news that a 10-year old girl summited El Capitan, the famous vertical rock face in Yosemite National Park. Of course, she used ropes, but that does not lessen her achievement. Kudos for completing something that most adults would never attempt, myself included.
Just a few months ago, I watched the movie Free Solo, which chronicles the free-climbing ascent of Alex Honnold, who climbed the 3,000 foot rock face with only his own strength and skill. Honnold's free solo ascent of El Capitan was a truly remarkable athletic feat. In my humble opinion, it should rank high on the all-time list of not only sporting accomplishments, but of all human endeavors.

Poster from Free Solo, a National Geographic film. If you haven't watched it yet, please do!
Recently, I have been watching another film that made me think of Free Solo again. This one is Ken Burns' The National Parks: America's Best Idea, which was released in 2009. The first episode contains a heavy dose of John Muir, which should be no surprise, given that it traces the origins of National Parks in the United States. Muir was the naturalist who championed Yosemite National Park and led to its establishment as a federal park. I have blogged about Muir in the past, since he is a hero of mine.
Nevertheless, The National Parks film taught me more about Muir that I hadn't known before. I knew that he was an avid outdoorsman who spent many days on his own in the back country of Yosemite and the nearby Sierra Nevada mountains. And I knew how much he loved nature's cathedral of Yosemite Valley. I also knew how in tune he became with nature in those mountains and how the rocks, trees, streams, and animals there became his lifeblood. And knew he was hugely responsible for advocating for its protection as a national park.
But I had not known to what extent Muir sought out thrilling adventures in Yosemite. Today, rock climbers and other thrill seekers challenge themselves on Yosemite's mountains and rock faces. But more than 100 years earlier, John Muir blazed that trail. He was Yosemite's original adventure sportsman. And he set the tone that others have followed these many years later.
For example, Muir was not content with standing at the bottom of 2,425-foot Yosemite Falls. Even climbing to the top of the mountain and watching it pitch over the edge was not enough. Muir wanted to be intimate with that water when it plunged over the cliff. So he climbed down into the rock face and wedged himself behind the falls. At night! Remember, this man had no modern climbing gear; all he had were shoes, the soles of which he had studded with nails to help him grip.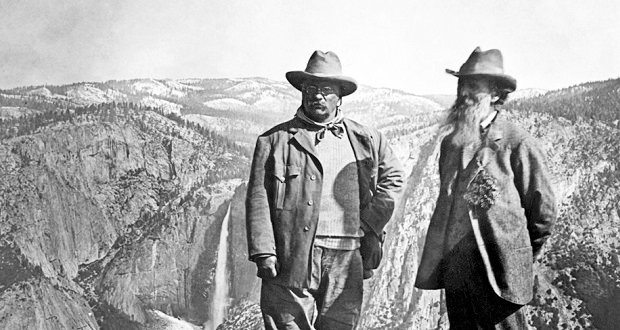 John Muir (beard) with President Theodore Roosevelt, who he guided through the park at the president's request.
Muir described it in his grand prose:
"I went out on the narrow bench close alongside the wild rushing waters and began to admire the rare beauty of the thin gauzy waters ... which formed the edge of the fall. I could see the most delicate threads of its fairy tissue by noting the moon behind it. Wishing to look at the moon through the meshes of some of the denser portions of the fall I crept farther behind it while it was gently wind swayed without taking thought about the consequences of its returning when the wind would change. The effect was enchanting. Wild music above, beneath, around the moon apparently in the very midst of the wild waters flashing. Out in ... among the denser waters now darkened by a rush of comets.
"I was in fairyland between the black wall and the well illumined waters but suffered sudden disenchantment for I was stricken by a hissing down rush of water that felt hard as hailstones shot from a gun.
"By that instinct that we call ... presence of mind I dropped on my knees, laid hold of an angle of the rock, rolled myself like a ball with my face against my bosom and submitted to my terrible baptism.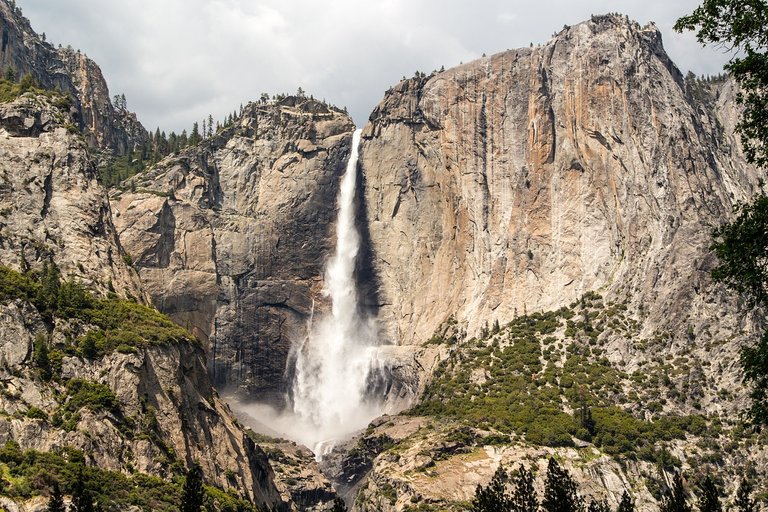 Wow. Climbing out on a rock ledge thousands of feet above the ground, alone, at night, guided only by moonlight, wearing no gear but shoes with nails pounded into the soles, to get pounded by the waterfall as it plunged downward, just so he could experience its spirit, its very soul? Muir was the real deal, more than 100 years before today's adventurers, and for him this was a spiritual quest.
(This was Part 1 of 2; please follow my blog for the second part of this post, coming soon.)
Images public domain unless otherwise credited.