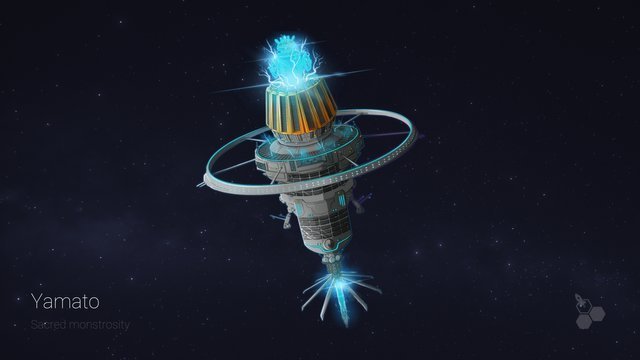 We've just released a huge update which also contains part of the Yamato module. We are now starting phase 1 of the Yamato module.
That means you can now enhance the Yamato ship skill. You will need a couple of days to enhance the skill to be ready for the first season. Once your Yamato ship skill is at level 20, you can start building Yamato T-00.
We will distribute the Yamato blueprints in the next 24 hours.
Phase 1: Enhance the Yamato ship skill now.
You can only upgrade Yamatos during an active season. The first season called Nemesis starts as planned.
---
Nemesis starts on
November 15, 2019 20:00:00 UTC
---
But that's not all. We have also just uploaded the following additional extensions…
Rewards
Activated on October 27, 2019 13:13:13 UTC
Good news, commander! We have improved both explorers considerably. You are now able to mine Stardust and find blueprints of an old alien race as well as planets during explorations. If you have found Stardust or a Blueprint, you will immediately see this in your Missions, as shown in the screenshot below: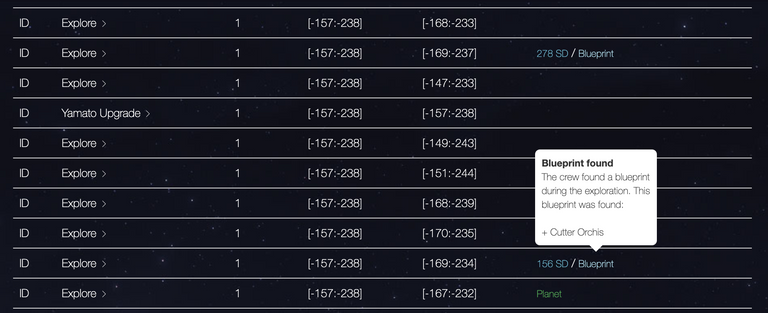 There are 11 different alien blueprints hidden in the galaxy. And there is also a very special gem waiting for you: Dreadnought Zaneel is a laser-armed battleship and pretty hard to find. You can already see the new battleships in your Shipyard. This makes explorations much more valuable. You can learn more about this extension in this post. The rewards module will be automatically activated in a few hours.
Burn planet
Burn planets is now active
Do you have too many planets? You need Stardust asap? You can now burn your planets to get Stardust. The amount of Stardust depends on rarity and type. On burn, you will sacrifice the planet with all ships, merged runes, and activated blueprints on it. To burn a planet is only possible without active outgoing missions.
Also, keep in mind that when you burn the planets, you help to maintain the galaxy and shrink the number of planets. So burning planets is a great thing for all settlers, raiders, and the whole galaxy!
Burnrates:
| . | Common | Uncommon | Rare | Legendary |
| --- | --- | --- | --- | --- |
| Earth | 5,000 | 10,000 | 30,000 | 3,000,000 |
| Coal | 9,000 | 18,000 | 50,000 | 5,000,000 |
| Ore | 10,000 | 20,000 | 60,000 | 6,000,000 |
| Copper | 12,000 | 25,000 | 70,000 | 7,000,000 |
| Uranium | 15,000 | 30,000 | 90,000 | 9,000,000 |
Spawn
Activated on October 27, 2019 13:13:13 UTC
New settlers will no longer spawn in the alpha galaxy (0,0), but in the second galaxy, the beta galaxy (1,1). The enormous size of the map and with it the infinite possibilities are a significant USP . The concealed strategic options for new and established settlers and raiders are far from exhausted. We just saw the tip of the iceberg.
Alpha Galaxy (0,0)
Coordinates area: 665/665 to -665/-665
(Center of the alpha galaxy: 0/0)
Beta Galaxy (1,1)
Coordinates area: 666/666 to 1997/1997
(Center of the beta galaxy: 1331/1331)
The smallest unit is a planet and that is one tile.
Planet 1
Solar System 11
Region 11x11 = 121
Galaxy 11x11x11 = 1331
The entire Deep Space is 11 times 11 galaxies big but potentially unlimited.
Respawn
Respawn is now active
If all the tiles around you are already explored or you are constantly attacked, it is time to start over in a new location. Respawn allows you to start all over again in the beta galaxy (1,1). You'll start in a new area with potentially many empty tiles waiting to be explored by you. On respawn, you will sacrifice the starter planet (alpha planet). You will get a new empty starter planet in a new location with new coordinates. On respawn, you will lose the planet with all ships, merged runes, and activated blueprints on it. Respawn is only possible without active outgoing missions. The respawn fee is 1000 Stardust.
Planet transfer
Planet transfer fee is now active
The gifting of planets will be taxed from now on. Many settlers and raiders have asked us to do this, and we have implemented this now. The fee for planet transfer is 1000 Stardust. Stardust will be burned and thus reduces the total supply.
Explorations
This is now active
Exploration can now be performed directly in the Galaxy without leaving the Galaxy. Many settlers and raiders have wished for this. In addition to this the droprate for Explorer II is displayed directly in the modal. Also, we will show the available missions directly in the modal and in other places where this information is needed.
To avoid confusion, we are showing the droprate (chance for a planet) directly in the modal (right where you need it). This is already active on the live server. We have already explained this in this post.
Planet view
This is now active
On the detail view of a planet, we have shown only a few data so far. Here you can see all the activities of the planet. So really all of them. This already works as a spy. If you are still missing data here, then let us know. We really want to show all the relevant information about the planet here. We could insert a screenshot here, but better watch it live.
Example: https://nextcolony.io/planet/P-Z0H8G2KDY34
The last part of the URL is the planet ID: P-Z0H8G2KDY34. You can simply exchange the ID here to inspect/spy on other planets.
---
You will get more informations about Yamato, Seasons, Leach Rate, Deploy Rate, TRP, URP, DRP, Respawn, burn planet and many more in the FAQ
If you have any questions, join the official Discord server or use the comments below.
---
You want free Stardust?
Just resteem this post and earn 100 Stardust tokens. Stardust will be transferred to your account after the payout of this post.
Stay tuned.
NextColony