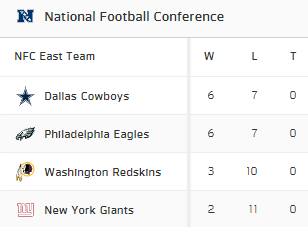 (nfl.com)
It was about time to see Eagles winning a game that meant
something for their playoffs hope.
Monday Night Football is a televised single match where everyone
loving Football will watch.
Eli was hot in the first half, giving Eagles defense much to wonder.
Eli used his experience to lead his team half time by 14 points.
The Giants are not playing for post season.
We all know at this time of the year, everyone in this team is thinking
about vacation.
Still they have to compete for survival and job next year.
Even Eli, I am not sure what is next for him.
So far for the whole game, Giants scored 17 points.
Eagles managed to salvage this game coming back in the third quarter.
Carson and company took matter into their hands and each quarter
they scored points.
Eagles defense did their best to shut down Giants to push for OT.
Apparently overtime shows a whole new Eagles team running the ball.
The last throw to seal the deal was a notion we see all season about Giants.
They do not play defense.
Doing so they left Ertz wide open in the end zone for an easy TD.
Now Eagles are right there with Cowboys 6-7.
In order for them to go to playoffs, Eagles have to win it all.
Eagles have a better route to finish the season by playing three teams
including Cowboys.
Eagles will play Redskins and Giants at their stadium.
Cowboys will come to their stadium.
For Cowboys it is a different scenario where they will play
Rams and Redskins at their place.
You can see the road to the playoffs read in favor of Eagles.
It is about the team that win most games.
The real test will when both teams play together week 16.
You will smell playoff atmosphere and the real deal.
I favor Dallas to hold on to first place.
They lost three in a row.
They cannot lose to Rams.
This NFC East division has been dragging their feet
for so long.
It is the easiest division where other team think
they should get a win.
Eagles just won a Super Bowl not too long ago.
They have the mentality to get there.
Injuries are piling up and they have to manufacture wins
with what they have.
Redskins are no where to be found.
Last year their record was 7-9.
Better effort from Gruden. But gone.
Will Haskins be the QB going forward?
He has to be and hopefully surround him
with quality offensive line and RB, etc...
Only when they bring good piece
we will see changes into the teams in the NFC East.
Till then. let us see who want to go to post season.
Stay tuned.