Hello guys! 😊
How are you doing?
It´s friday and this is the first weekend where I won´t work 12 hours a day! 🎉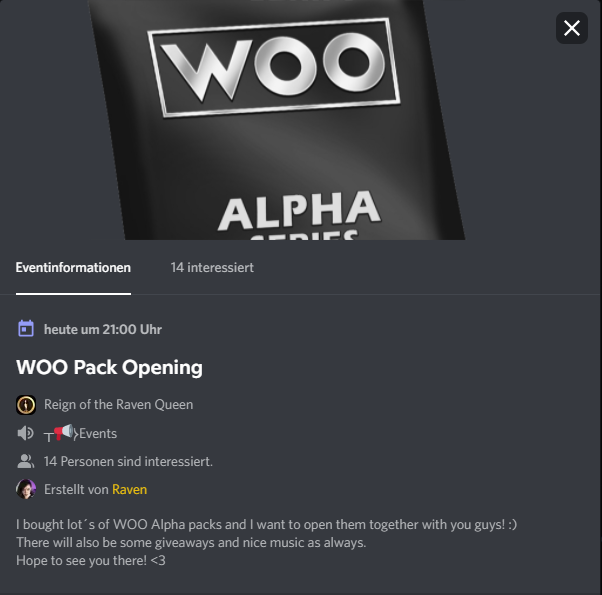 I will relax as much as I can. Play games, watch series, and have a little stream tonight. A WOO pack opening stream. 😄
If you want to join, check out my event in the discord server.
I will open up all the Alpha packs I bought on monday. Hopefully having the same luck as before!! 😂
There will also be nice music and some giveaways of course. 😊
The event will take place at 9pm CET tonight.
---
Back to the main purpose of this post. 😄
Claiming of the prizes that are hidden in the Halloween NFTs is now live! 🎉
In order to get your prize, you need to come to our Discord and use the ├🏅⧽nft-prize-claiming channel.
You can find exact instructions in the pinned post of this channel.
If your NFT is backed with a prize, you can see in the description of the NFT, like in this example.

Please once again, support the awesome artist who drew the NFTs! 💜
Check her Instagram page.
---
Guys also don´t forget to claim your NFTs. They are still claimable until tonight my time.
Here are the links again to everything you need to know to claim your NFTs!
---
I wish you fun with your drops and I hope to see you claiming some prizes in the Discord! 🎉
I wish you a great day! 💜
Best regards,
RAVEN 🐦
---
I still need the wax wallet addresses of the following people for the next drop:
@pizzaexpress @polarmystro @alic3wund3rl4nd @taskmaster4450 @hive-183741 @tfranzini @tokenizedsociety @synergized
You can either submit the address in my Discord server, or send an email to [email protected] Thank you guys! 😊

---
I am very thankful for everyone who supports me on my journey!!