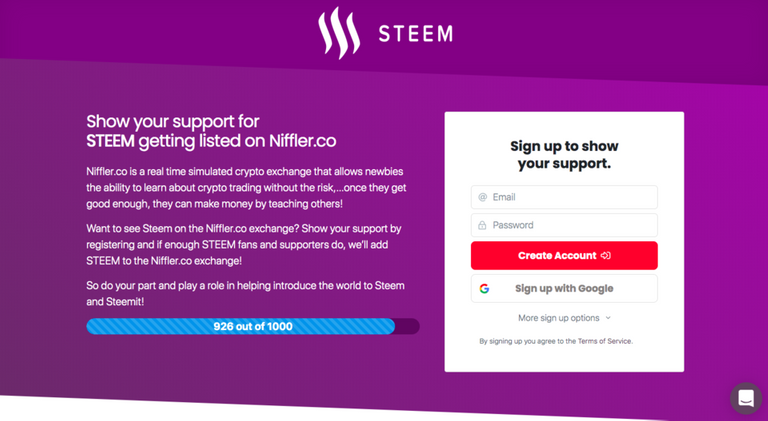 Niffler.co is offering to list STEEM on their crypto exchange - if we get a 1000 Steemians to register! Now, the good thing is, only 74 Steemians are needed to get to a thousand - will you be one of them?
What is Niffler?
---
As stated on their website:
Niffler.co is a real time simulated crypto exchange that allows newbies the ability to learn about crypto trading without the risk,…once they get good enough, they can make money by teaching others!
Why should you do it?
---
There's all the standard reasons like get the STEEM name out there, get more exposure, get more points of access to STEEM... But in this case I like the idea that Niffler.co is specifically targeting newbie users and if one thing is true about STEEM... Is that it is the best 'newbie crypto' out there! Most crypto's grow from doing huge ICO's and often target people who already know about Crypto and therefor which projects to invest in. But Steem is that one platform where people stumble upon without necessarily knowing all the ins and outs about crypto and blockchain.
Anyway, 74 is not that big of a number but as always it is a challenge to get people to sign up. Please do! Don't think someone else will do it for you :-) It is literally a 30 second affair. Go to this link and sign up from there so your registration gets assigned to STEEM... Yes, I mean this link: https://niffler.co/goal/steem GO!